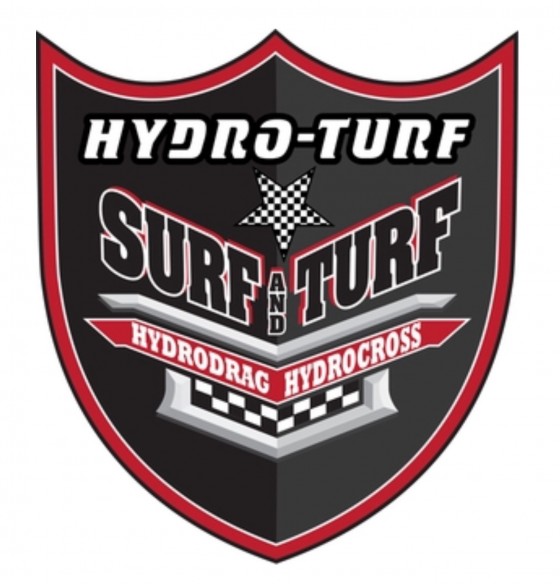 (Tavares, FL) The 2017 Hydro-Turf Surf and Turf Championships Tour, presented by Sea Doo, RIVA Racing, the City of Tavares, Yamaha, and YouRulz will be in Tavares, FL, on July 29-30 at Wooton Park West. The event will feature IJSBA sanctioned closed-course racing and a freestyle competition where competitors from all over Southeast US will compete to represent the USA at the IJSBA World Finals at Lake Havasu City in October. These events are family-friendly, with free admission. The events will run from 10am-4pm on Saturday and 11am-4pm on Sunday. Spectators are encouraged to bring their own seating, as there will be limited bleacher seating available. Supporting sponsors for this event include Jet Pilot, Lake County, Jet-Lift, Action Kawasaki, Abaco Sunglasses, Action Kawasaki, Greenhulk.net, Team Mean Racing, D-Cos Racing, Waterfrontoo Restaurant and PWC Muscle.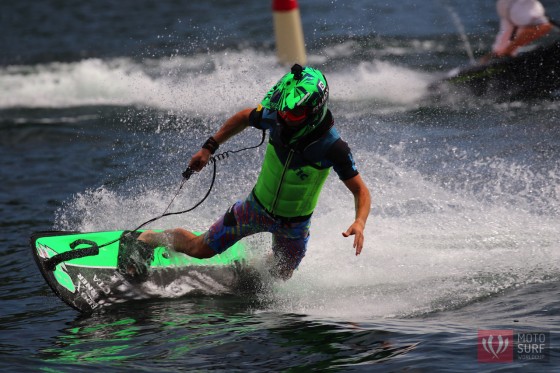 KORNFEIL WINNER OF DRAMATIC UK SHOOTOUT
Story & Photos: MotoSurf World Cup
Motivated and ready to fight, current MotoSurf WorldCup leader Sebastian Kubinec was determined to extend his Championship lead at the third stop at Wyboston Lakes.
Despite Kubinec won the first final race making a very clever and super fast ride, it was Jakub Kornfeil who took the overall victory with second and first spots from the finals in a very tight battle. Improving the joker buoy tactics, Kornfeil managed to win the second final shootout. However, JetSurf Slovakia's Kubinec reached his goal and increased points leading in the series. Petr Vencovský from Jetsurf USA squad repeated the podium from last race in Florida. [..]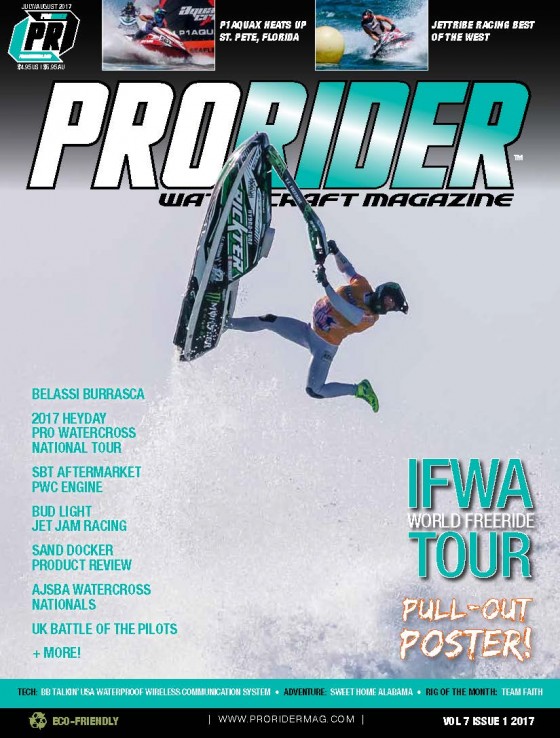 Pro Rider Watercraft Magazine is once again thrilled and honored to have had the opportunity to work with major industry leaders, event promoters, photographers and brilliant authors in the creation of this year's Summer issue and in celebrating the innovation of new PWC technology.
The 2017 July/August Summer issue money shot goes to pro freerider Abraham Hocstrasser, captured in  mid-flight by Pro Rider contributing photographer John Baker, while competing at the UK Battle of the Pilots Newquay, England tour stop of the IFWA World Freeride Tour. Follow Abraham Hocstrasser, fellow free riders and the IFWA World Freeride Tour in this issue's IFWA feature!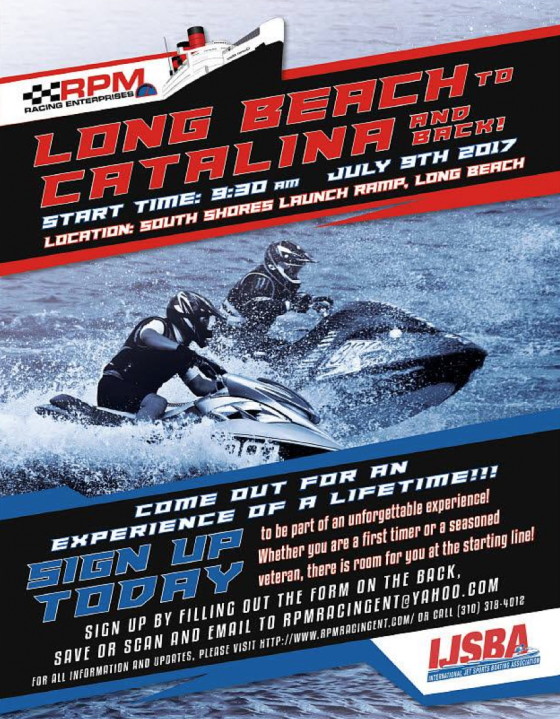 By: RPM Racing Ent.
The greatest annual spectacle in Offshore PWC Racing ~ The 2017 Long Beach to Catalina & Back (LB2CAT) IJSBA Offshore Endurance National Championships presented by Jettrim, JetLift, Hydro-Turf, Sea-Tow, Jet Re-Nu, Oakley, Kawasaki, Skat-Trak, West Coast Watercraft Club, PWCOFFSHORE.com, Pro Rider Magazine scheduled for Sunday, July 9th at 9:30 a.m.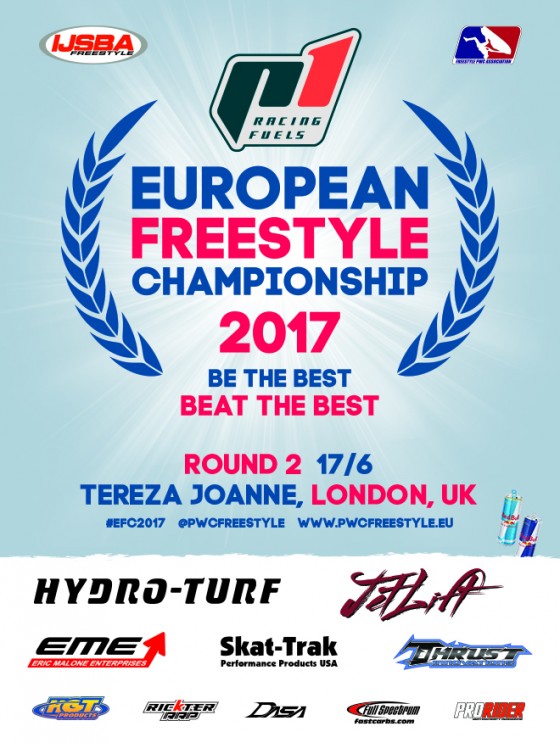 We are happy to release official schedule of Round 2 of 2017 P1 Racing Fuels European Freestyle Championship sanctioned by IJSBA that will take place on June 17th in King George V Dock in London, United Kingdom [..]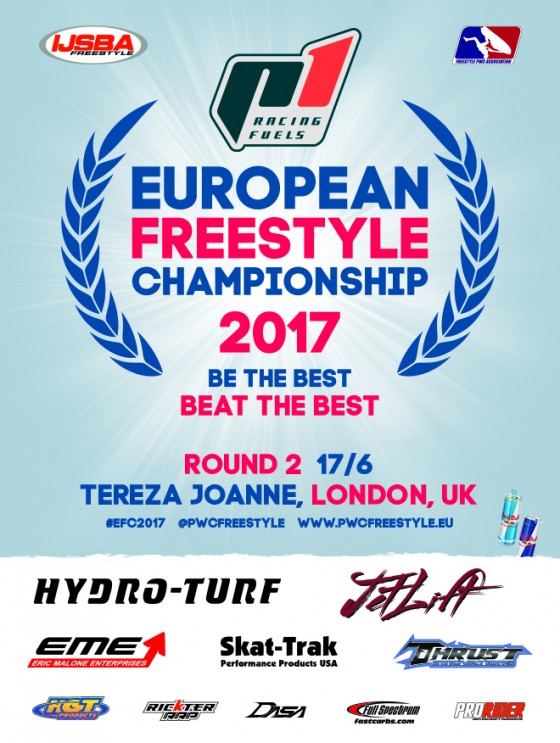 Story & Photos: European Freestyle Championship
Freestyle Personal Watercraft Association (FPWCA) is happy to announce that IJSBA sanctioned event Round 2 of 2017 P1 Racing Fuels U.S. Freestyle Championship will take place in London, United Kingdom on Saturday 20th of May 2017. [..]