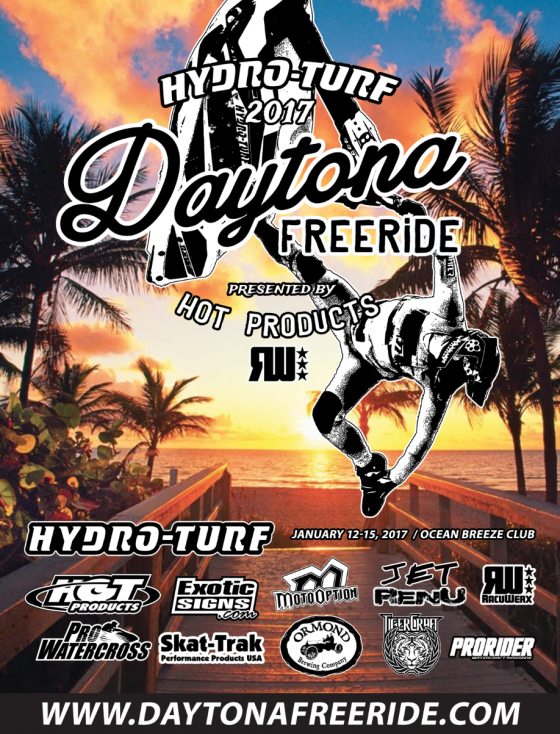 Don't miss the annual 2017 Hydro-Turf Daytona Freeride, presented by Hot Products, January 12-15 at the Ocean Breeze Club. For more information, visit www.daytonafreeride.com!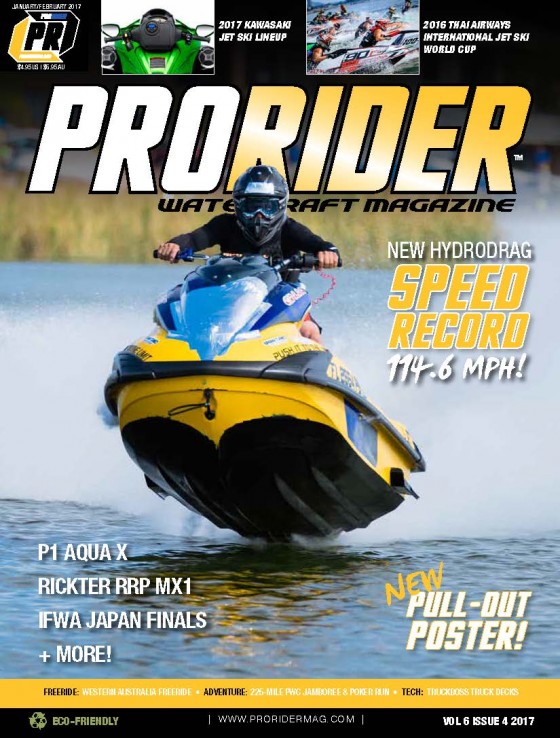 Hydrodrag speed record breaker Uva Perez to be featured on the cover of the 2017 January/February print and digital issue of Pro Rider Watercraft Magazine!
Pro Rider Watercraft Magazine is proud to present the 2017 January/February print and digital issue featuring action from all over the world and our first ever double-sided pull-out poster!
Pro Rider Watercraft Magazine is bringing in the New Year with a collection of exciting new features including an inside look at the 2017 Kawasaki Jet Ski product range, Rickter MX1, TruckBoss truck decks, Jettrim and exclusive coverage from the best personal watercraft event series on the planet including the IFWA World Tour, Pro Watercross Hydrodrag World Championships, 2016 Jet Ski World Cup, P1 Aqua X, globe-trotting freerides and much more!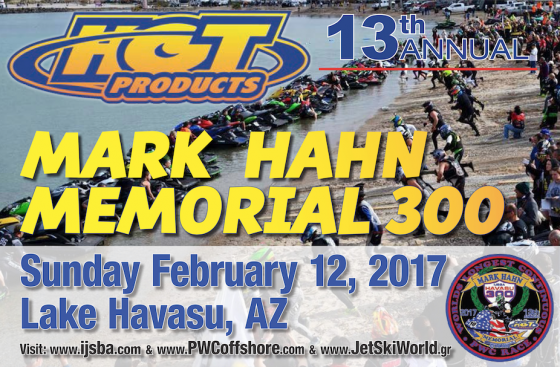 13th Annual Hot Products IJSBA Mark Hahn Memorial 300
Presented by Yamaha WaveRunners Set for Sunday February 12, 2017 in Lake Havasu
2017 DATE ANNOUNCED FOR THE IJSBA NATIONAL TEAM ENDURANCE CHAMPIONSHIP, ENTRY FORM INCLUDED
FOUNTAIN VALLEY, CA – November 9, 2016: The 13th Annual "World's Longest Continuous PWC Race" was announced today by the event promoter Jim Russell, DSM Events owner, and Executive producer Mike Follmer. The 2017 Hot Products IJSBA Mark Hahn Memorial Havasu 300 Mile National Team Endurance Race Presented by YAMAHA is all set to launch on Sunday February 12, 2017 from Crazy Horse Campground in Lake Havasu City, Arizona. The 2016 event attracted teams and riders from 14 Countries around the world and will once again be sanctioned by the International Jet Sports Boating Association (IJSBA), and it is expected to draw a new record number teams from around the globe as well as all of the top PWC racers from the USA. The Teams will be competing against each other while trying to break the 300 mile record of 4 hour 46 minute and 13 seconds set by the 2016 Mark Hahn Memorial Overall winners Pastorello and Botti of Team Kawasaki France.

DAYTONA FREERIDE JOINS PRO WATERCROSS
Topping off a successful season packed with new events, new fans, new athletes and new venues, Pro Watercross has recently forged a partnership that will once again expand the range of competitions held under the Pro Watercross banner. [..]

BEAUTIFUL BEACHES, BIG SURF, THE BLUE ANGELS…
AND A WHOLE LOT OF BRAAAP

Pensacola Sports Association/Pensacola Beach, Florida has committed to a three-year contract with Pro Watercross, and will host the opening round of the 2017 season. Pensacola has been one of the tour's favorite stops for athletes, and thousands of fans lined Pensacola's sugar sand beaches and crowded the pier over the turquoise waters for the Tour's 2016 Grand Prix of Watercross. [..]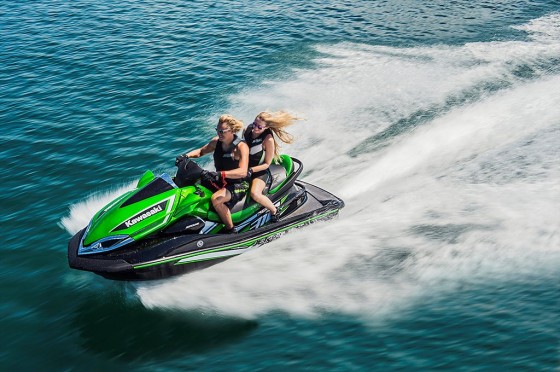 2017 JET SKI® MODEL RANGE
THE STAND-UP JET SKI® WATERCRAFT IS BACK AND READY TO RULE AGAIN.
Kawasaki continues to stand out as the developer of the popular personal watercraft category with its Jet Ski® watercraft lineup of runabouts and standup models. Offering a wide range of supercharged machines that evoke fun on the water, the 2017 Jet Ski® Ultra® lineup is among the most exciting and powerful on the market.
The entire lineup is forged with Kawasaki DNA and features powerful 1498cc engines, an innovative deep-V hull design, a large amount of storage and a fuel tank capable of extended range.
The entire lineup is also covered by a 12-month limited manufacturer's warranty with an optional 12, 24, 36 or 48-month Kawasaki Protection Plus™ plan. The 2017 lineup also offers new colors and graphics packages for the venerable watercraft. [..]