POINTS CHASE IS ON…WHO WILL BE CHAMPION?
We are coming to to the wire of the Heyday Pro Watercross Tour – Round 6 in Hartwell, GA is a favorite for everyone… enjoying the Wet n' Wild Festival with great music and food, lots of things for the kids to do, as well as the park camping and the relaxing beauty of Lake Hartwell!
The season's finale in Charleston, WV brings the tour from a little bit of country to the big city as part of Charleston, WV Annual SportsFest.
Tour and Charleston sponsor Hidden Trails will be hosting the party of the year, held for all the competitors, their families and friends on Saturday, August 19th. Besides great company, there will be food, refreshments (beer) and door prizes including a GRAND PRIZE – a Haibike Bike worth over $4,000… CLICK HERE FOR RACER PARTY INVITE!
How do you enter to win? For each class entry for the national championship, competitors names will be entered into the drawing – 1 class = 1 ticket, 2 classes = 2 tickets, I am sure you get my drift…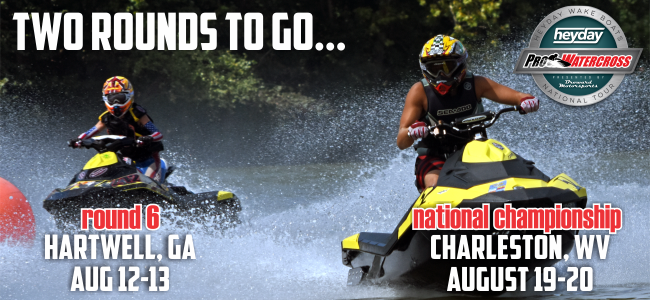 Like, Tag & Share!