Pro Rider Watercraft Magazine is proud to present the annual 2016 November/December print and digital Season Finale issue! This year's November/December issue is bigger and better than ever before. You will experience the latest PWCs from top world manufacturers, custom ski builds, the world's best racers, freestylers and more!
This issue the money shot goes to Lee Stone, the 2016 IJSBA Pro Freestyle World Champion and multi-time world and national champion. This shot was taken by Pro Rider Watercraft Magazine contributing photographer Daniel Birkbeck, who was on site at the 2016 quakysense IJSBA World Finals in Lake Havasu City, Arizona, USA. Pro Rider got a chance to catch up with Lee about his ground breaking routines and what it took to develop new tricks like the Scarecrow Backflip.
Pro Rider Watercraft Magazine is proud to present 2017 model reveals from the new Sea-Doo range, the new Kawasaki USA SX-R and nearly every season finale featuring the diverse disciplines of endurance racing, closed course, free ride and freestyle from P1 AquaX, Pro Watercross, the Blowsion Surf Slam, IJSBA World Finals, Jettribe Racing Best of the West, East Coast Watercraft, US Freestyle Championship and more!
We are also humbly proud to share with you TAKE POINT NOW, an organisation that inspires military combat veterans to remember their greatness with the use of PWC. This feature is dedicated to beloved fellow jet skier and US Marine Corps Sgt. Jesse Martin who lost his battle with PTSD November 3, 2013 at the age of 26.
Additional exciting feature content includes Part 2 of the PWC Muscle Performance PWC Parts Sea-Doo Spark build series, Pro Rider Products, adventure rides, Pro Rider Race Tips, Fitness Tips and this issue's sizzling centerfold from Jettrim! Don't miss this issue's Future Threats fresh in from East Coast Watercraft, social media top spots, Hydro-Turf Gear Giveaway and more!
All of us at Pro Rider extend our thanks and appreciation to everyone who makes it possible for us to provide this quality publication.
Please take a moment to visit our advertisers in person or online. The team and contributors at Pro Rider enjoy delivering nothing but the best, high quality content to you and welcome your feedback, suggestions and submissions.
We hope you enjoy the 2016 November/December print and digital issue of Pro Rider Watercraft Magazine!
Don't miss an issue, subscribe or renew today at www.proridermag.com/subscribe!
Domestic and international packages available.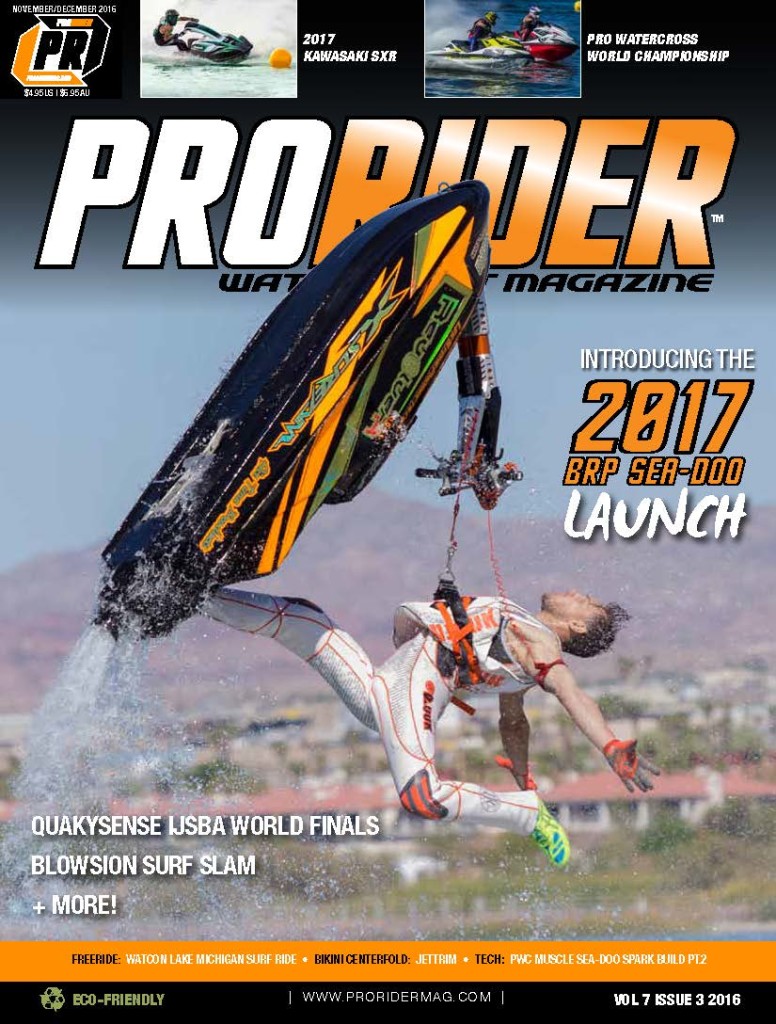 Like, Tag & Share!