Round 4 of the Hydro-Turf National IJSBA National Tour landed in the city of Sparks Nevada. The absolutely amazing race site, in a lot of ways, is a perfect venue. The beach and beautiful lake are steps away from the host hotel, and casino, The Western Village. The venue also had it's share of challenges for competitors as well. The biggest issue was the altitude. Riders spent hours trying to gain lost horsepower due to the high elevation. The other big issue was the heat. Temps over 100 degrees demanded you keep yourself hydrated or it would zap your energy. Reno is also a tough trip for East coast racers with long drives or high dollar flights into the city.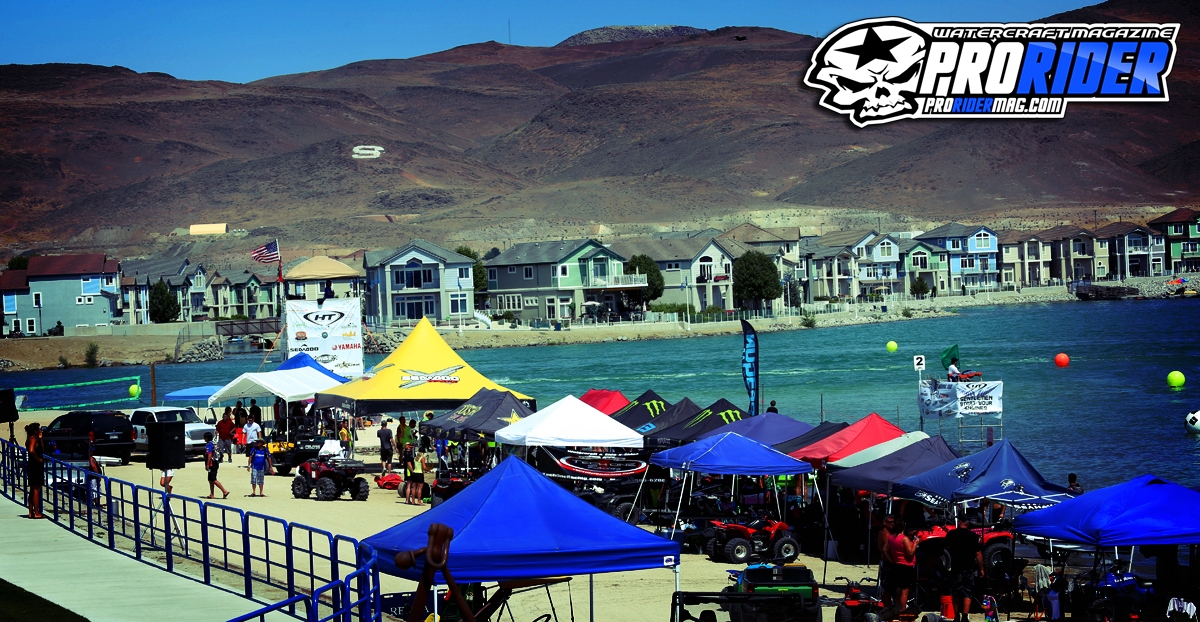 Pro Rider was once again the only magazine to actually make the trek to Reno, and brought magazines and stickers for free and were distributed from the Optima/Rockstar tent. I saw many people thumbing through Pro Riders under the shade of their essential easy-ups.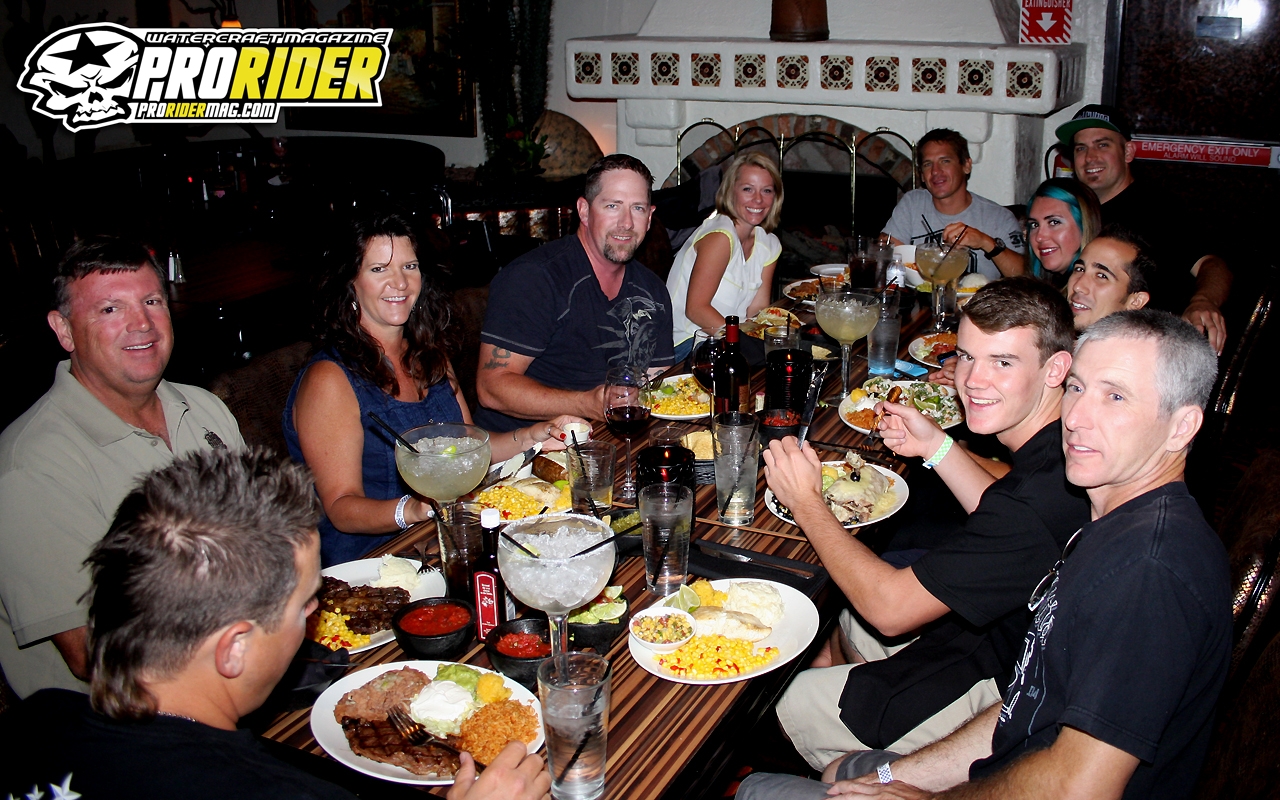 On Friday night I was lucky to attend an amazing Mexican dinner with Chris, Rachel & little Mac MacClugage along with Mike Bonin of Hydro-Turf, Kyla and Ryan of Liquid Militia, Brian Smith of Liquid Speed Radio, The Decker family, Mark Gomez and Tom-Ski. A big thank you goes out to Ryan's father, Robert Decker!
---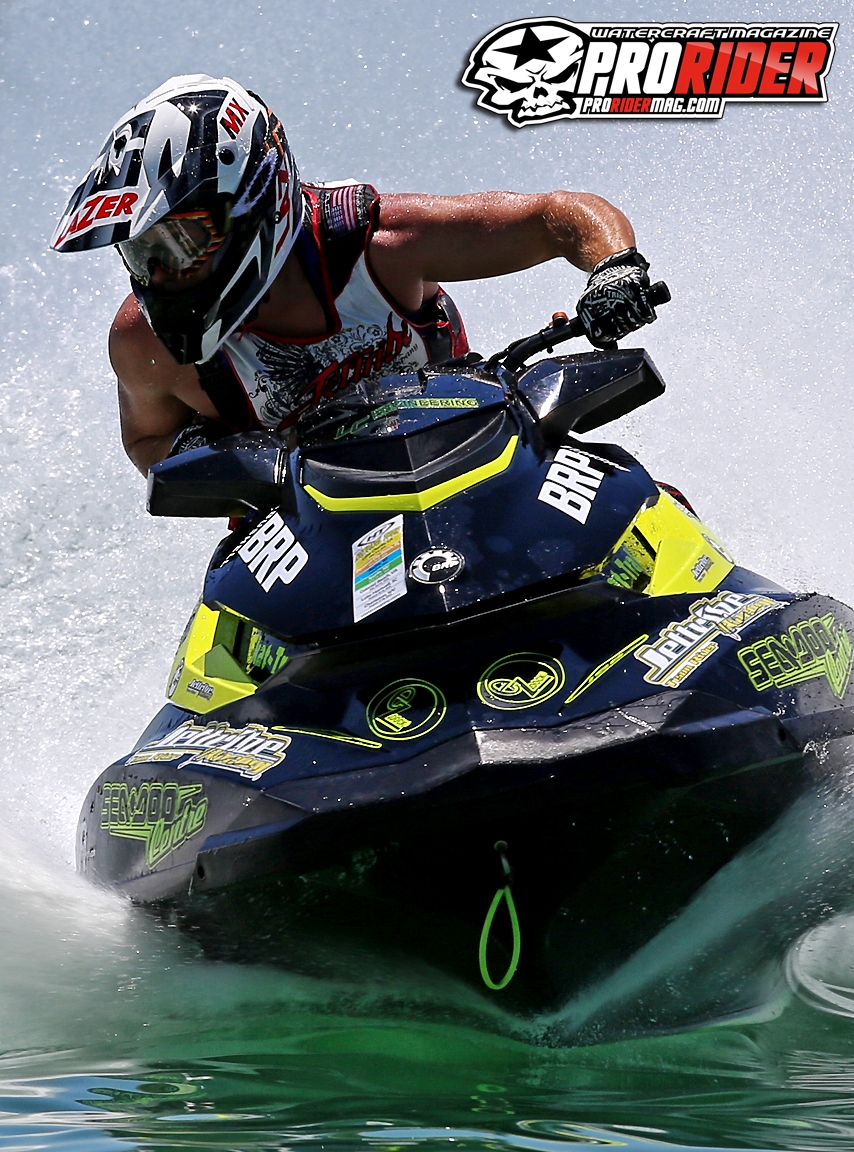 Pro Runabout Open:
It was all about James Bushell. James swept the weekend 1-1-1 with Abdullah Al-Fadhel in 2nd with 2-2-2 finishes. Erminio Iantosca hit the podium with a 4-3-3 weekend. Bushy will need to win out the rest of the tour stops to have a shot at taking the title over points leader Al-Fadhel. Bushell's mechanic Julian wouldn't confirm James attendance for the remaining tour rounds, simply saying, "we'll see".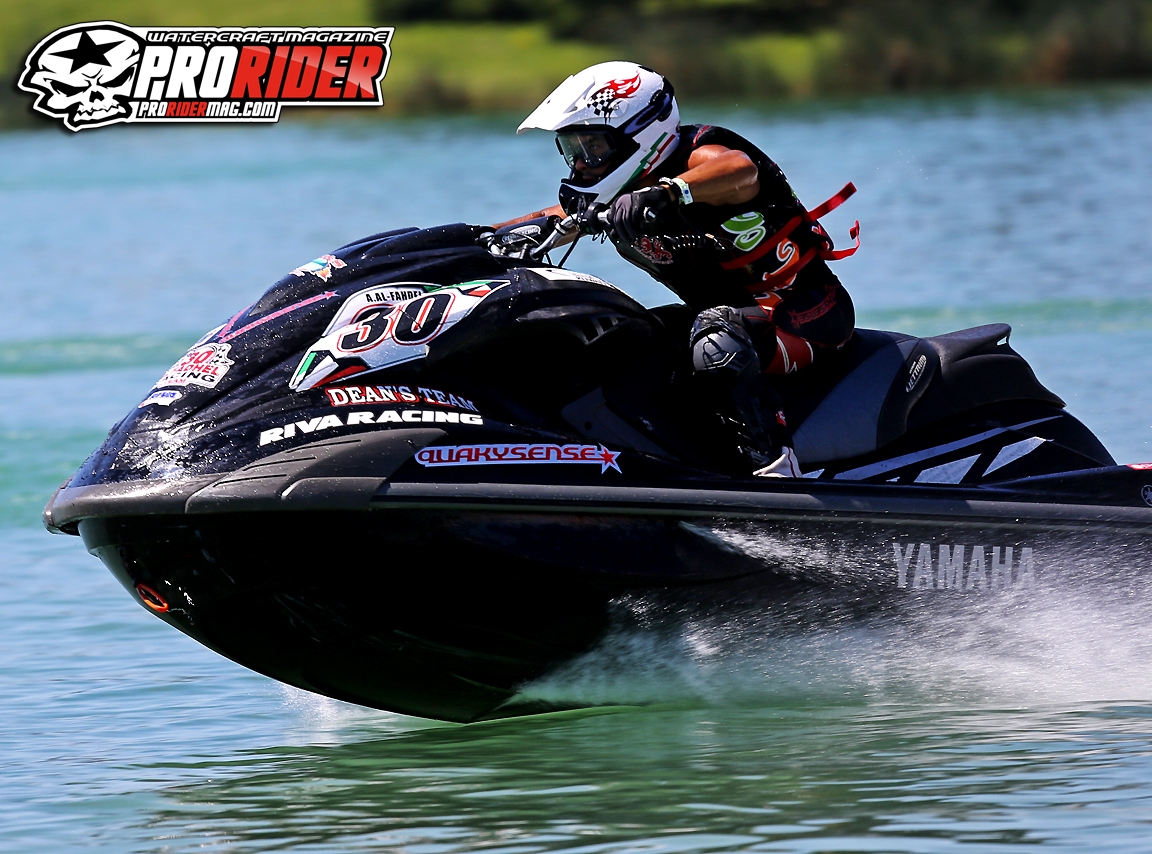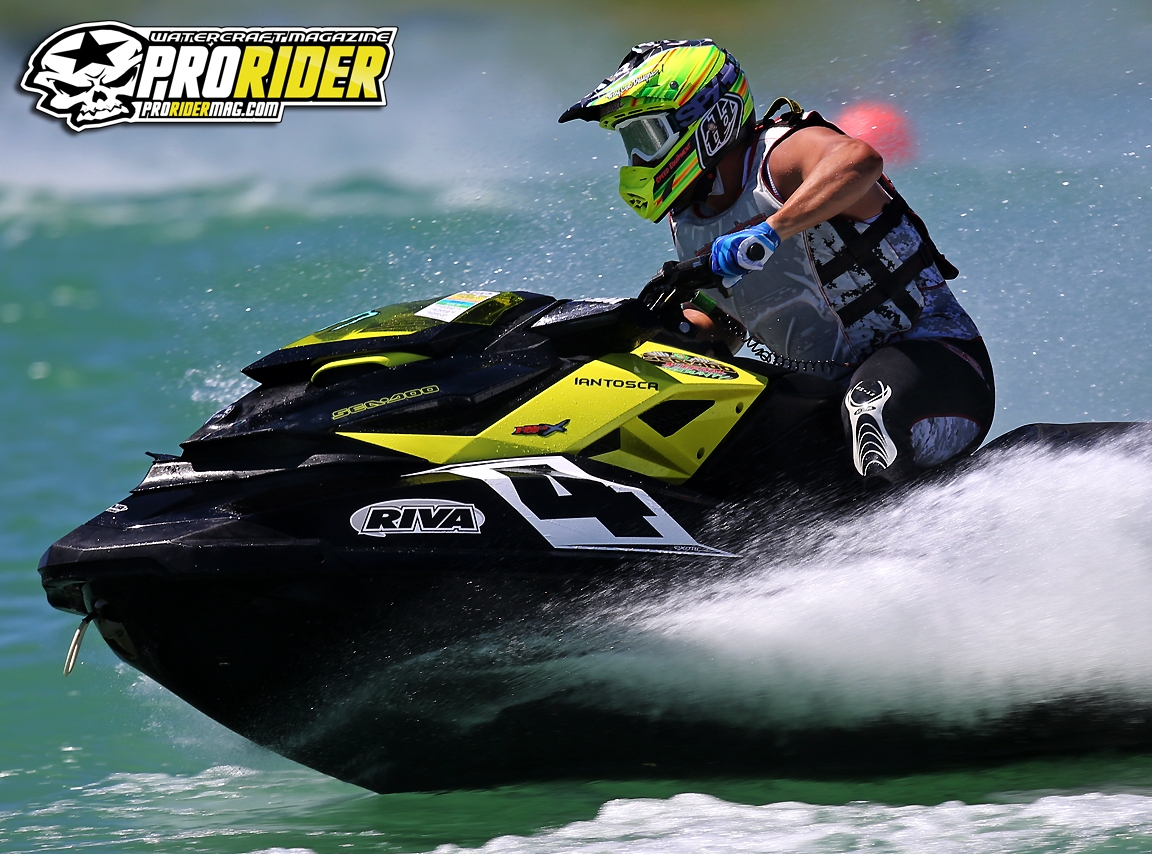 ---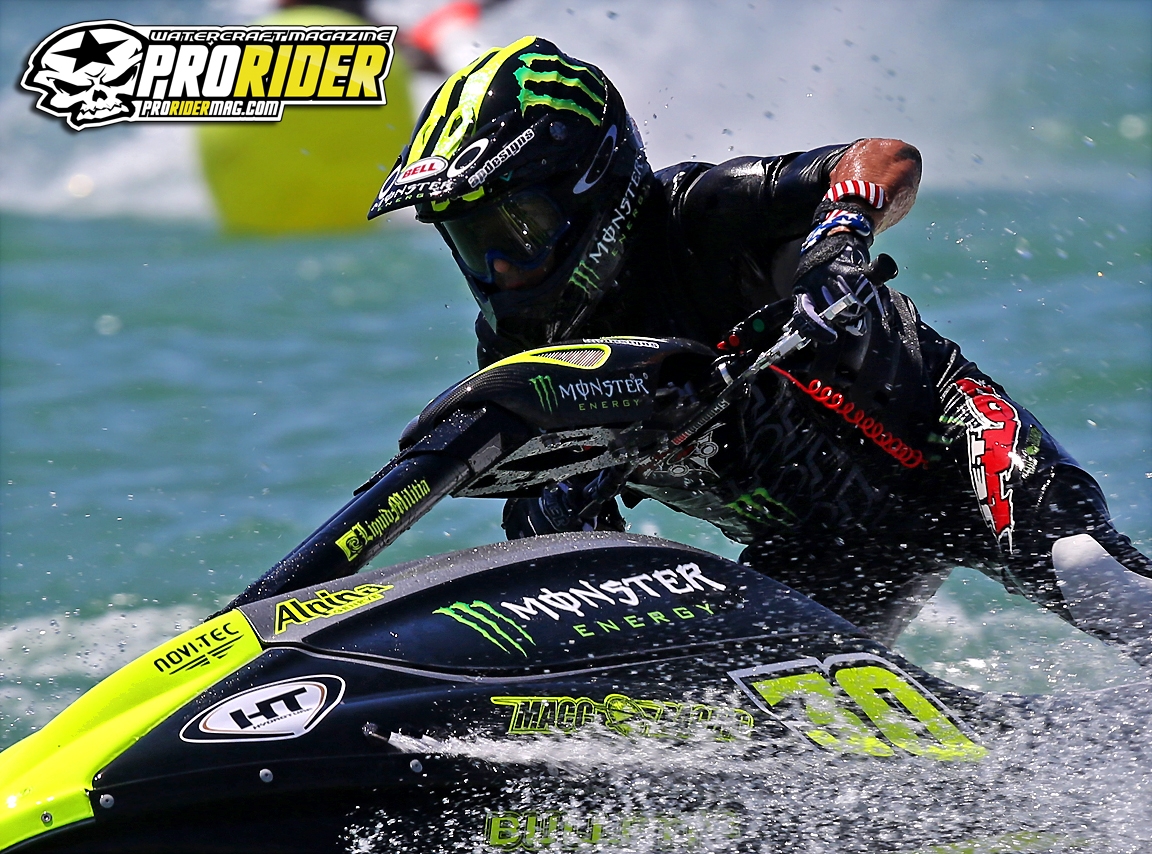 Pro Ski Open:
The Macc Attack Chris MacClugage was back with his Monster Energy Tech One Racing Bullet SXR. In Moto 1 Brock Austin shot out for his first Pro Ski Open holeshot followed by Ian Roberts, and Macc. Chris got by both riders for the win and Ian got by Brock for a Team Liquid Militia 1-2-3 finish. In Moto 2, Kommander 's Davis Redinger got out front and never looked back to take the win with Macc in 2nd and Brock Austin with another 3rd. Moto 3 was another win for MacClugage to take the overall with Redinger in 2nd, and Kommander rider Kody Copenhaver in 3rd. The overall finishes were Macc 1, Redinger 2 and Austin with his first Pro Ski Open podium!
---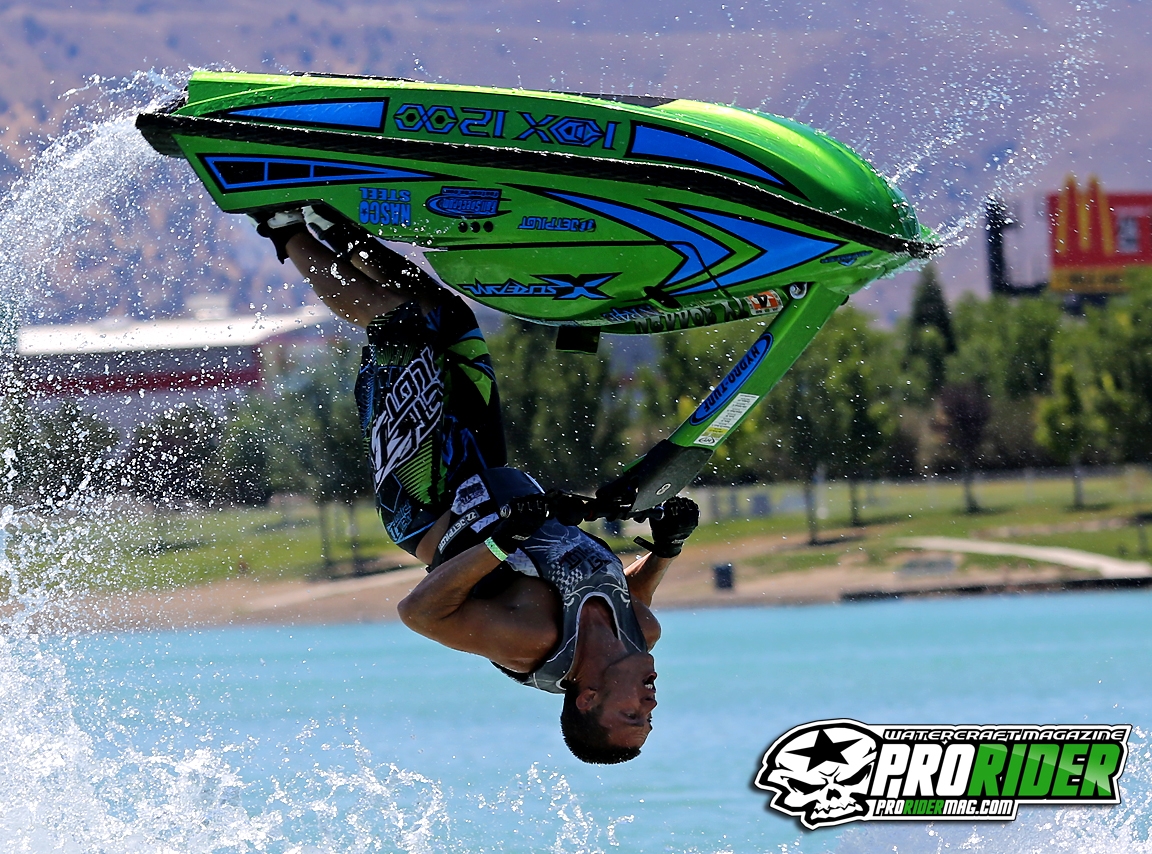 Freestyle: Where's Bob?
Both Pro and Amateur Freestyle ended up being a bit of a letdown as no west coast competition showed up to challenge the Texas duo of Daniel Martin, and Amateur leader Jace Forest. The two teamed up to put on an impressive demo rather than a competition. On Sunday Mark Gomez entered AM Freestyle for fun and blew away the judges with a great routine of old school tricks. Not enough to take the win from Jace Forest, but Mark even managed to get the "official Magablog" of the tour to report that he won Pro Freestyle! Too funny… Watch were you get your news and info from out there guys. All the competitors showed disappointment in the west coast riders for failing to represent in Sparks.
---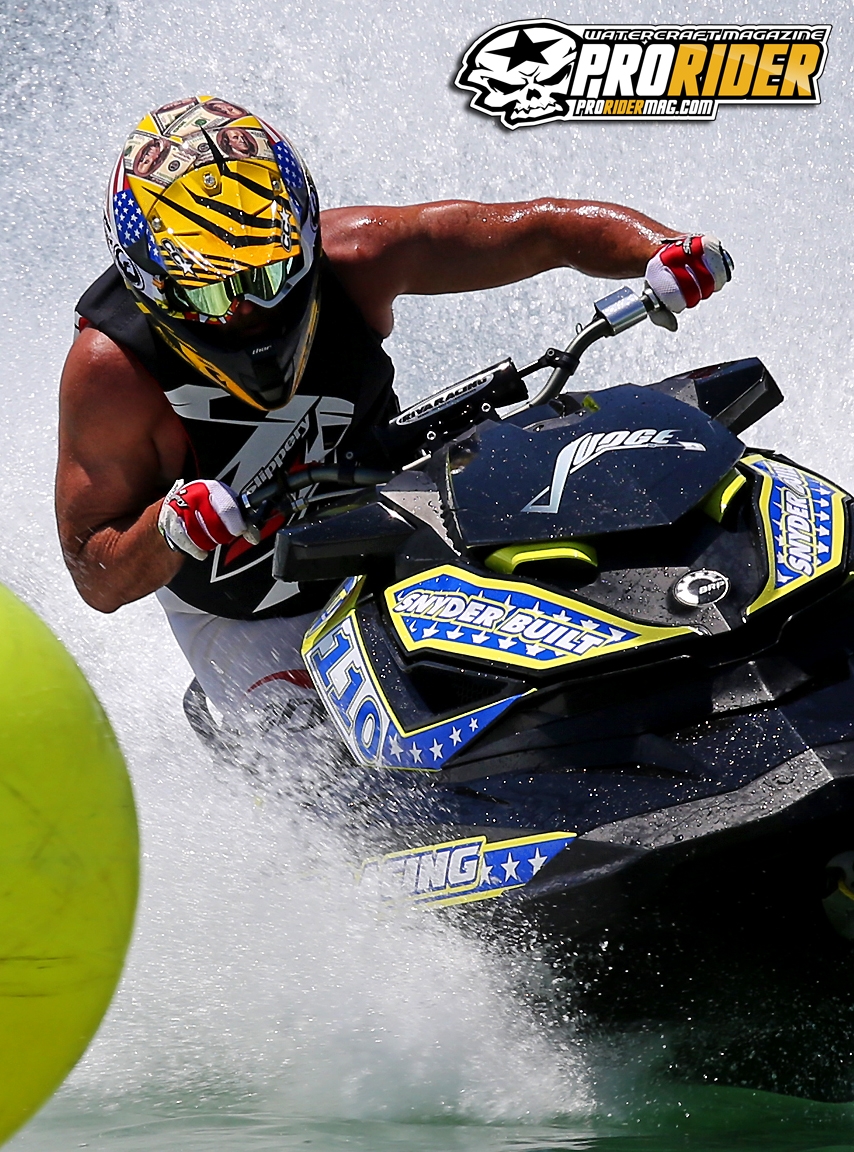 Pro Runabout Stock:
Moto 1 looked to be business as usual for point leader Eric Francis with another win. Things would change in moto 2 as rival Troy Snyder got out front and took the win setting up for a great moto 3. Snyder got out front early and Francis pushing to catch Troy lost it and went swimming only to finish in 4th. Snyder went on to win and claim his first overall win of the season, with Francis in second. Brent Venderlay put together a consistent 3-3-3 on the weekend to round out the all Florida rider podium.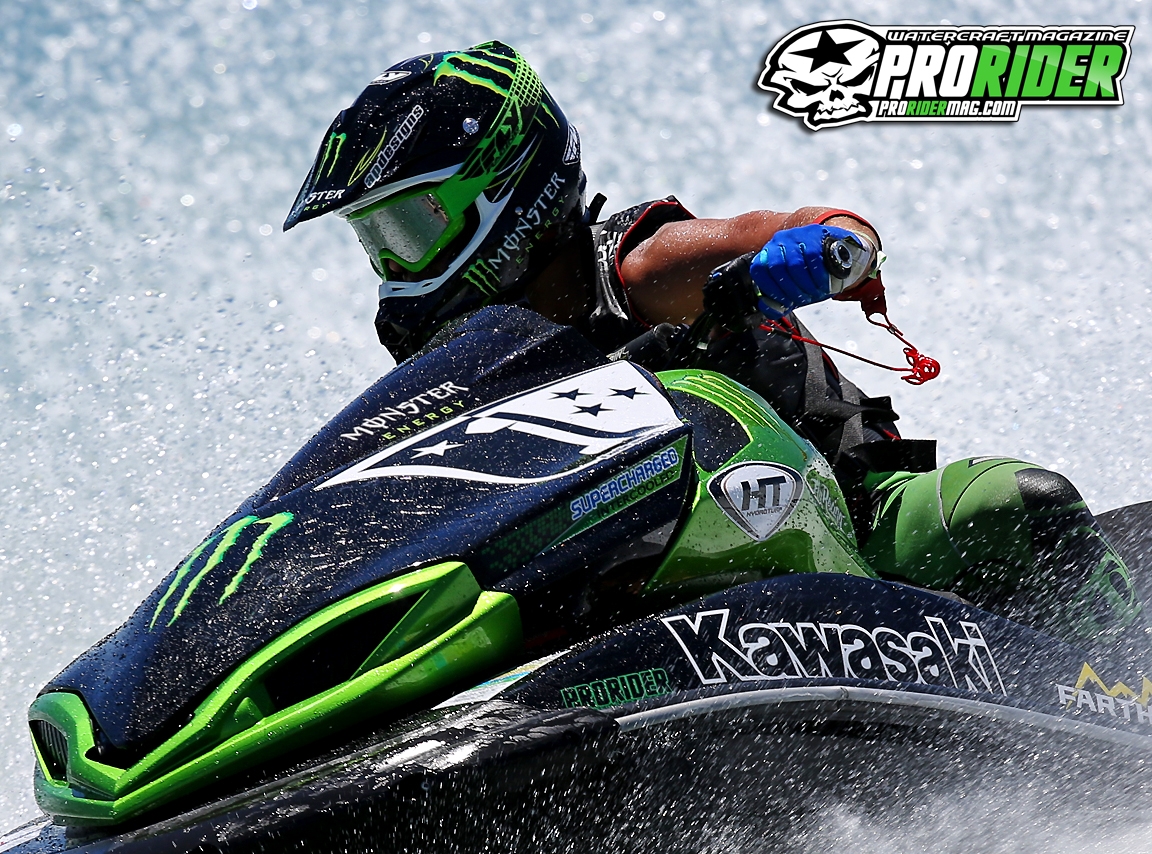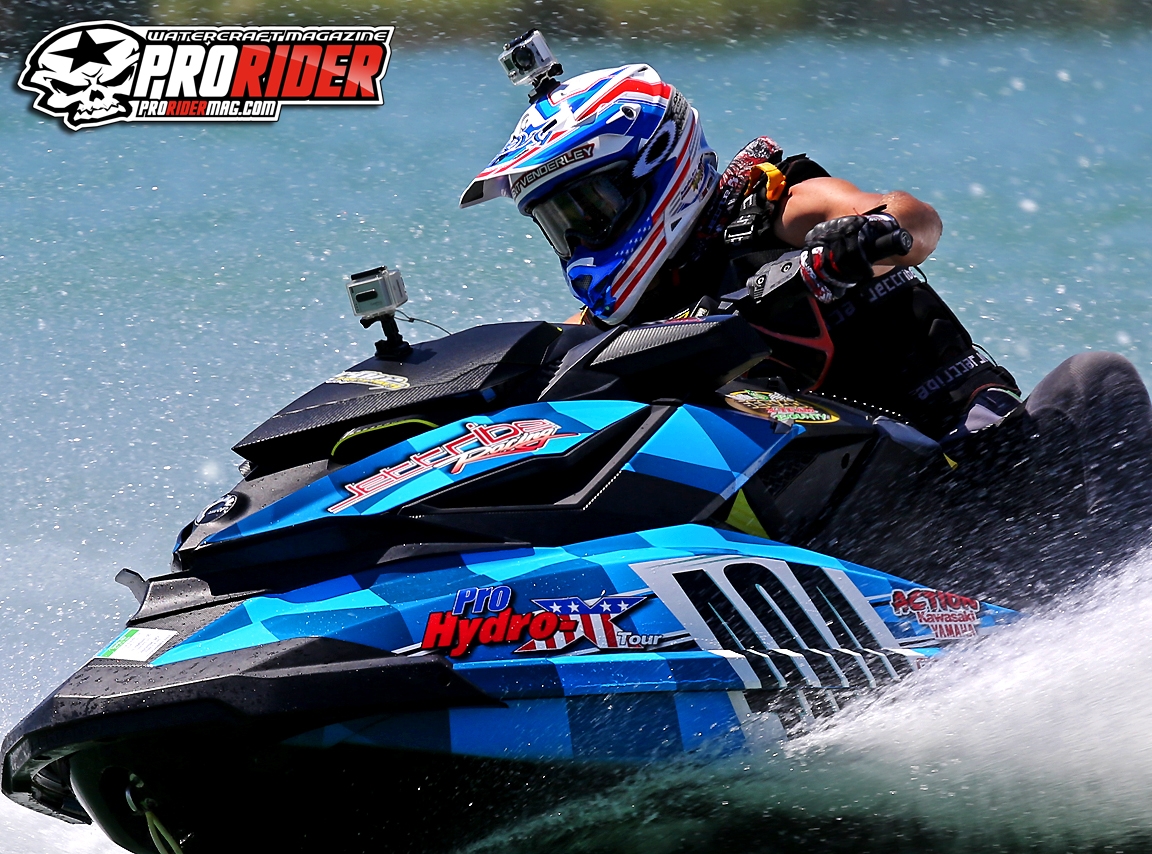 ---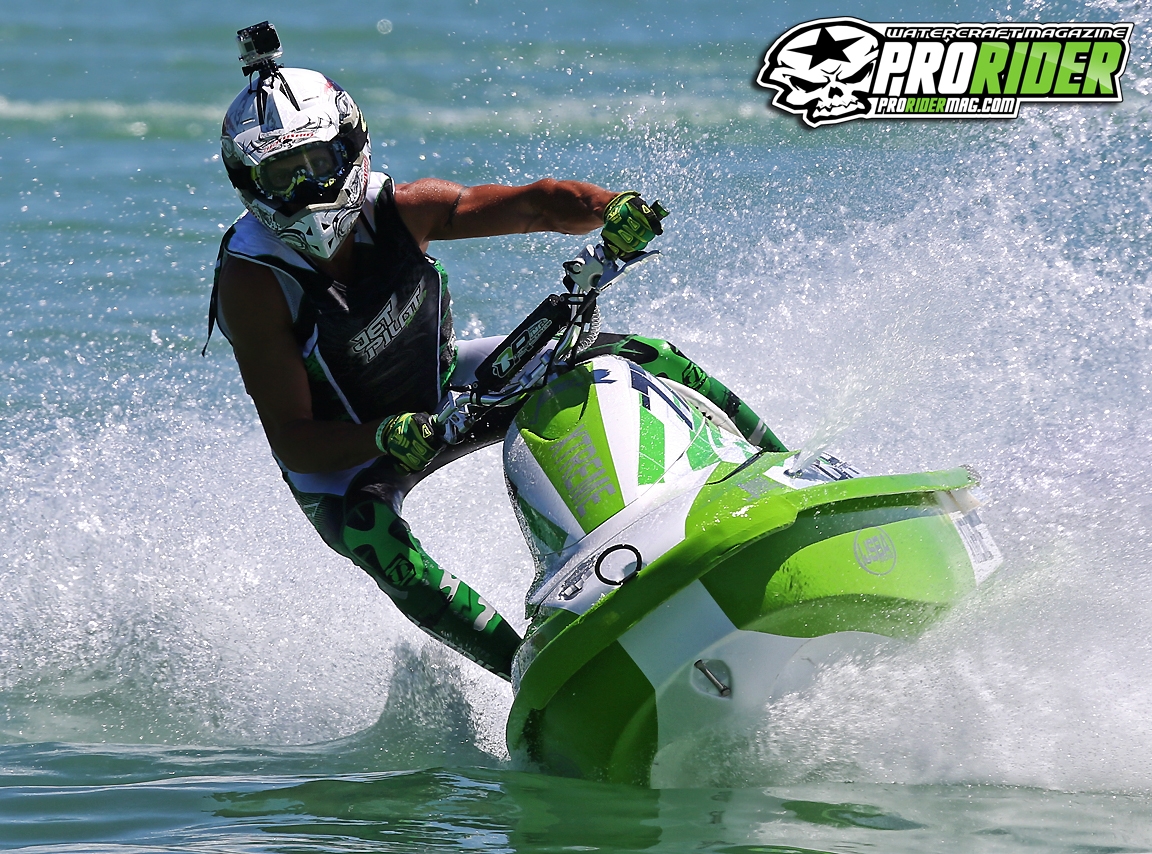 Other special notes were
Glen Jung
extended his points lead in both Sport Spec, and Sport Mod even after a crash and a busted up hand. Glen took the overall in Sport Mod, and a 3rd in Sport Spec. Congrats to
Madison Scott
for winning Sport Spec and Taking the Optima Racing entry fee payback.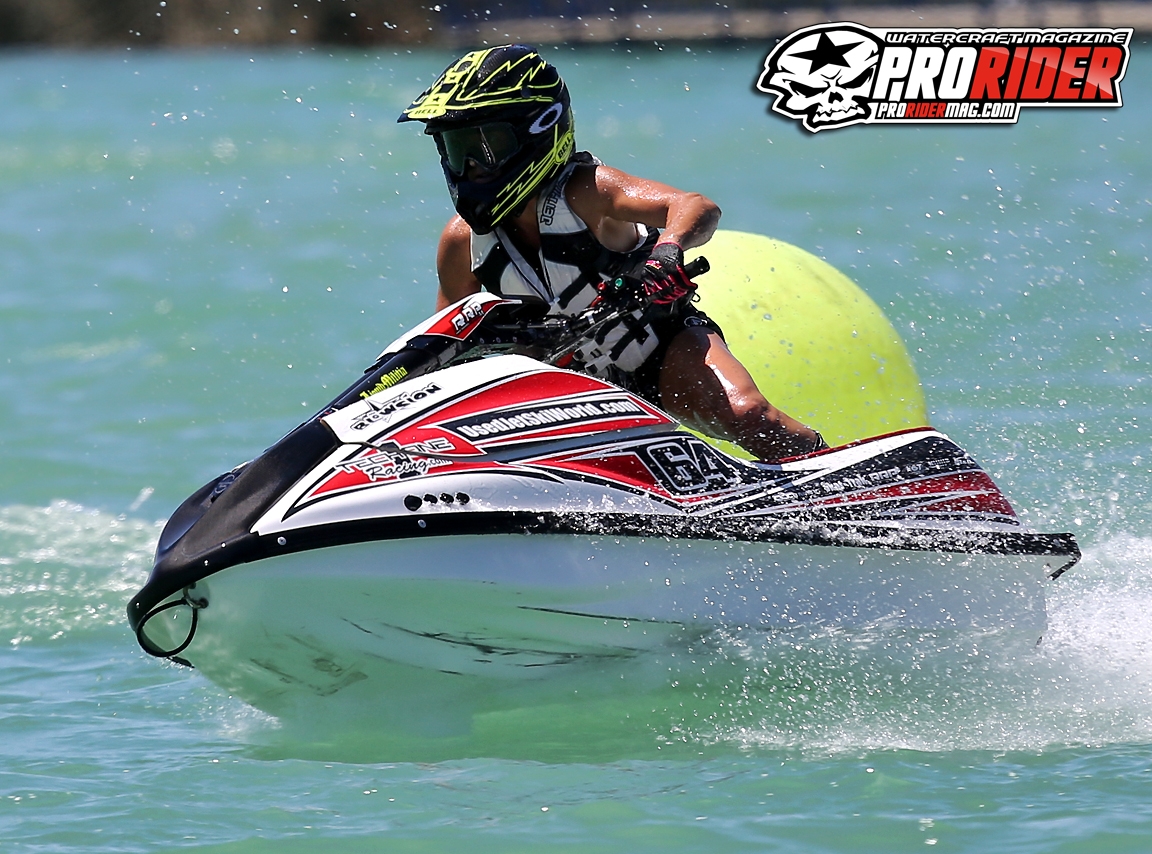 Tera Leho made her return to racing in Sparks backed by Tech One Racing and Liquid Militia! Tera raced with the big boys in Pro Ski Open and finished 7th out of 14 riders!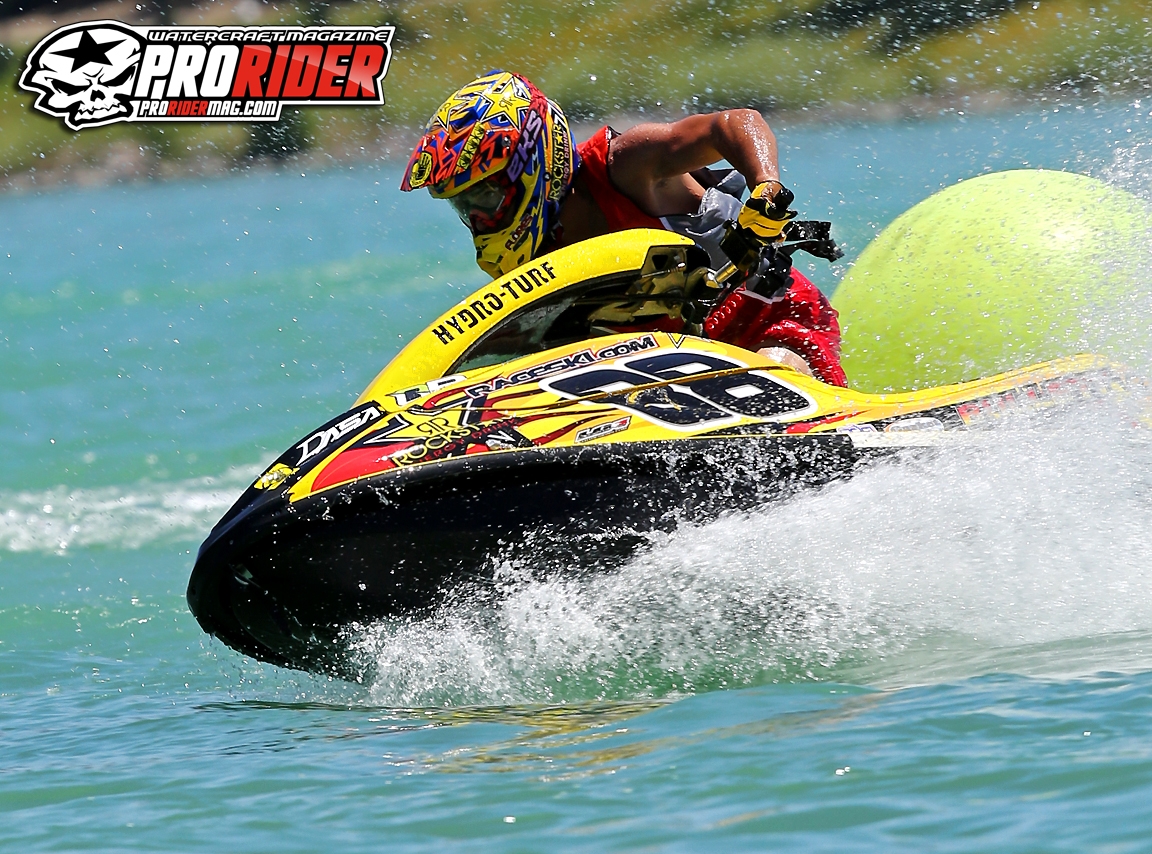 Optima Racing/Rockstar racer Rob Flores went 1-1-1 to take Pro/Am Ski Stock. A rash of problems kept Flo off the Pro Open podium.
---
Every night in Sparks you could go downstairs and find Jet Ski peeps working the tables in the casino, or throwin' down at the bar. Weather you won money or lost money lots of laughs were had by all. The only near removal from the bar was due to too much side boob… really?
I'd like to send out a big thank you to all of you who show appreciation to Pro Rider and our efforts to bring you first hand coverage of events. Look for full coverage of Sparks in our Sept/Oct Havasu Issue!
-RonnyMac