IJSBA sanctioned, PWCarenaracing.com  Over the course of the season there has been some talk just below the surface regarding the direction of watercraft racing and the IJSBA.
By Brent Venderley
In the beginning of 2014 going into our sophomore year of the Hydrocross Watercraft Racing Tour we wanted to take a step back, a breather, and take the time to focus on both creating a sound business model and our vision of what Hydrocross Racing will be in 2015. By doing so, 2015 will be a season for the record books.

Michelle Petro with P1 Aqua X have done a lot in 2014 to carve out their niche in the PWC Racing scene. Hydrocross Racing is now doing the same!
For 2015, the Hydrocross Watercraft Racing Tour will be adding to our traditional closed course racing schedule, PWC Arena Racing. Our Inaugural event, and first race of the 2015 season will be the IJSBA sanctioned "Naples Grand Prix, Power Sports Festival."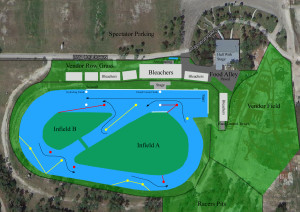 March 2015, the Power Sports Festival will be held at the Florida Sports Park in beautiful Naples, FL. Originally built for swamp buggy racing, the Florida Sports Park is the perfect venue for an arena (SuperCross) style watercraft racing event. It will include Closed Course racing, Hydrodrag racing and Freestyle in the evening in front of the main grandstand's stage and under the lights!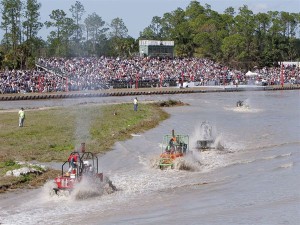 In addition to the great racing, there are 8000 seats, in an enclosed outdoor arena setting perfect for spectators who want to be close to the racing action at all times. There is a paved food vendor alley, vendor areas for Powersports displays, dedicated racers pits, stage in front of the main grandstand for awards and racers meet and greet, a 7000+ square foot air conditioned pavilion with a stage… and much more!
The Naples Grand Prix will be celebrating the end of winter in March of 2015 with an awesome display of PWC Arena Racing at the Powersports Festival. IJSBA sanctioned Classes will include Pro and Amateur runabout and ski, Sport, Freestyle, Amateur runabout horsepower based classes, and the fastest PWCs on the water… the Hydrodrags!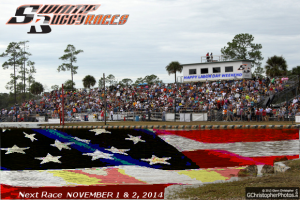 "Get In The Arena… where the spectators meet the racers!"