Friday, 6 March, DOHA (Qatar): Thamer Al Darwish topped a dramatic and incident filled day in Doha, becoming the first Qatari to take a heat win in the UIM-ABP Aquabike World Championship and take overall honours, winning the Grand Prix of Qatar in Runabout.
The Grand Prix title in Ski went to Spain's Nacho Armillas and Sandra Fernandez, with Nac Florjancic beating brother Nac for the first time on the tour to win in Freestyle.
The race for the Runabout title was thrown wide open at the start with heat 1 winner Jean-Baptiste Botti failing to make the start, but emerging from the pits to join the race with two laps completed.
Al Darwish had to come from behind to take the win, passing Yousef Al Abdulrazzaq on lap 4 of 16 and then went after the race leader Mohamad Burbayae.
Burbayae looked to have the race win covered off with a nine second advantage and just 3 laps to run when he slowed and stopped out on the circuit, letting in Al Darwish who went on to win by eight seconds from Jeremy Perez, taking second overall, with Waleed Al Sharshani finishing third.
Last night's Slalom winner Khalifa Belselah delivered an impressive showing moving up from 17th place to finish fourth ahead of Francois Medori and Mohamed Al Heidus.
Jean-Baptiste Botti's late appearance in the race paid off, driving through the field like a man possessed moving up from 23rd to 14th to secure two valuable points and take third place overall.
In Ski twenty-one -year-old Nacho Armillas dominated heat 2 from the start-to-finish to claim his second Grand Prix title on the UIM-ABP tour and his first title in Qatar.
For the second time in two days Armillas got the jump on pole-sitter and yesterday's winner Jeremy Poret to lead at the end of lap one from Kevin Reiterer and Poret.
Reiterer was slowly being closed down by the chasing World Champion, but his race came to a premature end on lap 5, Poret then setting about trying to reduce the six second gap to race leader Armillas.
But the Spaniard was in full control and maintained a comfortable margin to win by six seconds and break Poret's run of titles in Qatar, with Alex Barret producing another very solid performance finishing in third to take third overall.
There was little movement in positions in the chasing pack until late in the race when a quartet of riders passed a slowing Alberto Monti, Mickael Poret and Valentin Dardillat moving up on lap 9, Tomaz Kete and Stian Schjetlein passing him on lap 10.
There was drama from the start in the Ladies heat with Japan's Yuki Kurahashi crashing out immediately, her dramatic exit then immediately followed by the retirement of Kylie Ellmers, capping  a disappointing debut weekend for both newcomers.
Heat 1 winner Jennifer Menard gave a virtuoso performance, leading from the start and for seven of the nine laps, and was 15 seconds clear and on her way to retaining the title she won in Doha last year when she suddenly slowed and retired from the race.
Estelle Poret made up for yesterday's disappointment, first chasing down Sandra Fernandez to move into second place on lap five and was then gifted her second heat win on the tour with Menard's exit.
But second place for Fernandez after her third place yesterday was good enough to give her a second Grand Prix title, Poret taking second and Emma-Nellie Ortendahal taking third overall, after her fourth place today behind countrywoman Jonna Borgstrom, with Marta Sorrentino in fifth.
In Freestyle, after 24 heats and 12 Grand Prix, Nac Florjancic finally knocked his older brother Rok off the top spot winning heat 2 and taking the Grand Prix title by a four point margin, with Qatar's Fahad Al Hamli also finishing ahead of Rok in the heat in second and taking third overall.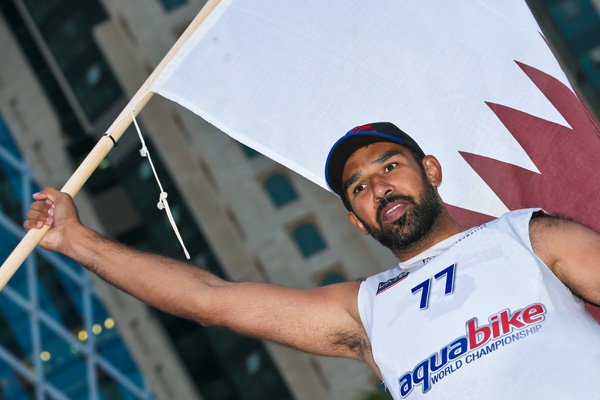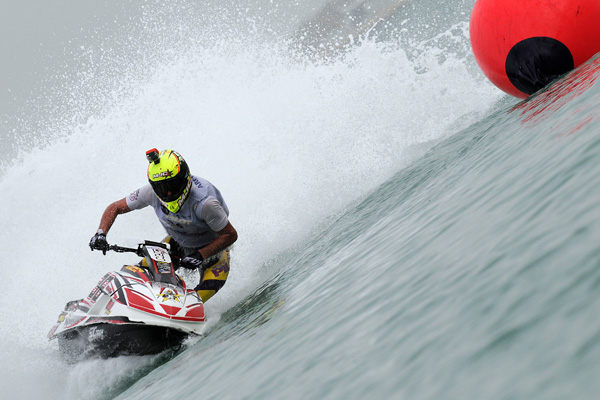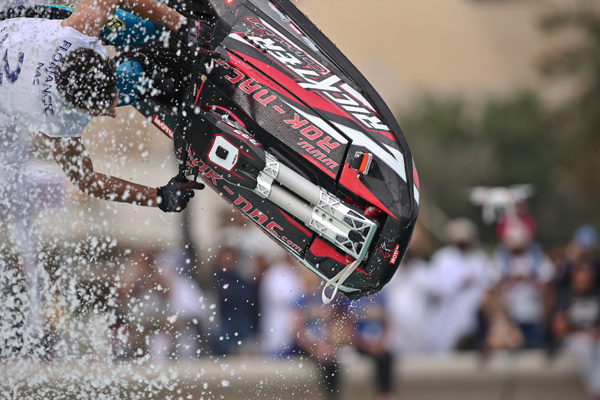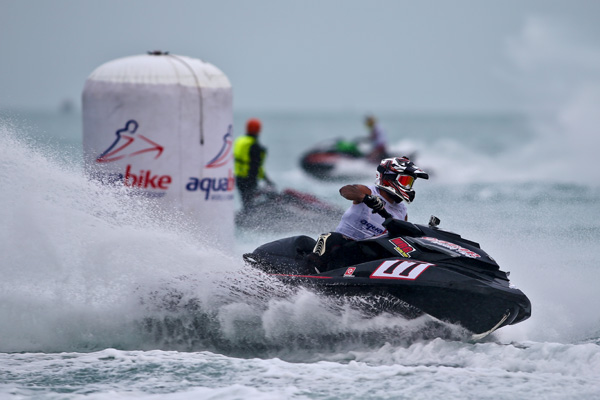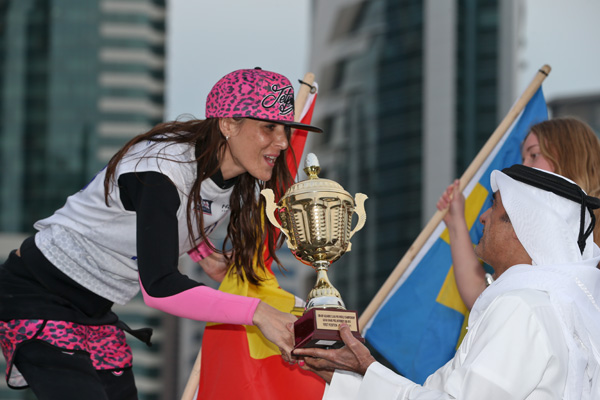 Story and Photos by Aquabike Press