It's time for the 2013 RIVA Motorsports & Marine PWC Demo Event, the only PWC demo where you can test ride the newest personal watercraft from Yamaha, Sea-Doo and Kawasaki, all in one place!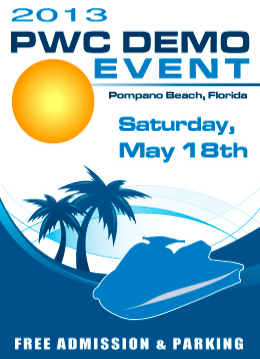 Test ride 9 different watercraft from 3 manufacturers.
Compare the ride and features side by side on a private test lake.
Take advantage of huge rebates and incentives offered exclusively at the Event.
Work directly with manufacturer representatives to learn features and benefits.
FREE Gift bag for the first 150 Demo riders.
ALL Demo riders will get a chance to win a new PWC of their choice! (up to $10,000)
IMPORTANT NOTE: To operate a PWC at the demo event you must 18 years of age or older. If you are 18 years of age or older, but were born on or after January 1, 1988, you are required to take the Online Boating Safety course to be an operator. Please click here.
All Passengers must be tall enough to have their feet easily reach the foot mats on the floorboards of the PWC while sitting in the rearmost saddle position.