RIVA RACING HydroDrag World Championship Results
Story: Mike Young
Photos: Riva Racing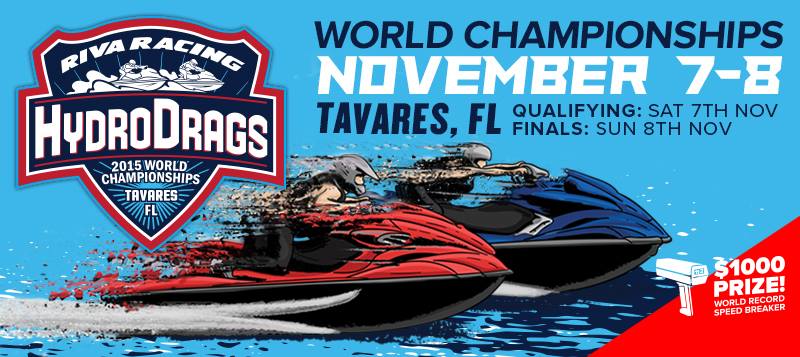 The 4th Annual RIVA RACING HydroDrag World Championship was held in Tavares, Florida, on November 6-8! "The fastest 4 seconds on water" did not disappoint, as over 60 racers from the US and Puerto Rico came to Lake County and competed in 6 different HydroDrag Classes, Speed Alley, and the Endurance race. A very special thanks to our sponsors, which include… RIVA RACING, Greenhulk.net, Yamaha Motor Corporation, BRP/Look Marketing, HydroTurf, Blowsion, Ben's Performance, Kerry Hibdon Performance Group, Team Mean Racing, Jet Pilot, Pro Rider Magazine, Lake County, the City of Tavares, Lacey Powersports, Tiki West, Sandbar, MVP Photography, and Mayor Kirby Smith for his attendance. The results are as follows, please read the full story in PRO RIDER Magazine!
2015 RIVA RACING HydroDrag World Championships Official Results (Top 3)
HydroDrag Classes
Junior HydroDrag
Angelica Gonzalez
Chris Caputo Jr
Luis Rosa
Womens HydroDrag
Angelica Gonzalez
Blanca Conde
N/A HydroDrag
Tonito Lopez
Stock HydroDrag
Stan Hightower
Stephen Jessie
Angelica Gonzalez
Spec HydroDrag
Kerry Hibdon
Stan Hightower
Angelica Gonzalez
SuperStock HydroDrag
Mike Valdes
El Negro
Chris Caputo Jr
Unlimited HydroDrag
Stan Hightower
Chris Caputo
Kerry Hibdon
SPEED ALLEY CLASSES
Stock
Stephen Jessie 83.1
Spec
Carlos Conde 94.7
Clay Marsh 86.9
SuperStock
Ross Neimoeller 96.2
Carlos Conde 95.5
Kerry Hibdon N/A
Unlimited
Maikel Gonzalez 110.0
Chris Caputo 107.4
Jesse Gonzalez 103.6
Endurance Race
Joel Fretts
Tonito Lopez
Tasha Siu
Stay tuned to surfandturfpromotions.com for upcoming news on the 2016 season!!!
Like, Tag & Share!