The 2014 Thrust Innovations Daytona Freeride is in the books! For 10 years, this Freeride has seen it all, the legends, the up'n comers, the could have beens and the hardcore. It all started with a small group of self proclaimed "Surf Sluts" and has blown up to become one of the must attend personal watercraft events every year. I'm proud to say in the 10 years of the Daytona Freeride, I have only missed one, the first one. 2014 may have been the best one yet. With so many epic moments, it can only be described as a Decade Of Aggression.
By RonnyMac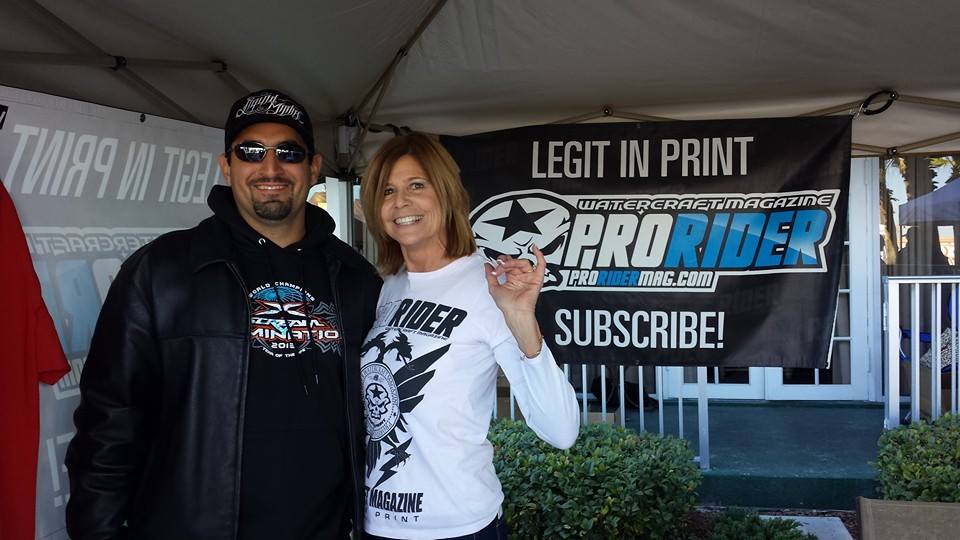 My trip began solo this year, with Ratti still slackin' off, errr I mean "working" in Australia, and our Pit Bull Michelle Petro taking her son Brennan to an orienteering competition in Georiga. Luckily, Ratti's parents came out and rocked the Pro Rider booth and sold more subscriptions than we did in Havasu! Thanks Cathy!
A huge thank you goes out to all of you who subscribed or renewed. There is no better way to support our magazine than subscribing. Numbers is how we grow, same with our sport along with it!
Before I hit Daytona, I went to Clearwater Florida to visit Hydro-X Racing's Brent Venderlay and the lovely Trisha King. Bikini shoot plans fell through, but it was great to spend some time and hang out with Brent and Trish and get the scoop on the Hydro-X Tour plans for 2014.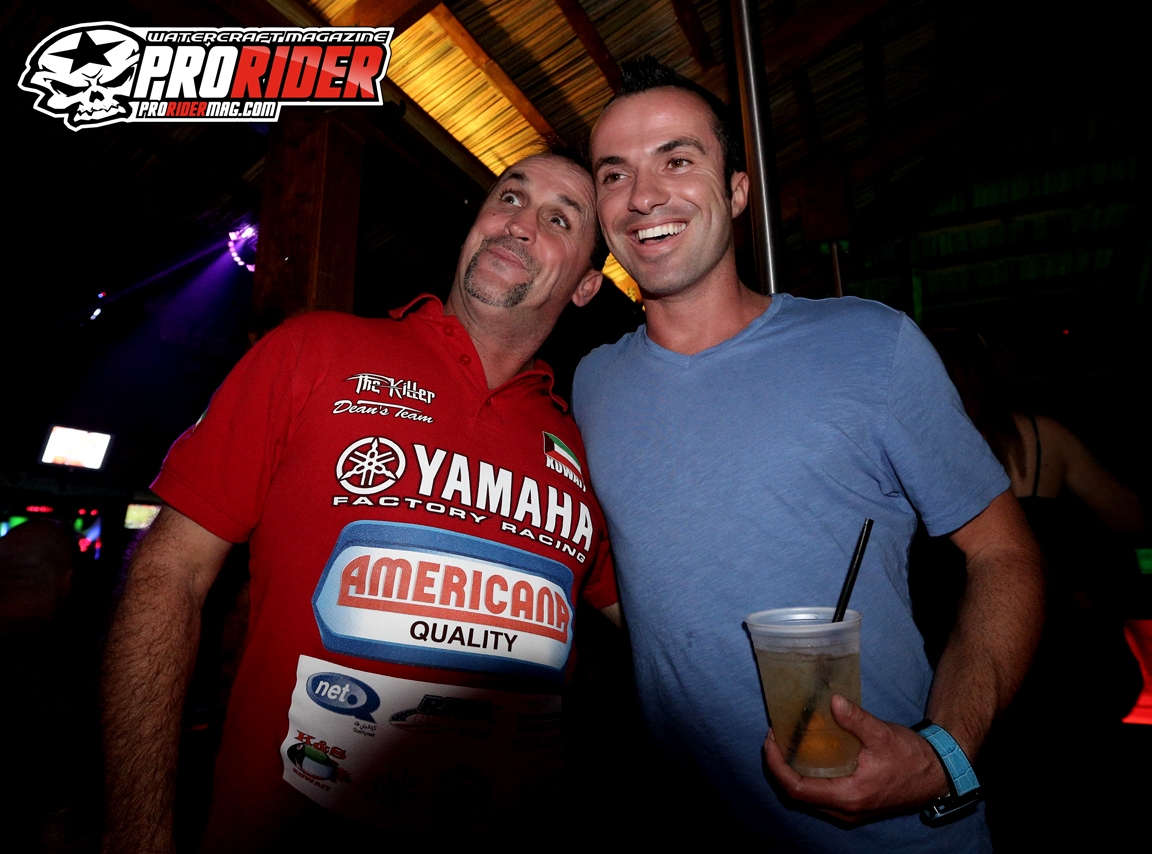 The next stop was Sarasota to visit Eric Lagopoulos at his restaurant, the Waterfront Too, and do a photo shoot with the lovely Lindzay Jaros. It just so turned out that the man, Mikey Young, was staying nearby, so he came out to "lend a hand" with the bikini shoot.
We all ended up hitting a club that night and Eric showed us an amazing time. Look for a review of Eric's restaurant in the next Pro Rider.
After four and a half hours of sleep at Eric's place, I headed back up to Daytona. The temp dropped as I hit Daytona, but I was stoked to find that Michelle had landed me a ground floor room.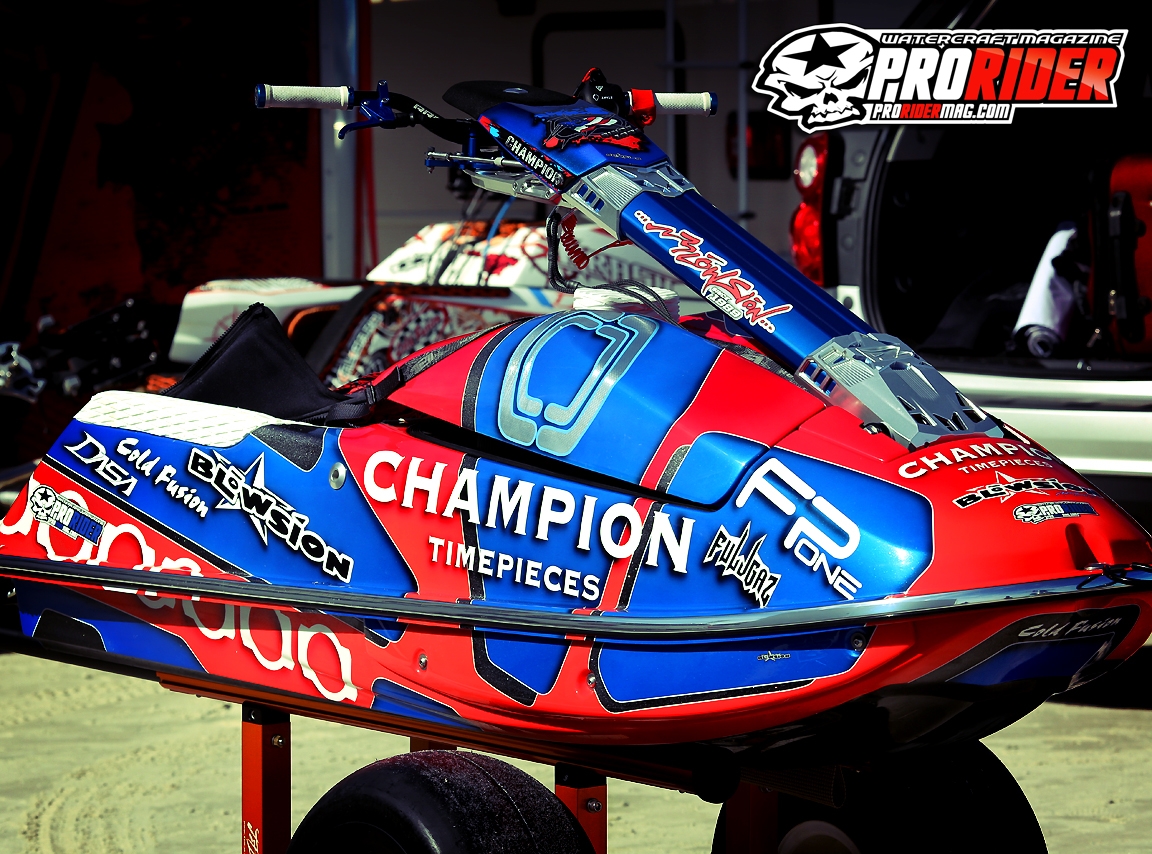 Thursday was the day that Pro Rider announced Ross Champion and Carl Gramberg's newest endeavor, Champion Timepieces. Ross would spend the rest of the weekend answering questions about the new Freeride based watch company. Big plans are ahead for Champion Timepieces, and Pro Rider is excited to be a part of it.
A quick power nap and Thursday night at the freeride was on. Party's were going off in the Liquid Militia/HydroTurf room and the Team Xtreme room. The hotel bar was also hoppin' and I had to experience all of them. As usual, I partied too hard the first night. I don't remember most of it, and lost my Tremor party cup.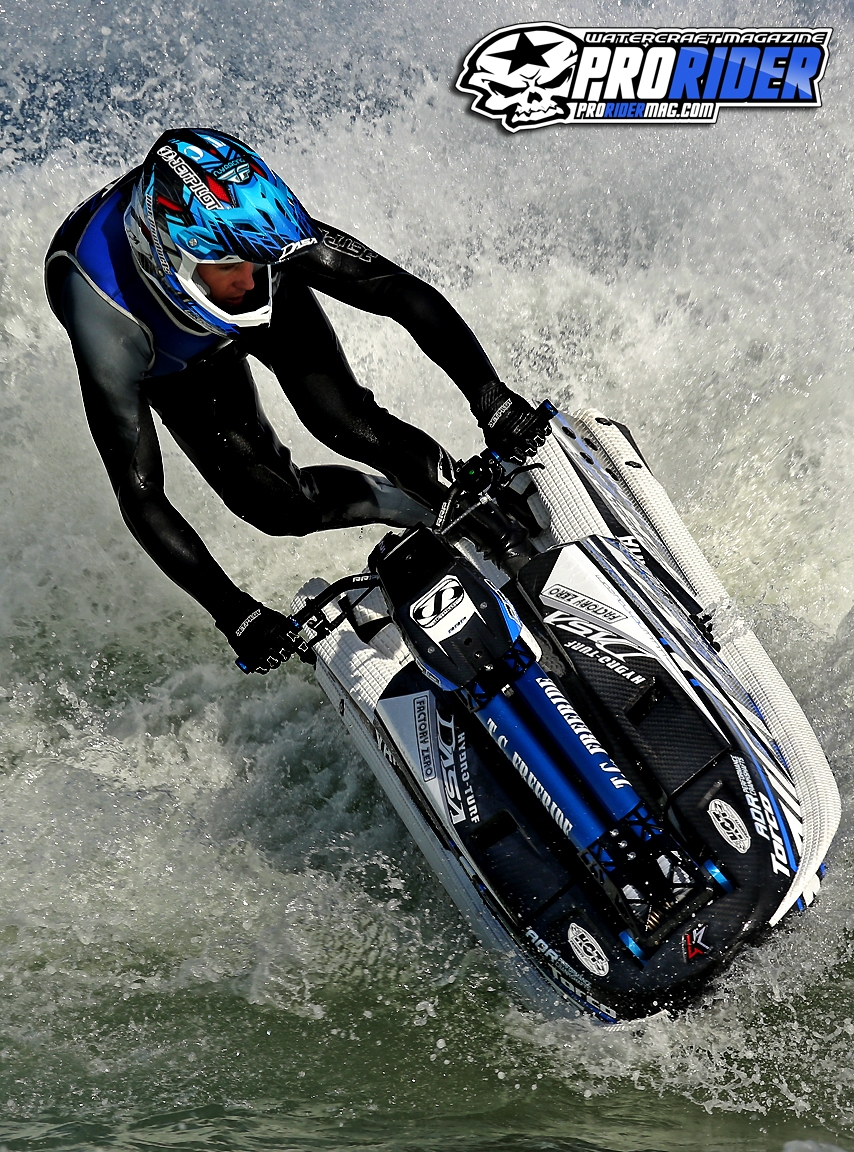 Friday was a bit warmer and had lots of sunshine, but the surf was tiny. The all new Team Rickter was out in force including Taylor Curtis, Brandon and Randy Lawlor, Mark Gomez, Tanner Thomas, Abraham Ho, and Jeff Bolte. The man himself, Rick Roy, was there too but suffering from pneumonia. Team Rickter didnt let the small surf ruin their time as they rippped and shredded the Daytona surf.
Blowsion showed up in true pimp Blowsion style with never before seen ski's built for Ross Champion and Zack Bright. Be sure to check out the March/April Swimsuit issue of Pro Rider to see the Blowsion ski's decorated with the sexy Skylar Joy.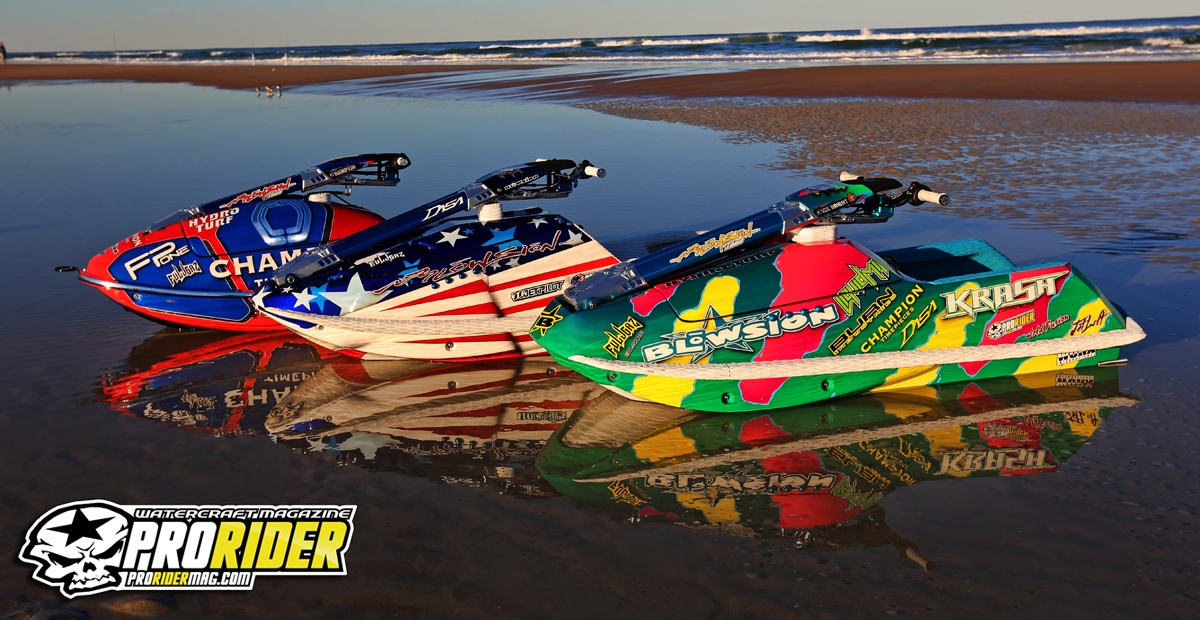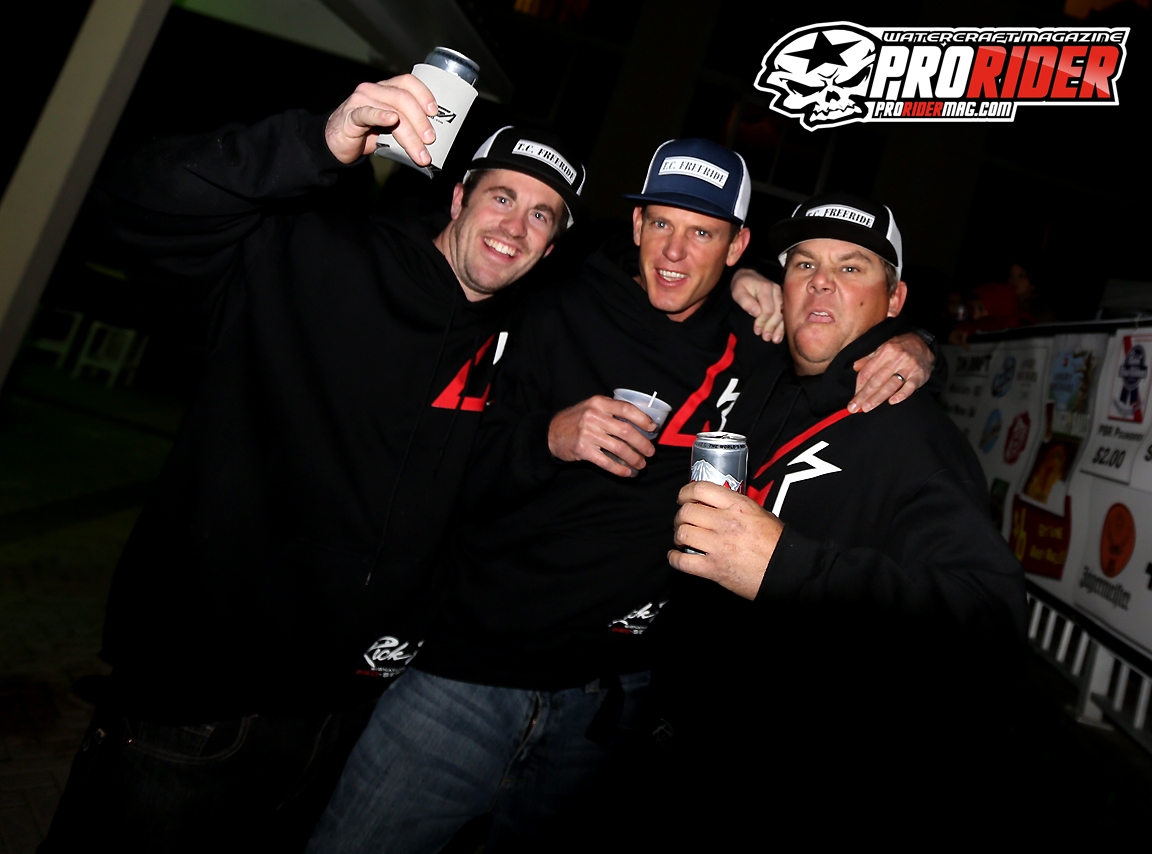 On Friday night, I got treated to an awesome dinner at Bonefish Grill compliments of Hydro-Turf with Mike Bonin, Tom Perry of Hot Products and John and Josh Block. A great time was had with awesome food. Thanks Hydro-Turf! Friday night also featured more of the same drunkin' blur as Thursday night. Luckily, I always have my camera to help remind myself of the crazy stuff that went down only a few hours earlier.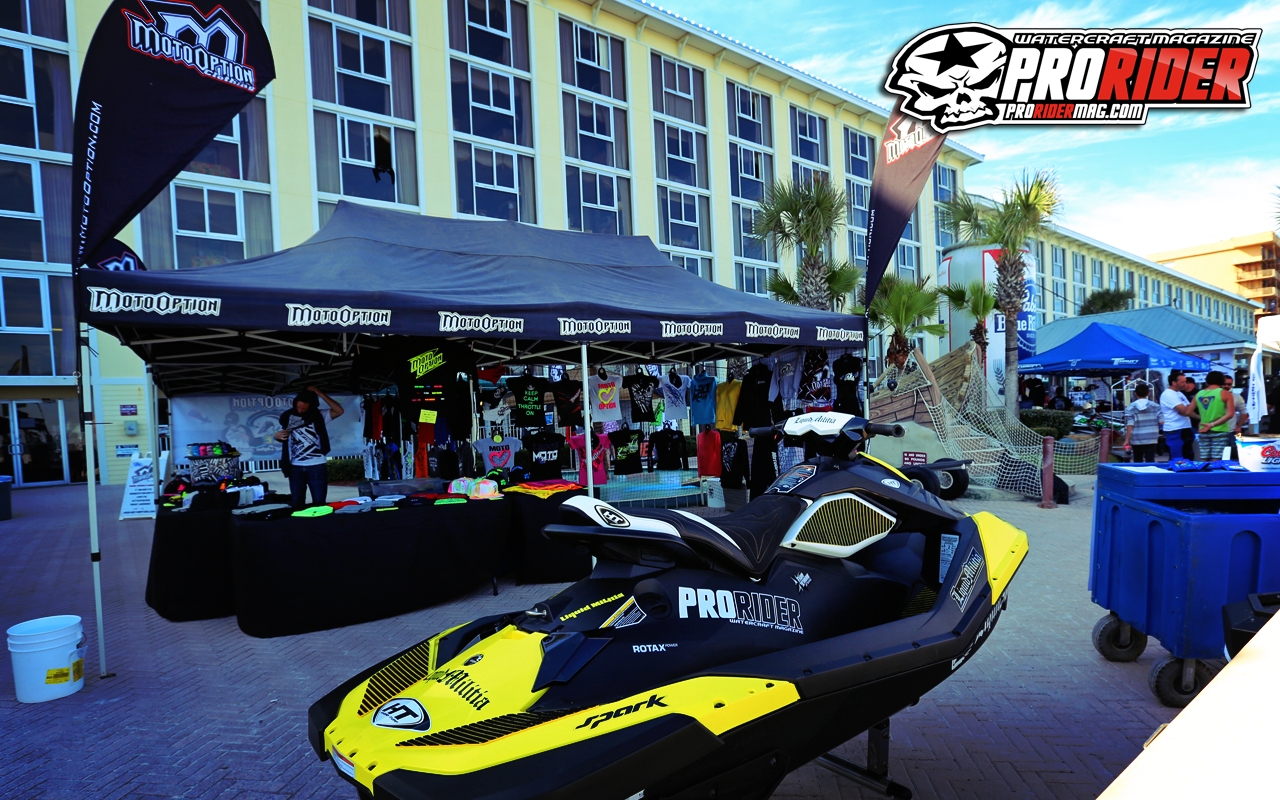 Saturday is the big day at the Daytona Freeride. Everyone is there with vendor booths and all the best guys are ripping it up. Sarah Petro, winner of the Sea Doo Spark promotion in Lake Havasu, also set up her ski that was outfitted with the latest HydroTurf premium Sea Doo Spark seat cover and mats which took her Spark from looking like a plain Jane to totally badass. It also featured some fresh Liquid Militia and Pro Rider stickers.
Watercraft Superstore/SBT always shows up on Saturday with a huge booth and free pizza for everyone! This year, they gave away calendars fettering all of their past models, as well as many other freebies. Watercraft Superstore/SBT always supports the event in a big way, and 2014 was no different.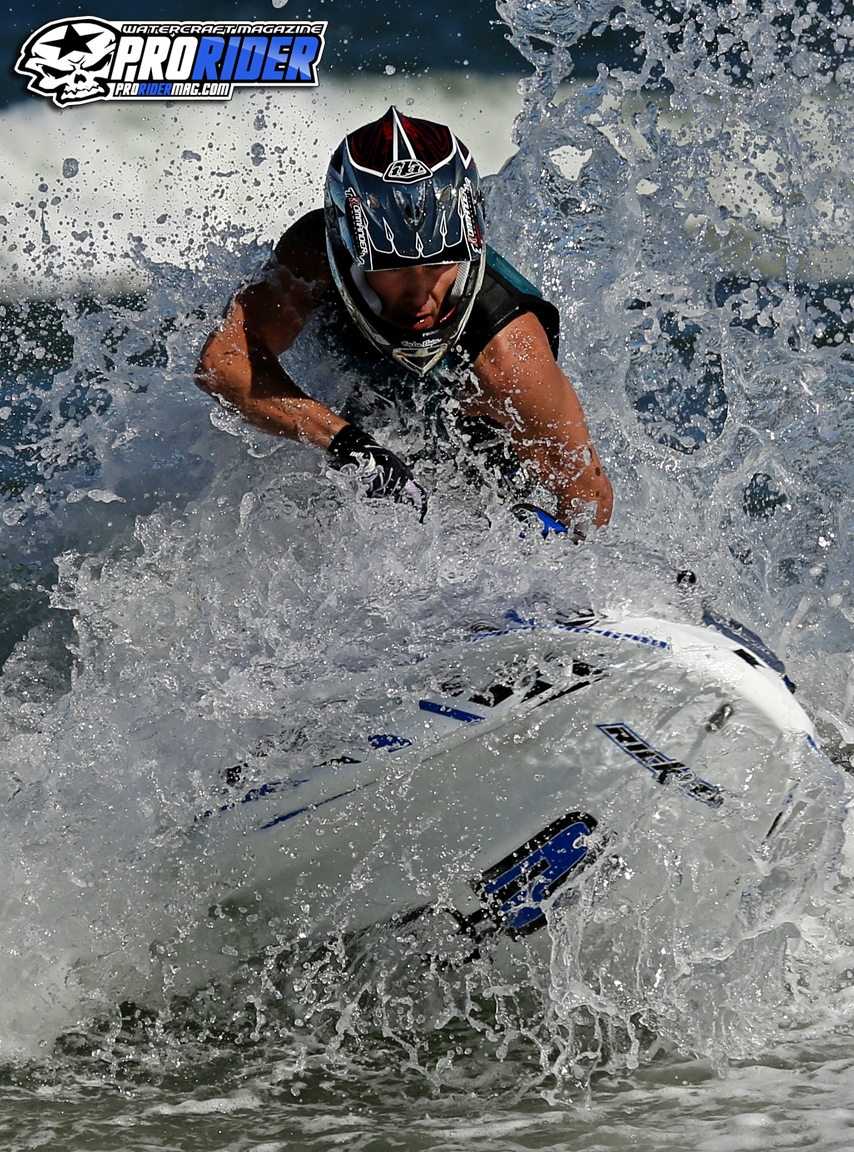 Saturday was also the day of the Moto Option Surf and Style comp. Mark Gomez took the win for the 2nd year with Tanner Thomas in 2nd and 3rd went to JD Hunt. Before the yearly raffle, DJ Kid Korn played the national anthem and dedicated it to our fallen friend Jesse Martin. Miss Thrust Innovations 2014 was announced, and then Mark Gomez hucked a few backflips in the hotel pool.
Major props and thanks needs to be handed out to the management and staff at the Grand Seas Resort. They really go the extra mile for our event, and everyone loves the resort. They are already talking about making it even better next year.
We want to thank Nick Foederer for allowing Pro Rider to be a part of the Thrust Innovations Daytona Freeride. Even with a banged up knee, Nick was there making sure everyone was having a great time and even partying all night with the riders. The man is a machine. "I want to thank our event title sponsor Brian Vergin of Thrust Innovations along with all our sponsors for helping to make 2014 such a killer event" Nick said.
This year really was a great time. There were lots of faces that we haven't seen in years like my old X-H2O friends Darin Jett, Harrison Lanford, and Paul Lehr just to name a few.
Nick said, "I am so happy that people appreciate this event and how its run. I hope to always provide a safe fun environment for everyone to come and play in. Thanks again and see you in 2015. Dates are January 15th – 18th 2015. Anyone wanting to sponsor event please contact Nick Foederer at 386-383-3001 See you next year!!!"