Round 2 down for the HydroTurf ProWatercross Tour and the beautiful Panama City Beach was pretty much perfect.
A favorite venue for many of the racers, Panama City Beach rolled out the golden sands and surf in welcoming fashion.  The weather could not have been better. The water conditions proved challenging for some racers but others made light work of what Panama had to dish out.  Panama was much calmer compared to Pensacola but still provided enough chop for a great weekend of racing.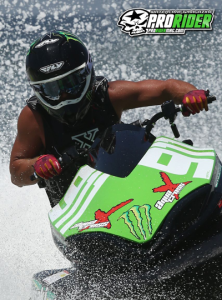 Eric Francis fulfilled his vow from last weekend and took Panama by storm. "It was a great weekend for Kawasaki.  I won two races (in Pro Runabout Stock) with two hole shots and took first overall against a fierce group of racers." said a clearly pleased Eric Francis.
The Pro Runabout Stock class did not go without incident as veteran racer Troy Snyder was slapped with a $500 fine for un-sportsman like behavior.  After being on the wrong end of a collision with Aero Aswar, Troy was unseated and ended up going for a swim.  While in the water, a frustrated Troy Snyder did not hide his feelings and expressed with them some specific hand gestures.  The rear of Troy's Yamaha was trashed but not being one for rolling over when an event like this occurs, Troy pushed on and made a great come back by winning Moto 3.  When asked how he pulled off the win Troy answered, "I Finally learned to swim and took my arm floaties off and showed the boys how to ride."  Troy went on to say, "The collision ended up costing me the overall win in this round." When asked about the water conditions and his strategy for the next round Troy said "It was suitable to my riding style and was much easier on the Yamaha.  My strategy for the next round is to kick ass!  The rest of the rounds are flat water and Troy rolls good on that!"
Aero Aswar's knee did not seem to impede his riding abilities in first two motos of Pro Am Stock. "It was all good in the Pro Am Runabout Stock Class until my nozzle broke in moto3." Aero recounted, "I had to get towed in. I managed a 2,3 and 11th (due to the nozzle) for an overall 6th place."  "I was taking the inside split and Troy took the outside. Troy cut through got into my line and we hit." said Aero regarding the collision.
Aero's brother, Aqsa Aswar, put in a fine performance by rounding out the top three in ProAm Runabout Stock on board his #17 Yamaha.
Pro Runabout Open belonged to SeaDoo this weekend by taking two of the top podium places.  Jared Moore from Baroni turned some heads this weekend and beat out the field on his #8 SeaDoo with Brian Baldwin on Yamaha and Erminio Iantosca on the #4 SeaDoo rounding out the podium.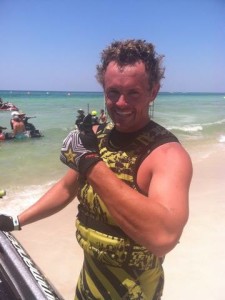 Dustin Motzouris also had a stellar weekend with an overall win in Pro GP Ski.  Even though Motz broke a piston in his ski in Moto one, he was still able to pull of a second place.  Steve Webster of Kommander Industries and the team worked feverishly to repair the ski in time for Sunday's Motos.  They managed to pull off the hustle and Motz was able to pull off the win for the weekend.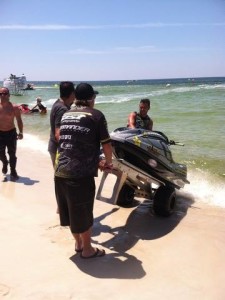 "It was rough which made bit tougher," Motz said of the water conditions. "It definitely brings out the rider skills more and I like the more challenging conditions." Motz went on to say, "The track had big holes on the back section and you had to use your head to not make big mistakes.  I had a good race with Flores in Moto 2 that was a lot of fun."  When asked what he plans to do to maintain his winning streak for the next round Motz replied "Steve and myself have a really good triple package at the moment but we might switch up and run a hydro at Reno.  Because of the elevation the turbo is a big advantage there." Motz explained.  All eyes will be on Motz and Kommander Industries next round!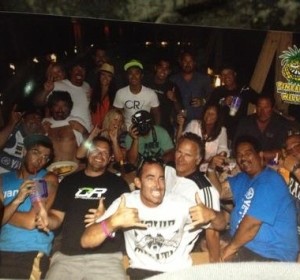 As we reported last week, Chris Fischetti popped up in Panama ready to race with the assistance of Optima Racing.  The Fish ended up 12th overall in Pro Am GP Ski due to some mechanical issues.  Something tells us that the Fish was there to race and have fun and not get caught up in the serious side of the race…at least not this weekend.   "Thank you to Optima racing for letting me race the Optima Racing 1100 SXR," said the Fish "My weekend started out good and ended better!"
Party Image provided by Chris "The Fish" Fischetti,
Glen Jung had his fair share of issues this weekend with a mechanical issue in the Sport Spec class "In Sport Spec I was able to get some good results in our Motos except for one where I had an exhaust problem and was forced to retire after getting the hole shot."  Glen ended up with sixth place overall in Sport Spec.  In Sport GP Glen had more satisfactory results with a 2nd overall "We were able to ride our new hull in Sport GP and get an idea of the things we want to test and try when we get back home."  Glen explained.  "There was a great turn out of riders again this round and I'm looking forward to making more progress for the next round."
AquaX USA racer, Sean Hagen raced the Hydroturf ProWatercross tour for the first time and was very happy with the experience. "This weekend could not have been better!" exclaimed Hagen, "I had a blast and thanks to Jason Russo I was able to race in the Amateur Runabout Stock class. I placed third in a field of eight." Congratulations Sean on a great Pro Watercross Debut.
Image of Sean Hagen rcing AquaX Photo by Charlie Lai
The next round will be in Sparks Nevada June 28th and 29th.  The Guinness book of records will be present to record a potential new world record for the most consecutive back flips on a personal water craft.  See you there!!
Complete ProRider image gallery coming soon!