What an insane and exciting weekend of HydroTurf ProWaterCross racing in Reno this past weekend! Plagued with mechanical failures, fuel shortages and high class competition, it is a wonder how some of these guys managed to pull off the top podium spot at all!
Congratulations to Troy Snyder who pulled off a hat trick with a 3 moto win.  If you remember his quote to Prorider after the Panama event you will know that he lived up to his promise. Flat water is Troy's playground and from here on out he intends work his way up from his current 6th overall to the top of the podium by season's end.  "The Aqua-x series is really helping my training for closed course, big thanks to those guys putting on a good series." said Troy, "Reno is my favorite city in America!  Bo Dupriest and Tim judge are masters of the altitude!  I'm feeling good after that disaster in Pensacola and now being only 6 points out from first with three rounds left, it is go time.  Don't lighten up but tighten up!" said an elated Troy.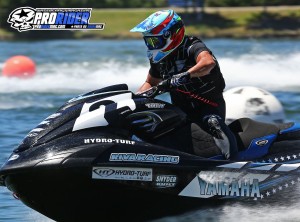 It is not typical to find Eric Francis on the 3rd place podium in Pro Runabout Stock but that is where he finished in Reno.  The altitude dealt Francis a hard blow as he struggled with the effect it took on his Kawasaki.  "The elevation and glass like water conditions really hurt me.  I was having a difficult time getting a good hole-shot each time. The altitude gave me some grief; my Jetski was down 10 mph from how my ski runs at sea level. The next round we plan to run a new prop and we will be doing a few more things but I won't disclose them just yet." Francis explained.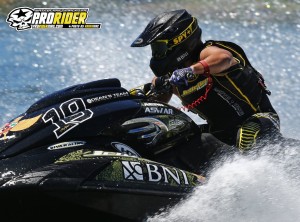 Fellow Yamaha runabout racer Aero Aswar certainly managed to bring edge of your seat action as he overcame a plethora of issues to step on the #1 spot.  "It was a crazy weekend!" said Aero.  After suffered a serious knee injury at round 1 in Pensacola he elected to continue racing rather than opting for surgery.  "My knee held out fine until the final turn in the Pro-Runabout Stock class. I went to pass Eric Francis when I felt a little 'no no pain' going on there." said Aero.  Aero finished with a 2nd overall in the Pro Runabout Stock.  "The Pro / Am Runabout Open was a challenge though," Aero went on to say, "Moto 1 my Supercharger hose came loose so I was running with no boost! And if it was not for Brian Baldwin I would have missed Moto 3!" When asked to explain Aero said "I was pumping gas for my brother and my stock boats and when I went to fill my open boat I found out there was only 2 gallons left! I had no time to syphon the gas back out of my stock boat so I had to race my open boat on the 2  gallons! That is why I was cursing all around the course." Aero said jokingly.  Despite his challenges, Aero schooled the field with the overall win in Pro/Am Runabout Open and a Yamaha Dean's Team weekend of domination.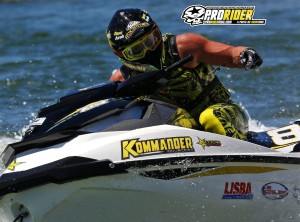 Yamaha may have taken the top spot in Pro Runabout Open class but SeaDoo BRP was not to be denied a podium placement as Jared Moore and Erminio Iantosca took the over all 2nd and 3rd respectively.  "Reno was a fun weekend and a great race site. I was up towards the front in every Moto. I went 2-2 then had a boat issue last moto and ended up with the 3rd overall for the weekend." said Erminio.
Duston Motzouris' brother, Tyron Motzouris brought the heat in the Pro Ski GP Finals to bring home the #1 spot.  Dustin was plagued with mechanic al issues in Moto 1 dishing out a DNF but Tyron went on for the win and continued his winning streak to take the overall. "The weekend went perfectly for me and our team.  Kommander really did a great job on my ski, it was the most powerful stand up that I have ridden." Tyron explained.  "This was my first National event in the US and my first pro win, so this weekend was really special. I was meant to fly home last week Monday so I'm really happy that I stayed."  Tyron went on to say, "I would like to thank my brother Dustin, he has been a mentor to me, Steve Webster and the Kommander crew for getting my ski prepared, Jared Moore for all the help tuning and testing, BURN industries, Villon, Seadoo Centre and my family and fiancé back home for all the support and Thank you ProRider, for the great coverage" Well, Tryon, knows how to win us over!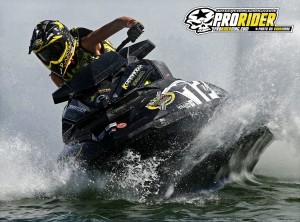 Shante Bukes, also a part of the Kommander Ind team, was not to be out done this past weekend as she laid down the law in the Pro Runabout Stock class. Battling against the guys is sure to be an experience and with a 5th overall Shante was determined to make her presence felt by the competition. "It was probably one of my most favorite racing events I've attended, because it was racing filled with speed and skilled riders on the flat waters of Sparks marina." Noted Shante, "It wasn't just all about how fast you could go but also the technical parts of racing, which I love!!   I battled it out against talented riders in the Pro Runabout Stock Class and managed to walk away with a 5th place and of course a more hardcore racing experience." Shante added, "I also took the 1st place in the Woman's Runabout Stock Class. I'm stoked on how well it went with the whole Kommander Team. I would like to thanks my sponsors: Kommander Industries, Rockstar Energy, BURN Industries, Villon Clothing, Lps, Bechem, NWU, Fast Powersports and DjvanR." Shante is a true professional lady by all rights one to watch!
Glen Jung did not have the best of weekends in the Sport classes. Even though it may not have been a stellar weekend Jung managed to gain valuable points and maintain the in the lead for overall points. "We had a few problems that held us back and we struggled in Reno with a few issues but still managed to make it through the weekend.  We collected valuable points to stay in the points lead for both Sport GP and Sport Spec." stated Jung.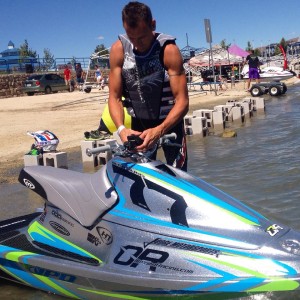 There were no freestyle competitors to show at this event so the hopes of a World record being broken were dashed.  That being said, the racers put on a great show and the venue did not let us down as we enjoyed the weather and the company. All eyes are back on the East coast for round 4 and as usual Prorider will be there up front and in person.   See you at the races!