I am sitting here at my good friend Clay Barbee's, relaxing at his family lake house, reflecting on this weekend's race. It is just the crickets and I in what seems to be a silent darkness without the usual city noise and lights I'm so used to. I am in the midst of realizing how hard all of us racers push ourselves and how much we expect from ourselves. As the end of the 2013 national tour season draws near (about 5 days left) things have gotten tense, and this weekend was the culmination of all that tension in our (Pro Runabout Stock class) moto 3. Emotions have been running high all year! The turmoil between Troy Snyder and Eric Francis seems to have dissipated for the moment, only to be replaced by an all around general sense tension every time we come to the line.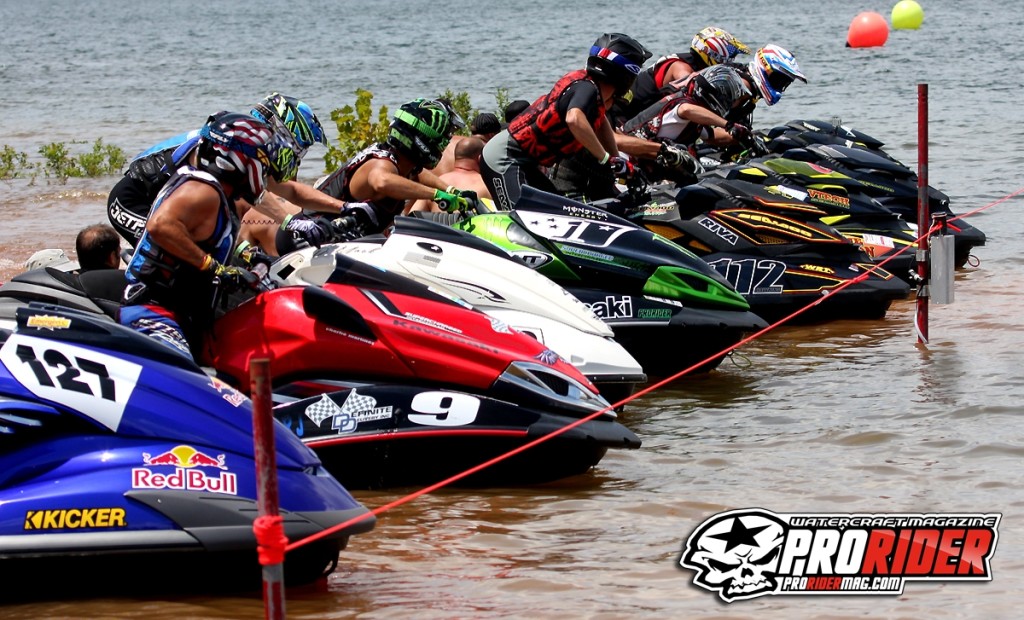 With national titles at stake and it being this late in the season, every moto means so very much. This weekend after two red flag starts in moto 3, a verbal war broke out while staging for the third time between officials and several riders.
The fighting was over the official's calls and the penalties they handed down to a couple riders. It got heated enough that the promoter, AJ Handler called us all on shore and "gave us a talkin to." One thing I have to say is… it makes for great spectating and gives everyone something exciting to talk and write about! The entire crowd was on their feet at the shoreline watching the drama unfold. Eventually the fighting between the riders was squashed after a couple helmet bumps and the rider's friends pulling them apart.
As for myself, my personal drama and self induced pressure, came to a head also. I rode faster this weekend than I ever have, unfortunately my results do not reflect it. In Saturday's moto, it was Troy Snyder, Eric Francis and Stan Hightower in 1, 2 and 3 followed by Dennis Mack and myself. Dennis and I both rode a great race and I just could not get the pass done. We finished 4th and 5th with very little gap between us.
On Sunday, I was possibly riding on the edge a little, with the speed it takes minus the smooth consistency. With the points situation the way it is, I have to finish at the front of the pack in order to take the points lead for a 3rd place national overall podium. So, I passed D. Mack and one other rider mid race, and just as I said to myself "now you can slow down and settle into a more conservative pace," I hit some big chop in a corner and got bucked off. I ended up finishing 7th just ahead of Troy Snyder who had a mechanical issue.
In moto 3, having an advantage due to the two red flag starts, and the officials penalizing those riders in question, I had a great start with only Eric Francis and Stan Hightower ahead of me. Unfortunately, I had a minor mechanical issue (that I fixed while on the boat in the middle of the course) that put me in 5th place for moto 3, and 5th place overall for the weekend.
Although my tone may seem a little disappointed, I am not! About mid season, with the realization that a top three finish was within my grasps, I upped the ante on myself without really being aware of the change. Now, I don't think pushing oneself to the limit is particularly a bad thing; I have come to realize again, that living happy is a top priority in my life. To this end, it seems I need to remind myself to take the time to "smell the roses" and bask in the successful accomplishment of the goals I have set out for myself. At the beginning of the 2013 season I told myself, if after moving up from Novice to Pro in only my second season of PWC racing, I finished in the top five nationally, I would be happy. Well, I have surpassed that goal and now realize just how relentless (in a good way) I am on myself, and how my goals changed along the way with my successes. It seems it is time for me to be happy!
As a side note, it took a couple of young Hartwell racing fans that wanted autographs to snap me out of my disappointment with my race results. As my friend Dylan Osborn was pulling my boat and I back to Jettribe camp, two young fans were waiting there for me to sign their hats. It was a great feeling that is hard to explain. Never the less, it changed my mood and perspective immediately.
One other thing I realize, and the last insight I will close with; in my brain happiness and satisfaction may be the state of mind I am in, there will always exists a slight sense of discomfort with the way things are. The fleeting nature of those emotions in my head always gives way to the need for more: the next goal, the next accomplishment, and the next slice of temporary satisfaction.
See you at the races. I will be riding my a** off this coming weekend, having fun, going for that 3rd spot on the podium; happy with where I am and wherever I end up in the points… for now!
Special Thanks:
My sponsors, Jettribe, Pro Hydro-X Tour, Kaotik Products, Exotic Signs, RIVA Racing, Hydroturf, Action Kawasaki Sea-doo, Bradenton, FL. and Pro Rider Magazine
My friends, Clay Barbee, Dylan Osborn and family, Red Flag Russo, Kevin Wassum, Brad Clark, all the UWP INC. staff and last but not least Trisha King for all the support.
Official points totals after round six:
Eric Francis 346
Troy Snyder 308 -38
Dennis Mack 257 -89 (-51)
Brent Venderley 239 -107 (-18)
Michael Bellamy 173 -173 (-66)