Children stood on the deck of Surf Burger watching an unlikely sight approaching on Santa Rosa Sound. It was red, and it was racing toward them on a Jet Ski. Forget Reindeer, Santa Claus was traveling Northwest Florida style on Saturday.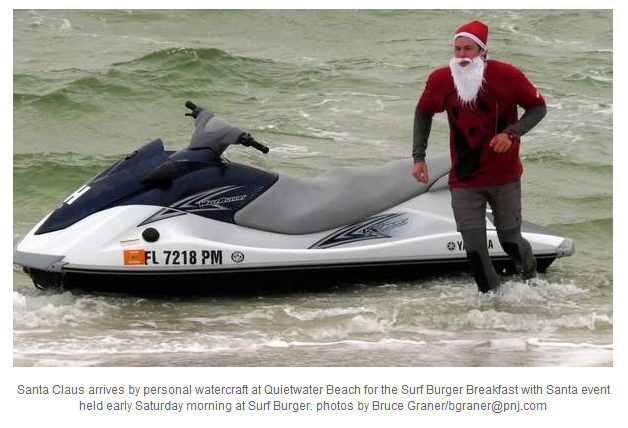 PJN.com
Santa came ashore cold and dripping, but moments later he escaped the mid-40 temps for a warm perch inside the Pensacola Beach eatery, where dozens of children with their parents had swarmed to have Breakfast With Santa — pancakes, bacon and eggs.
Catherine Keeler, 8, said that's not what Santa eats.
What then?
"Cookies," she squealed, as her sister, Hannah, 6, and friend Abigail Redman, 10, giggled nearby.
Santa, wearing a beachy tropical shirt, shorts and flip-flops, visited with each child. But then, Santa had another gig.
Because two hours later, the big guy, now in traditional red garb, was aboard a fire truck, pulling up the rear at the annual Gulf Breeze Christmas Parade.
More than 50 entries participated in the parade, which began at Gulf Breeze High School and ventured down Shoreline Drive, where families camped out on the side of the road awaiting floats and cars throwing beads and goodies.
Parade Grand Marshal Monsignor Luke Hunt of St. Ann Catholic Church in Gulf Breeze buttoned up before heading out on the 3-mile route in an convertible Shelby GT Mustang.
"It's crazy, isn't it?" he said. "An old priest as grand marshal?" Moments later, he was tossing bubble gum to kids bundled up in coats along the chilly route.
One of the parade highlights was the children of St. Ann Discover School, who rode the route in the five-car Discovery Train painted like school buses and Blue Angel jets. For the fourth consecutive year, the school's train won Parade Best of Show.
Not that the children were that impressed. One slurpped on a sippy cup much of the way.
Other parade participants included the Santa Rosa Sheriff's Office Mounted Posse — that means horsies! — and the Poodles on Parade group, which consisted of what you would think — poodles and their people.