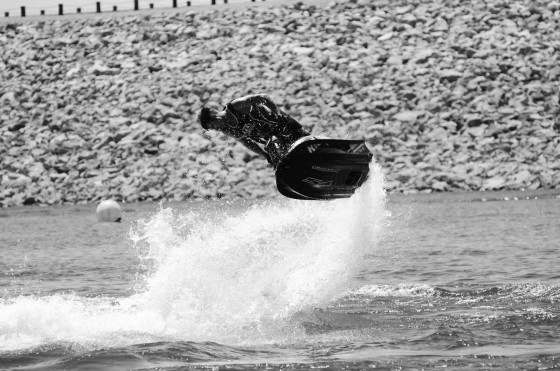 First-hand season update from pro freerider Tanner "Tanman" Thomas
By: Tanner Thomas
Photos: Mark Fischer, Jon Courrier, additional images supplied by Tanner Thomas
Well its been one heck of an 11 day trip! 
Almost 2,000 miles of action packed jetskiing and traveling. No shortage of awesome days on this trip.
It all started by flying into Seattle Washington to begin the trip with Mark Gomez and Australian Nick Barton. We met at the airport and overnighted with a follow freeride friend and painter Daylite Ramsey, then bright and early we sent off to Alaska Marine Lines shipping docks in Seattle to pick up the tour rig. We arrive to AML being fully prepared and taken care of with my truck and ready to depart on our adventure. From there it was a nice short 2 hour drive to Grayland Washington to get the event started.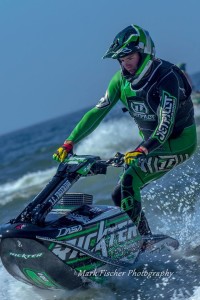 This year the Grayland Open Freeride became the first stop of the Krash Nationals Pro Freeride tour. With this exciting new formation of a USA Freeride tour Tyler Rental in Chehalis WA was kind enough to bring us a scissor lift and a Mustang skid steer to get our judges in the air for proper viewing of the rider and to keep our beach approach smooth! This event has leaps and bounds grown this year. The amount of pro competition that was present was top notch. With Jake Montandon from south africa, the Lawlor bros and the Bright bros from California, we all had some tough head to head battles in front of us. My TC Freeride built, Dasa powered and Skat-Trak propelled Rickter FR-2 was running top notch all weekend. Battling the small surf conditions of the Washington shores, I qualified well but was bumped out of the contest by team mate Brandon Lawlor in the first rounds. Brandon went on to take 2nd place in the finals against our other TC Freeride team mate Mark Gomez who took the win with an unreal display of riding all weekend!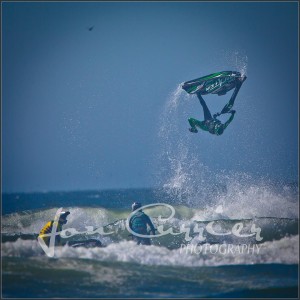 After the Pro, Amateur and Rookie Freeride rounds were finished all of us Pro riders went out for a 15 minute expression session Pro Jam for bragging rights of the biggest baddest tricks. It is amazing what our new skis can do in such small surf conditions. Jake Bright and Zack Bright took 1 and 2 in the Pro Jam.
It was a phenominal event this year at the Krash Nationals and this year the competition stepped up big time. This event is growing every year and has lots of potential to continue to grow. Thanks to the support of companies like Tyler Rental, Dan Lindgren event promoter, Krash Industries, TC Freeride, Dasa and all the other supporters of the event it was a success.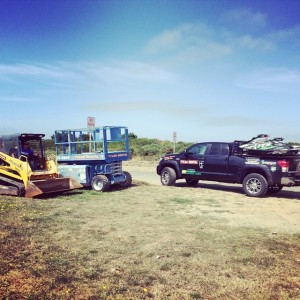 From Grayland it was an abrupt all night 18 hour drive south with Mark Gomez in my loaded Toyota Tour Truck to the TC Freeride shop in Morro Bay CA. Taylor Curtis met us with open arms full of parts and tools to get our skis dialed back in for the abuse they continually endure. After we were tuned in by Taylor and ready to rock Mark and I rode freestyle at a lake and caught an evening surf riding session in Pismo Beach CA on our continued drive south towards Marks house.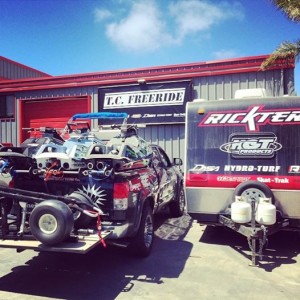 Being down in the area it was great to catch up with sponsors like Liquid Militia and get some new threads! 
After finally getting down to Marks house and get him unpacked at home, I was able to cruise down to Oceanside CA and stay with Zack and Jake Bright and ride out of Oceanside harbor on Friday morning, then Friday afternoon I made the drive to Lake Perris CA where I practiced with my Rickter XFS Competition Ninja for the rest of the afternoon in preparation for the AM Freestyle Contest the next day.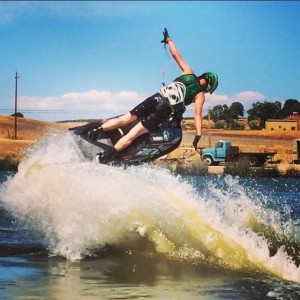 I was able to take away 2nd place for the day with my team mate Mark Gomez getting the win in AM Freestyle.
This IJSBA event now seats and qualifies me for the Hot Products IJSBA World Finals in October where I hope to have the time and practice for a great world finals performance then.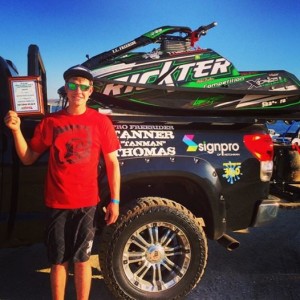 Sunday morning we were in the water at 7am back riding surf in Oceanside. There was definately no shortage of burning gas for myself on this trip! I can't thank all my sponsors and supporters enough, I really rode hard and practiced every second I could to try and get some good results out of this trip. I am happy with a 2nd place finish at Lake Perris and excited to continue to grow this season. For now I am on a place back to Alaska to get some work done. Next up is the Blowsion Surf Slam coming soon 
2014 BLOWSION SURFSLAM
PACIFIC CITY, OREGON, USA
SEPTEMBER 5TH / 6TH / 7TH, 2014
I hope to see anyone there who can attend!
Thank You to my 2014 sponsors: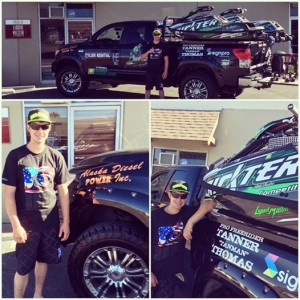 Big thanks also to John Crab at Performance Fiberglass for helping me leave my truck in California while I travel back to Alaska.