#sparksomefun the successful marketing campaign by SeaDoo BRP and LOOK Marketing that has hit the PWC is nothing short of genius.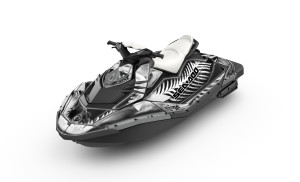 With the idea of kick starting a new generation of PWC enthusiasts, SeaDoo BRP launched a huge campaign promoting their new sensation the Spark.  An affordable PWC and play toy the Spark is reminiscent of the younger years of the watercraft world where PWC were smaller, easily maneuverable and just plain fun.  With today's advanced technology SeaDoo BRP managed to reinvent the wheel and produced a fun and playful version of the newer bulkier watercraft that we are used to seeing in more recent years.
Recently the Spark and SeaDoo BRP hit Miami area big time in an effort to expose the craft to a newer generation. In a press release regarding the great marketing efforts put forth for the spark, Tim McKercher of LOOK Marketing had this to say:
"In a week long on-water and on-land effort, the Sea-Doo team led the #SPARKSOMEFUN effort that culminated with a concert by performance innovators David Garibaldi and electronic music producer deadmau5. In addition to exposing the boating lifestyle by a measured 32 million impressions, we made a video with deadmau5."
The spark starts at and affordable $4999 and is available at your local SeaDoo BRP dealer!  Go spark some fun!!
This is what Joel Zimmerman aka deadmau5 had to say about the Spark: