Tanner Thomas Pro Freerider Update
By: Tanner Thomas
This is a big and exciting week for myself. My truck has arrived in Seattle at Alaska Marine Lines headquarters. I am flying there to take control of it again Wednesday morning and immediately hit the road with my girlfriend Kate, to Lake Havasu City Arizona for 10 days. I will be competing in 2 different back to back freestyle contests. Thanks to TC Freeride I will be competing on my 2015 Rickter XFS Ninja "double backflip ski" with a new Dasa 1200cc motor and Skat-Trak 155mm pump.
After last seasons success I took some time to reflect back on everything achieved and everything that I had left. Many questions entered my mind of what the best next life decision I could make would be. Financially 2015 was of breathe taking scale. This year I would like to eliminate some of that stress. I chose to maintain a smaller fleet of equipment and I am moving to Washington State to continue my career with Dawson Construction as a crane operator as well as compete in my first Pro Freestyle season leading up to the Pro World Finals appearance.
I'd like to thanks all of my amazing family, friends and sponsors for unreal levels of support during these big moments in my life.
Chasing dreams is something I've been doing for a while and now I can say that I am living the dream.
I would like to keep striving for success and appreciate your support in my 2016 season. Sponsor logos are still being added to the tour truck. Financial supporters that make the wheels turn receive truck priority. Skis will sponsor logos and be displayed appropriately upon season agreements.
I am proud and thankful to have produced outstanding results last year as a reward for all the hard work of our team. Join me to continue that momentum. Updates will be emailed as soon as the fun unfolds

For now its time to continue preparation and execute the plan.
– Tanner "Tanman" Thomas
907-617-7277
Tannerthetanman@live.com
——————————————————–
Tentative 2016 Event Schedule
April 9-10 Best of The West Rounds 1&2 – Lake Havasu AZ
April 16 USA Freestyle Championship – Lake Havasu AZ
May 7-8 Pro Tour Super Cup – Panama City FL
May 14-15 Pro Tour Grand Prix – Pensacola FL
May 14-15 Best of The West – Parker AZ
June 11-12 Best of The West – Lake Perris California
July 16-17 Euro Freestyle Championship – Nysa Poland
August 13-14 Best of The West – Lake Perris California
October 7-9 World Finals Lake Havasu AZ
Feel free to contact myself about any event scheduling questions and hope to see you in attendance
2016 Early Confirmed Sponsors
TC Freeride
Dasa
Skat-Trak
Sign Pro
Eichner and Eichner
Rickter
Alaska Marine Lines
Alaska Diesel Power
BAM
Jet Pilot
Jet Lift
KMG Racing
Mystik Lubricants
Ninja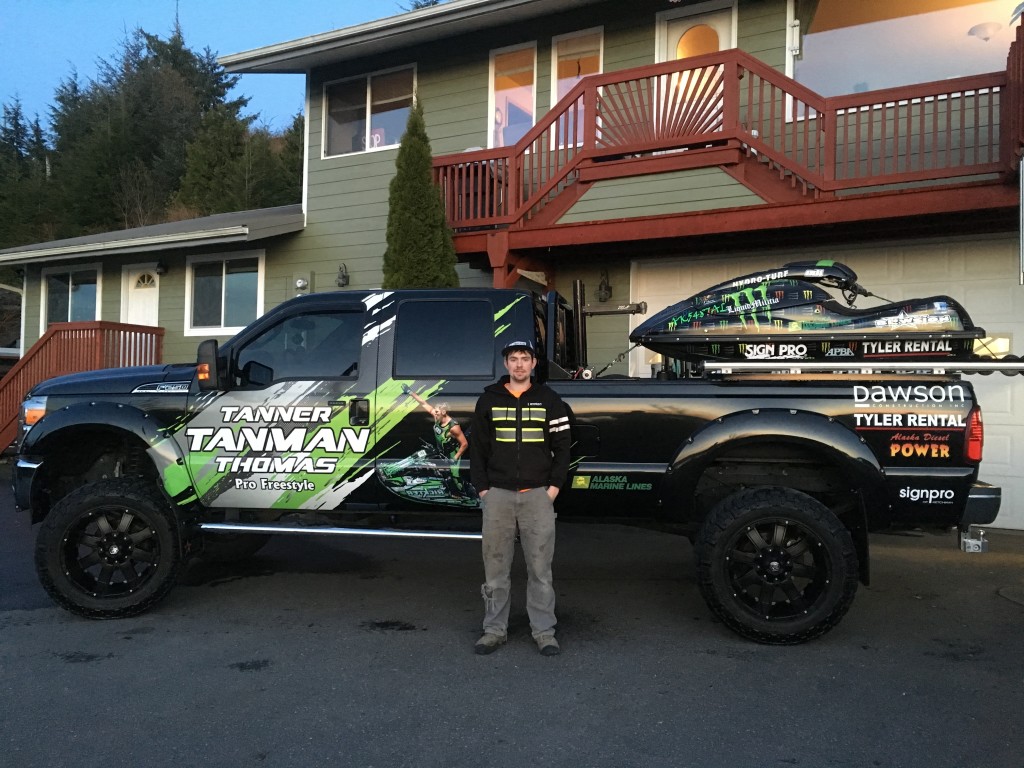 Like, Tag & Share!