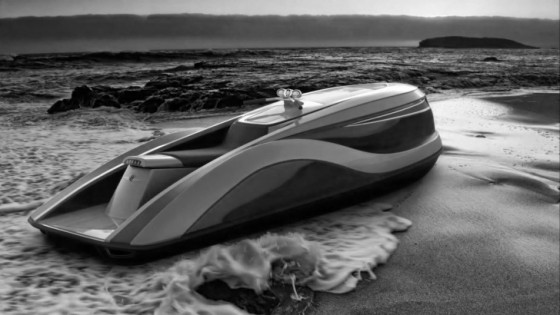 Strand Craft has released their concept for the personal watercraft they call the V8 Wet Rod.
Not sure what you guys think about this but obviously the people who designed this watercraft do not know the mentality of  some of the PWC peeps…racers especially! This high end concept personal watercraft is in its project phase.  Strand Craft are noted for their futuristic luxury designs of both super yachts and luxury cars.  This concept was designed by a California based group of Strand Craft.  The V8 Wet Rod is basically a a luxury personal watercraft for up to two people.  It is reported to be 16 feet long with a carbon fiber and epoxy hull. It will have a 5.7-liter V8 gas engine and will boast 300 bhp.  Most definitely looks like something straight out of a 1960 James Bond movie!
What do you guys think of this?