Pro Rider…  the ONLY magazine or magablog in attendance at the Daytona Freeride!
Still recovering and trying to remember a few hazy late night hours, The PR crew had an epic time at this years Daytona Freeride. Here is a short re-cap of the event from our fearless leader Michael Ratti.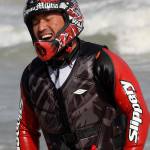 One does not just simply recall one of the greatest jet ski free rides in the world in just a few sentences or paragraphs. You could dedicate an entire magazine to what has grown to become one of the largest, most anticipated events to kick off every year with a solid week of free riding on the beach, partying, networking, and celebration just to name a few. Under the direction of the event's original coordinator, Nick Foederer (aka "Yamaslut") and Anthony Harp pushed for the freeride to be held at the Grand Seas Resort, a much needed new location that was equipped to accommodate the stunning growth of participants.
Hundreds and hundreds of pro and recreational free riders lined the beach that seemed to stretch for half a mile and took to the waves for some unrestricted fun. Pro rider appearances included west coasters Zack Bright, Mark Gomez, Brandon Lawlor, Cuong Son, Christian Young, Jack Sutton and more. The east coast boys were also in the house including Thrust Innovations' sponsored rider Chris Anyzeski, Jeremy Parr, and basically everyone else who's anyone in the competition tour scene.
In keeping true to the jet skier tradition, the intensity of the parties at night must be equal or greater than what is on the water. Livers, sleep, money, and sanity are just a few things that most of us wish we could have taken back home with us from the weekend. Epic parties were had all over the city, Daytona didn't know what hit them. Whether we were throwing down in the Team Extreme or Pro Rider suites, the Tiki Hut, or a club down town, everybody was amongst good friends, exchanged laughs, and had one hell of a good time. Daytona Freeride headline sponsors included Thrust Innovations, HydroTurf, Pro Rider Watercraft Magazine, SBT, Jet Tribe, Liquid Militia, Blacktip, Extreme Throttle Inc, X Scream and more.
Be on look out for exclusive in depth coverage of the 2013 Thrust Innovations Daytona Freeride in the upcoming March/April Swimsuit edition of Pro Rider Watercraft Magazine. Subscribe now to reserve your copy. Coverage includes photos from our top secret swimsuit shoots, phenomenal riders, industry news and more!
-Michael Ratti