Over the last few years, long rides, touring and overseas adventures have become much more of a reality with the enhancements in Personal Watercrafts but just a stock machine is not always enough. Many of us have designed and looked at ways of prepping our skis to carry supplies and the extra fuel depending on the distance of the ride. You can safely say that the average distance on most stock 4 stroke PWC's is currently around 70 miles. To the average rider, that range is pretty good, however, in a club that likes to ride 100+ miles in a day in places where fuel may not be available on the water, modifications have become commonplace.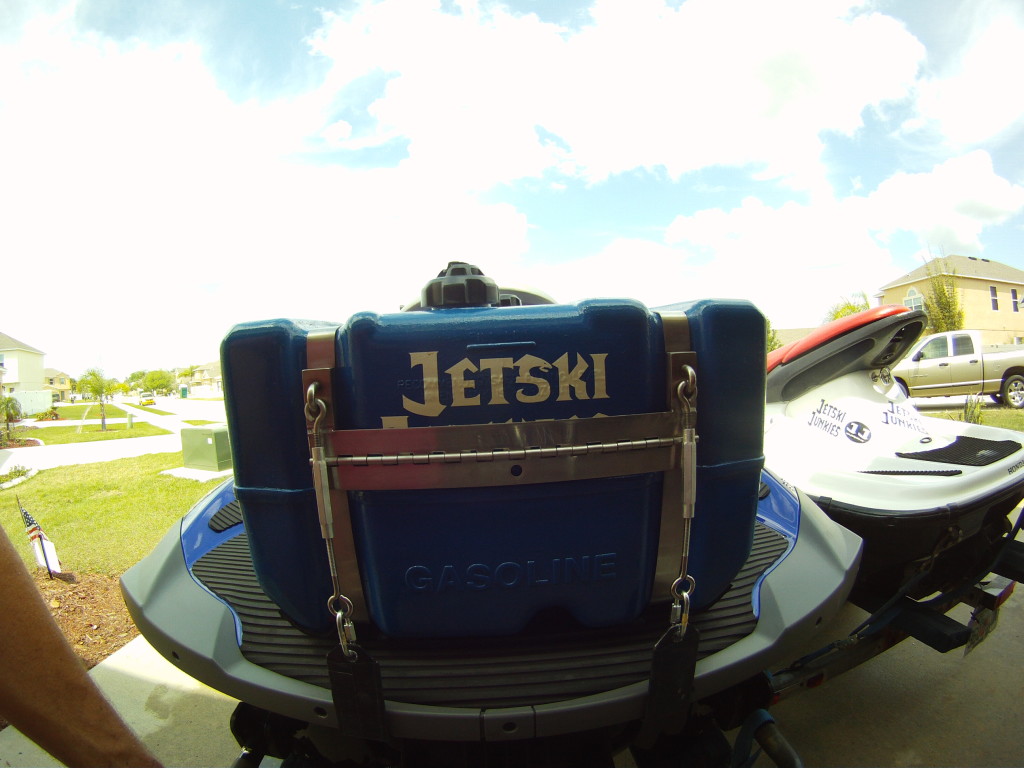 The largest and biggest upgrade to your machine is an auxiliary fuel system. On the Jet ski junkies website, iwannajetski.com, you can find just two examples of 12 gallon auxiliary fuel systems that sit on the transom of your PWC. Utilizing a marine grade auxiliary fuel pump will pump fuel into your main tank when you want it.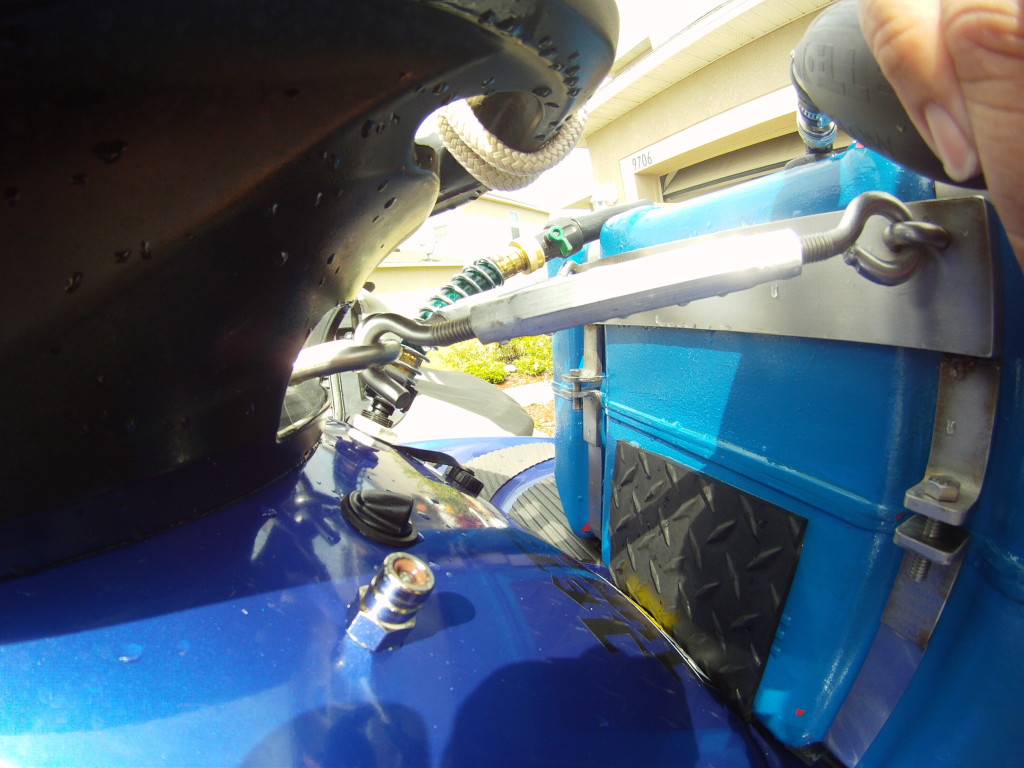 Knowing the range of your ski based on your stock fuel tank is a must as the size of the stock tanks vary and this will factor into the size of auxiliary tank you wish to have. On the Kawasaki Ultra 300x, running in eco mode I found the average mpg to be approximately 4.5. The tank size is just shy of 22 gallons so with a 12 gallon auxiliary tank boasting a total of 34 gallons in a perfect world, this would extend my touring distance to approximately 150 miles +/-.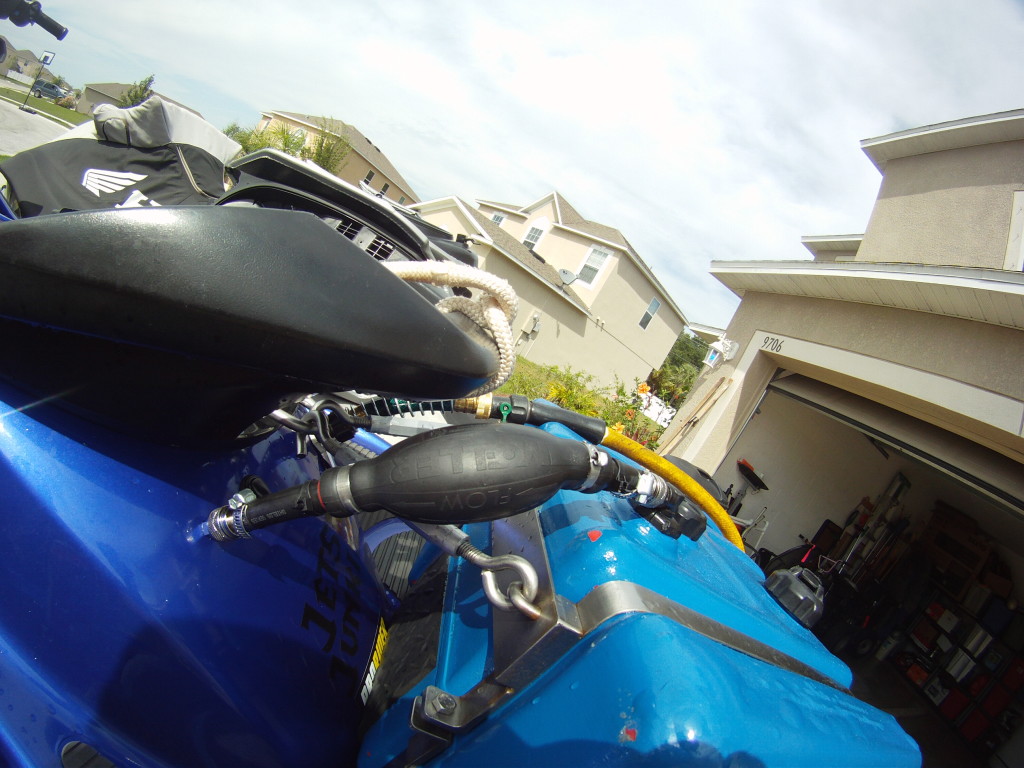 An additional factor that plays into this is the overall speed we are traveling. Most rides I find seem to average around 50 mph, beyond that you can expect your fuel consumption to rise, therefore you need to have an idea of how that affects your mpg to adjust accordingly. Now on the Yamaha FX SHO your stock tank is 18 gallons so with the 12 gallon auxiliary you are looking at 30 gallon total and I have found the average mpg on the SHO to be approximately 4mpg when running around 50mph so your range could be about 120 miles +/-. The beauty of this type of system is that while you are riding you can just flick a switch and fill your main tank when you need it vs. carrying fuel jugs and having to stop and fill up slowing the ride down and or the distance that can be ridden in a day.
The next important piece of equipment is a marine grade GPS, especially one with at least 16 hours of battery life. I personally use the Garmin 76CX which can connect to your computer and update and plan your routes if needed. The great thing about most GPS systems is they track your ride as you are doing it so in case you find yourself on a ride that offers many ways to get lost, at the very least, you know how to get back by following your trail.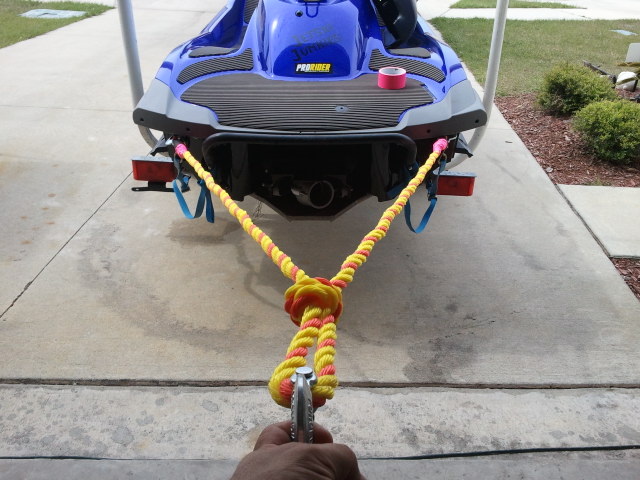 There are other pieces of equipment you can add to your PWC including such items of personal choice for example, cameras, SPOT (which is emergency beacon/SOS device), towropes and tow setups. The type of ride you are going on would dictate the type and the amount of equipment you will need. If your ride plan is going offshore, it would not a bad idea to also carry a satellite phone and either Seatow or BoatsUS.
by Kevin Hemingway of the Jet ski Junkies USA
http://www.seatow.com
http://www.boatus.com/