Two best friends who drifted 10 miles out to sea when their jet-ski broke down revealed yesterday that they considered drowning themselves.
Gavin Smith, 28, and Ben Thomson, 32, spent more than three hours in the icy waters of the North Sea near the Tay Estuary, off the coast of St Andrews, after a jet-ski they had been riding broke down.
Another friend on his own jet-ski returned to shore to raise the alarm but by the time lifeboats were launched they had started to drift and three hours later they had traveled 10 miles.
Mr Smith, who has a two-year-old son, said: 'When you are that cold, it was easy just to lie back and accept death. It felt warmer when you lay back.
'The two of us tried to drown ourselves, but if one of us went down the other one would pick them up. We just kept talking about the children the whole time.'
Astonishingly for the two men, both of Dundee, a rescue helicopter was summoned but did not detect them.
The pair could also see the lights of lifeboats scouring the waters off Broughty Ferry, Angus and Fife and were finally saved after Mr Thomson found the strength to blow on a whistle attached to his best friend's life jacket.
Mr Smith revealed the two men recited a poignant rhyme created by his son, Quinn, and Ben's daughter Jessica, five, which included calling out the words 'Love you lots,' while the other screamed back, 'Jelly tots.'

Mr Smith,said: 'The helicopter flew right over us and once it had been and gone I thought we were done for, I can't tell you how relieved we were when the lifeboat spotted us.
'We've both got kids and there were a few moments where we weren't sure if we would see them again.'
Mr Thomson said: 'It was a series of events that got us into the situation we were in – by the time Arbroath lifeboat picked us up we were in a really bad way.

'I just want to express my thanks to the crew. Without them I don't know if I would be here today.'
The dramatic rescue in November saw the men become two of 1,055 people plucked to safety by RNLI volunteers in Scotland last year, in what was this week announced as a record-breaking 12 months for the service.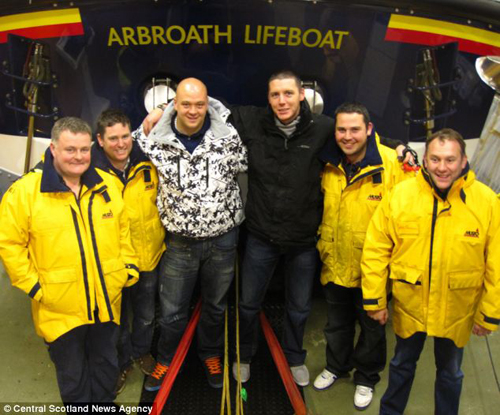 Best mates Ben Thomson (center left) and Gavin Smith (center right) with the Arbroath lifeboat crew that saved them in the North Sea