Thursday, 6 March, DOHA (Qatar): Yousef Al Abdulrazzaq and Jeremy Poret grabbed today's headlines posting fastest times in official qualifying in their respective categories, Runabout and Ski GP1, on an impressive first day of competition at the Qatar Grand Prix.
The opening round of the UIM-ABP Aquabike Class-Pro World Championship boasted one of the largest seen international turnouts with 68 riders representing 16 countries taking to the waters of Doha Bay in perfect conditions for a busy first day of competition, with morning practice followed by a 20 minute pre-qualifying session for Runabout and the all-important official qualifying for all categories.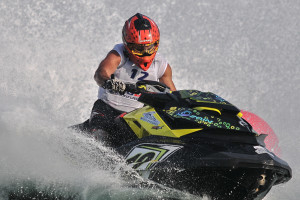 Twenty-Five riders lined up in Runabout with official qualifying split into two sessions, Q1 running for 15 minutes with the ten quickest getting through for a second 10 minute session.
Kuwait's defending World Champion Abdulrazzaq eased through Q1 with the third fastest time and then upped his game to dominate Q2, topping the time sheets from start-to-finish to grab pole position for heat 1 of the Grand Prix of Qatar with a time of 1:36.37s.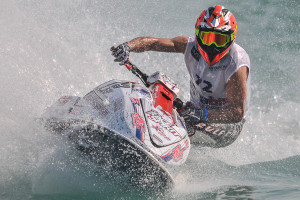 Earlier in the day 13 riders fought it out over a 20 minute pre-qualifying session to reduce the overall entry in Runabout from 32 to 25 to comply with UIM safety regulations, with just seven places up for grabs, Hungary's Gyorgy Kasza securing his spot posting the fastest time of the session, 1:39.92s, and was perhaps the surprise package, going on to post the fastest time in Q1 and then backing it up with another impressive ride and second quickest in Q2.
Last year's runner-up Cyrille Lemoine was another to take it easy early on, with the French rider eventually having to settle for third spot after a late charge up the field by Kasza.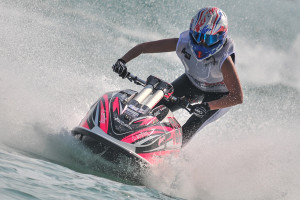 Qatar's Mohamed Al Haidus was another to survive pre-qualifying and grabbed the bragging rights in official qualifying as the top Qatari rider on show, with a strong ride to finish in fourth place ahead of Italy's Mattia Fracasso and France's Teddy Pons.
After a titanic struggle between Jeremy Poret and Chris MacClugage in Q2 it is the Frenchman Poret who will lead out the 25 riders in heat 1 in Ski GP 1 tomorrow, after edging his American rival to pole position by 1.23 seconds.   The two traded fastest times and places at the top of the standings in a tight session with MacClugage, who was quickest in Q1 edged out in the closing seconds of Q2 to just miss out stealing pole position on his UIM-ABP series debut, Poret going fastest in 1:34.72s.
The young Spanish rider Nacho Armillas produced a remarkable performance on his return to racing after breaking  four bones in his back and two ribs in a horror accident in an invitation race in China last year, to post the third fastest time.  Last year's runner-up and 2013 European Champion Tiago Sousa went fourth quickest ahead of Ludo Caumont, with defending World Champion Mickael Poret completing the top sixth.
France's Jennifer Menard and Estelle Poret traded times to be the quickest of the Ladies with Menard edging it by 6-10ths of second, the pair qualifying in 16th and 17th overall, with Marta Sorrentino in 21st spot.
In Freestyle it was the younger of the two Florjancic brothers Nac who grabbed the advantage to take top spot ahead of defending Champion Rok by six points, grabbing the win with a better score in the variety of tricks he completed.
Third place marked a welcome return to the series for Frenchman Romain Stampers, finishing in front of Italy's Valrerio Calderoni and Roberto Mariani, with Sultan Al Kuwari the best placed of the Qatari riders.
Runabout GP1
1. 12  Y Al Abdulrazzaq (kwt) – 1:36.77s
2. 15  G Kasza (hun) – 1:38.44s
3. 9  C Lemoine (fra) – 1:38.77s
4. M Al Haidus (qat) – 1:39.44s
5. M  Fracasso (ita) – 1:39.45s
6. 14  T Pons (fra) – 1:40.08s
Ski GP1
1. 72  J Poret (fra) – 1:34.72s
2. 3 C MacClugage (usa) – 1:35.95s
3. 36  N Armillas (esp) – 1:38.74s
4. 82  T Sousa (prt) – 1:38.99s
5. 6  L Caumont (fra) – 1:40.33s
6. 77  M Poret (fra) – 1:42.18s
Freestyle:
1. 3  N Florjancic (svn) – 80pts
2. 1  R Florjancic (svn) – 74pts
3. 20  R Stampers (fra) – 71pts
4. 14  V Calderoni (ita) – 66pts
5. 70  R Mariani (ita) – 64pts
6. S Al Kuwari (qat) – 63.5pts
For the complete set of results go to aquabike.net