What's the Bikini Cup you ask? The Bikini Cup is a Pro Rider Award for the most popular Bikini themed ad in our 2013 Swimsuit issue.
Ten of our advertisers came up with Bikini clad ads, and you can vote for your favorite right here!
We added thumbnails for each ad so you can click and thoroughly inspect each of them, even if you don't have the legit in print real copy of the issue yet.
You may want to consider subscribing if you have not already, looking at how hot some of these ads are you can only imagine what he rest of the magazine is looking like!
You can vote 2 times and that's it, so choose wisely grasshopper.
Good luck and thank you to all our advertisers!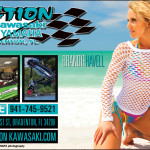 Loading ...