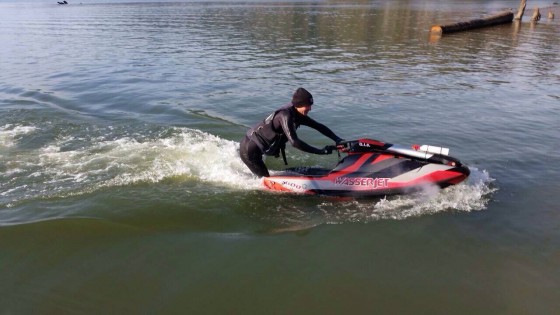 Wasserjet is pleased to announce our first official distributor, Jetsport Australia. Jetsport will be responsible for the sales and distribution of the Wasserjet engines in Australia, New Zealand and Thailand.
By: Wasserjet
To kick off the distributorship, Matt from Jetsport visited Wasserjet in Portland Oregon. While here he was able to take one of the test ski's out on the water for a ride. The water was in the mid 40's and the air temperature was just under 40F. Matt brought along his wetsuit he uses in Australia when it presumably gets cold. Needless to say the thin suit he brought was no match for the 40 degree water. Matt borrowed a suit and jumped on the ski with no fear and ripped around for a good 20 minutes. Matt commented with "It was what I expected up top but down low I was surprised how much power it had".
After some brief discussions I am pleased to announce Jetsport has purchased the first two engines with delivery planned in April.
Thanks to Matt and Jetsport for your support.