You know your in for a good time when the Liquid Militia rig rolls up to greet you at LAX. The graphic lined trailer, and smiles of Kyla Dominguez, and Ryan Smith can make anyone instantly feel welcome to the left coast. Kyla and Ryan, the duo behind Liquid Militia and Poncho the Chihuahua offered to be my guides for my first visit to The Pismo Spring Feeride.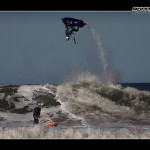 For me, thoughts of Pismo have always conjured images of huge surf, and the best surf riders in the world. predominantly, Joe Kenney filled my visions of Pismo as Joe and Pismo will always be linked together like surf and sand. I couldn't wait to see if actual Pismo could match my imaginations Pismo.
The 3 hour drive from LA to Pismo was spent catching up with the Militia since our last rendezvous at the Daytona Freeride, while I stared out the window at the amazing countryside along the California 101.
Pismo turned out to be everything I imagined and then some. The laid back city is a throw back to the classic Cali vibe I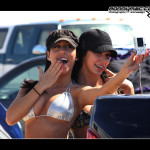 grew up seeing in old movies and TV shows.
Pismo is very different from the rest of the Cali coast that is dominated with little to no access for PWC. In Pismo there are no celebrity mansions, trendy cafes, or pretentious clubs.
Pismo is the anti-Malibu without a doubt. Pismo is California Dreaming in a roll cage, and Endless Summer with  footholds. Every where you look are offroad toys. Dirtbikes donning paddle tires, Jeeps, trucks, and buggy's all sharing the Oceano Dunes. These massive mounds of sand provide ever-changing sandy formations along the coast for 18 miles.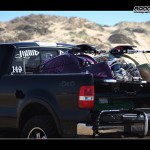 In Pismo you can pull up on the beach with a 4 wheeler and a Jet Ski, ride to your hearts content, build a fire, BBQ, and camp out right on the beach. The surf is scattered with everything from surfers, kiteboarders, paddleboarders, skim boarders, and PWC. All seem to naturally have their own section on the beach.
We were the first to arrive, and set up base camp. Kyla and Ryan came prepared with Liquid Militia easy-ups and banners ensuring the freeride was well represented and highly visible. From Friday afternoon to Saturday morning riders kept rolling in. Militia riders Cuong Son, Jared Ajloun, Pete Zernik, Mark Gomez, and Stanton High showed up ready to rip up the surf.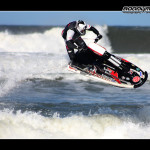 core team member, and creator of Rise of the Tide Bryant Lambert was there to get it all on film. 2008 & 2009 IFWA World Champion Ross Champion arrived Saturday, ready to ride. When Ross goes out to play, he doesn't come back in until the tank is empty. Pismo veterans Jerry Brandon, and Ej Bezley were on hand showing the younger riders how its done and shared some great Freeride stories. Taylor Curtis made an appearance but didn't ride, because his new Rickter freeride ski wasn't quite finished.
Like the Daytona Freeride, Pismo is non stop riding during the day. and a big party at night. Weather your kicked back by the fire, or joining in the Pismo beer pong championships, the nights in Pismo are a great time. Sat evening Liquid Militia hooked up an awesome spaghetti dinner for everyone.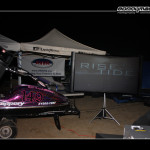 After the meal we got a real treat when Bryant Lambert brought out a movie projector and wide screen to play his DVD Rise Of The Tide which had been premiered just a week earlier in Lake Havasu. The video was a smashing success, and seeing it for the first time right on the beach was something I'll never forget.
Accommodations in Pismo are not limited to campers and tents on the beach. If your not a fan of roughing it, there are nearby hotels and several restaurants. The weather can be chilly to downright cold in the spring. Most of the freeride was the latter with powerful relentless winds. Taylor Curtis let me know the wind was typical for Pismo when he said, "Hi Ronny, welcome to the blow-hole".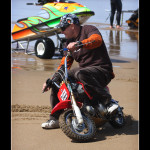 While Pismo is a throw-back to old school California, it is far cry from going back in time. I witnessed no woody surf wagons, no catchy jingle babes in bikini's, and I never heard a single Beach Boy tune.
-The woody's are now jacked up pick-ups and suv's with DVD players and GPS.
-There are still bikini babes, but they never break out in spontaneous choreographed song and dance.
-And finally the Beach Boys have been replaced with repetitious hip hop with auto-tune vocals that simulate the effect of fingernails on a chalkboard.
It cant be everything I imagined right?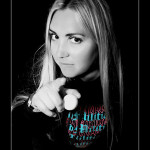 In all, a Pismo Freeride is a trip that needs to be on every freeriders bucket list. Pismo has a sense of freedom like no other. Surprisingly its in a state brimming with rules and regulations against PWC.
What California was, Pismo is.
By RonnyMac
Ride Magazine 2010