*ROK TOPS THE CHARTS AGAIN
By: Aquabike Press
Saturday, 7 June, MILAN (Italy):
Estelle Poret produced a simply stunning performance in race 1 of Ski GP1 at the Grand Prix of Italy to take her first win on the UIM-ABP tour with a start-to-finish victory over pole-sitter Jennifer Menard, with Swedish youngster Emma Ortendahl finishing third on her debut.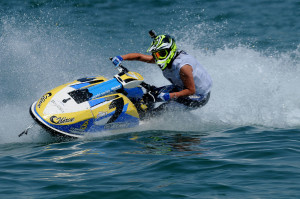 The win, described by the young 18-year-old from Lyon as the 'best day of her life' kicked off an afternoon of celebrations inside the Poret family camp, when her success and maiden victory was followed by an equally impressive ride by her second eldest brother, Jeremy, who came from behind to beat his arch-rival, America's Chris MacClugage and take his third straight win of the year, with Portugal's Tiago Sousa in third.
The Ski Ladies race kicked-off an afternoon of spectacular racing with Estelle Poret grabbing the advantage from the green flag to jump yesterday's top qualifier Jennifer Menard and opening up a massive five second lead by the end of lap 1.
But Menard dug deep and gave chase and gradually closed in on the leader with the split down to 2.5 seconds on lap five of ten, but Poret absorbed the pressure and responded and pushed again to increase the gap and go on to close out the race to win by 4.78 seconds. "It is the best day of my life to get my first win on this tour,' said Estelle. 'The event has been great so far and to win against such good riders makes it even better.'
Behind the front runners Julie Bulteau fought it out with 15-year-old Emma Ortendahl, but the combination of a miss-firing engine and fatigue took its toll, with the Swedish youngster moving into third place on lap 8 to round off an impressive debut, her countrywoman Jonna Borgstrom, also making her debut and just 16, finishing in fifth.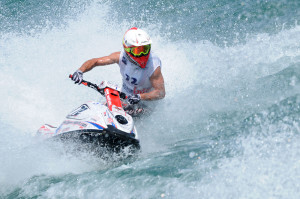 The men's heat produced another titanic battle between Poret and MacClugage, the American making his customary electrifying start to get ahead of pole-sitter Poret, with Tiago Sousa, Alberto Monti and Nacho Armillas taking up the chase.
MacClugage held firm but could not widen the gap to more than two seconds, when on lap 7 Poret started to make his move on the leader, closing in and then passing him on lap 8, going on to take his third win of the year and extend his Championship lead, finishing nine seconds clear of  MacClugage. "After that start I knew I would have to play a waiting game and chose the right moment to attack and when it came I took it,' Poret said. 'Mac is a great racer but I saw him make a small mistake and was able to pass.  The conditions were very tough but it really suited my new Kawasaki and to win on my first race with it is great. And I am also so proud of my little sister, what a great win for her."
The American was as gracious as ever in defeat after following the Frenchman home again. "It was a great race but I made a stupid mistake on the alternate course and Jeremy knew it and took full advantage,' he said.  'The conditions were unbelievable; it was like driving on cobblestones and at times over massive speed bumps. It was hard to get a good feel but the ski ran really well. I have to say the marshalls' out on the course were incredible, controlling so many bikes and making it easy for us to get past back markers. They did a fantastic job.'
Sousa was comfortable in third for all of the ten laps, behind him Monti and Armillas traded places, the Spaniard moving into third place on lap 3 Italy's Monti grabbing it back on the penultimate lap, with Croatia's Tomaz Kete and Norway's Stian Schjetlein fighting to complete the top six, Kete winning that fight.
The afternoon's Blue Riband event, Runabout GP1 was full of drama and produced an extraordinary and spectacular ending to the days racing, with the early race leaders Lorenzo Benaglia and Thamer Al-Darwish both hitting trouble, then Francois Medori losing the lead and the race on the penultimate turn of the final lap after being passed by Jeremy Perez.
Benaglia stormed to the front from the start and for the first three laps was in complete control and the thousands of spectators started to think of an Italian win on home water, then on lap 4 a problem with the compressor forced him  to stop and carry out on-water repairs, eventually fixing the problem but dropping down to finish in 21st place.
Al-Darwish took over at the front and led until lap 10 when he was hit from the side and ran off the circuit, recovering to finish in tenth, the lead changing for the third time as France's Francois Medori hit the front on lap 11.
The Frenchman led for the next four laps but was being chased down by his hard-charging countryman Jeremy Perez, who looked to have too much to do when he was forced to take the penalty buoy at the end of the penultimate lap.
But Perez had other ideas and drove like a man possessed closing in on Medori and snatching the win with the chequered flag just metres away. "I really didn't think I could do it after taking the penalty. I thought it was too much,' said an exhausted Perez. "I just gave it everything I had left and then I saw him make a small mistake and just pushed one last time and came out of the alternate course in front. It was a really tough race, very hard conditions, but a great one to win.'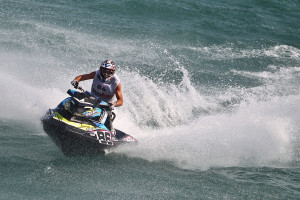 Qatar's Mohamed Al-Heidus made up for the team's disappointment of seeing Al-Darwish literally knocked off the lead and produced a battling performance to take third place from pole-sitter Teddy Pons, with Spain's Jordi Tomas Jimenez moving up from twelfth to finish in fifth ahead of Poland's Andrezj Wisniweski.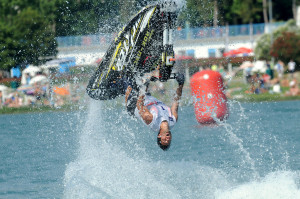 In Freestyle the Rok Florjancic show rolled on and up and over and backwards, and once again the Slovenian was in a class of his own, topping the points for variety, style and quantity and awarded 94 out of a maximum 100, with brother Nac in second and Italy's Valerio Calderoni in third.
Runabout GP1 – heat 1
1. J Perez (fra) – 0:00
2. F Medori (fra) – 1.75s
3. M Al Heidus (qat) – 10.38s
4. T Pons (fra) – 1:03s
5. J Tomas Jimenez (esp) – 1:06s
Ski GP1 – heat 1
1. J Poret (fra) – 0:00
2. C MacClugage (usa) + 9.35s
3. T Sousa (por) + 19.32s
4. A Monti (ita) + 20.32s
5. N Armillas (esp) + 41.34s
Ski GP1 Ladies – heat 1
1. E Poret (fra) – 0:00
2. J Menard (fra) + 4.78s
3. E Ortendahl (swe) +47.67s
Freestyle – heat 1
1. R Florjancic (cro) – 94pts
2. N Florjancic (cro) – 83pts
3. V Calderoni (ita) – 67pts
For the full set of results go to aquabike.net