With a bit of spit an polish it is amazing what can happen!  Watercraft racers almost look normal and we have the proof.
The P1 Awards night was a great evening with champagne flowing and hot laps around the Daytona International speedway for all who dared to try it!
Along with the awards, P1  announced some major exciting advancement which can only help propel the sport forward no matter what discipline you race.
FOX SPORTS PARTNERS WITH P1 TO GO LIVE!
2015 April 25th weekend, Daytona Beach will be the first round of the season for AquaX USA.  An agreement has been made with P1 and FOX sports who will be on site that weekend as they plan on producing an hour long TV show to be aired live.  Yes, I said it….a one hour LIVE TV show will be aired Sunday morning April 26th on FOX Sports.  If all goes well with this show P1 will continue on with a LIVE show in Jacksonville in June and the rest of the rounds will follow.
AND THE WINNERS ARE:
300 Class Champion  Eric Francis
2nd Overall Stuart Rasmussen
3rd Overall Anya Colley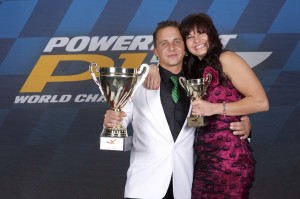 250 Class Champion Eric Lagopoulos
2nd Overall Ken Moore
3rd Alex Holguin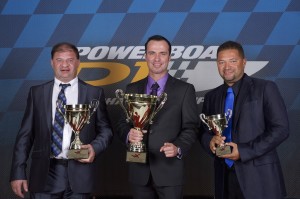 200 Class Champion Rob Greenwald
2nd Overall Kelly Belval
3rd Overall Scott Reeves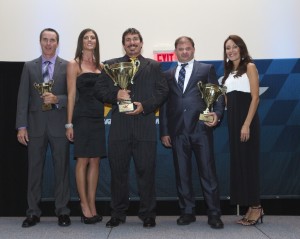 Ski Class
2014 Champion Kirk Brtto
2nd Overall #72 Johny Smith
3rd Overall Jeremy Schandelmayer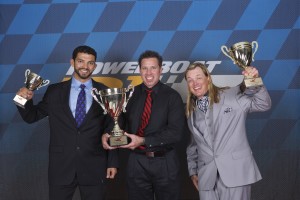 Rookie Champion Scott Reeves
2nd Overall Jeffery Thornton
3rd Overall Enrique Chia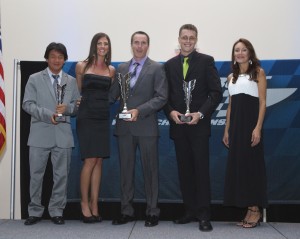 Along with the Championship cups that were handed out P1 also awarded some additional trophies.
Winner of the Rider's Choice award went to Jeff Thornton although it was very close. He barely managed to edge out Anya Colley for that one.  A well deserved award for Jeff Congrats!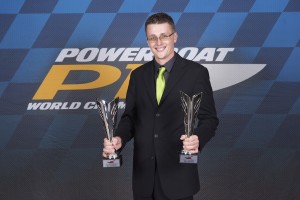 The winning team for 2014 was Team Kawasaki.  Eric Francis, Jeff Thornton, Anya Colley and Enrique Chia made up this team and they won it by being consistent at every race.  Points are awarded to the top 3 finishers each round for each team.  Next season there will be some serious competition as Team Kaotic have their eye on that trophy and Team CRT, Team Gameover, SeaDoo Xteam and Yamaha will be on board with a designated teams as well.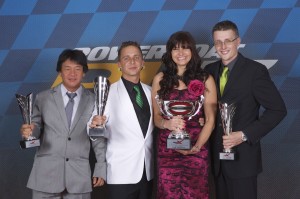 AquaX  had carefully picked out intro songs for each racer as they were called up to the stage to collect their awards. Rob Greenwald's MC Hammer "Can't touch this"  along with Eric Lagopoulos' LMFAO "I am sexy and I know it" were both classics as well as Anya Colley's Alesha Keys "Girl on fire."  It was the intro footage to the AquaX awards that really summed up the 2014 summer and was well received by all.  
AQUAX WORLD RANKINGS
The World rankings is powered by Lycamobile and presented by SONY.
Congratulations to Eric Francis who managed to keep his World Rank #1 race vest!  Eric was presented with his World Rank #1 vest and a brand new SONY Xperia Smart phone.
Here is the intro for the top 5 count down that was shown at Awards night.
We are all looking forward to the 2015 season…it is going to be epic!