WORLD AQUABIKE STARS ALL SET TO TURN ON THE STYLE IN IBIZA
By: Aquabike Press
Photos: Aquabike Press
Monday, 1 September: French riders Jeremy Perez, Jeremy Poret and Jennifer Menard will line-up in Ibiza [5-7 September] looking to defend and build on their Championship leads in their respective categories Runabout GP1 and Ski GP1, when an expected 65-competitors from 15 countries take to the waters off Playa d'en Bossa for the Mediterranean Grand Prix, round 3 of the UIM-ABP Aquabike Class Pro World Championship.
In the spectacular Freestyle category the aerial insanity and breathtaking array of tricks will continue with the seemingly invincible defending World Champion Rok Florjancic looking to extend his remarkable unbeaten run on the UIM-ABP tour since his debut in 2011, winning 20 times to claim 10 Grand Prix titles.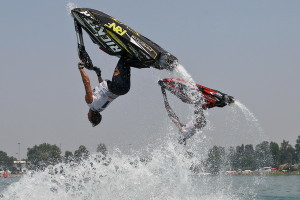 The biggest threat that the 29-year-old from Maribor in Slovenia faces will come from his younger brother Nac who won the World title in 2012 and sits in second spot 20 points behind him, with the fight for the third step of the podium between Italians Valerio Calderoni and Roberto Mariani.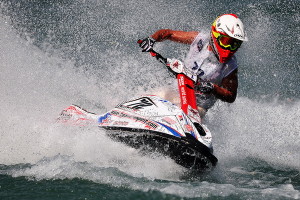 With the standard set and the bar raised to new heights following two outstanding events in Qatar and Italy, the action is set to ratchet-up another gear as we head into the second half of the season.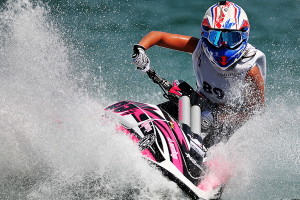 Jeremy Perez is the inform rider in Runabout and leads the World Championship by a slender three points from fellow-Frenchman Teddy Pons with Qatar's Mohammed Al Heidus leading the Middle East challenge in third, a further eight points adrift  on 50.
Perez, 27, from Lambesc in France topped the Runabout World Rankings at the end of last year and is enjoying his best season on the UIM-ABP tour and having a stellar run. He recovered from a shaky start in Qatar finishing 12th overall but hit back in Italy to complete a brilliant win-double to take his first GP title and the lead in the race for the World title. In July he clinched the European title with two heat wins out of three in Mirandela, Portugal and maintains his number one spot in the World Rankings.
Pons is another enjoying a strong season, winning heat 2 in Qatar to take second overall and grabbing third overall last time out in Italy, whilst Marina4 teammates Cyrille Lemoine and Mattia Fracasso in fourth and fifth places will be hoping that the technical issues that have hindered their title challenges have been resolved, Lemoine especially after winning heat 1 and the title in Qatar.
Returning to the tour after a simply disastrous no points tally in the season-opener and missing the last event through injury is Kuwait's defending World Champion Yousef Al Abdulrazzaq who has to win both heats in Ibiza if he is to kick-start his title defence.
In Ski the title race looks to be between Jeremy Poret, Portugal's Tiago Sousa and America's Chris MacClugage. What is certain is that a new Champion will be crowned at the end of the year following the withdrawal from the series through injury that requires surgery of defending Champion Mickael Poret.
The Poret-MacClugage fight is turning into an epic contest; two-time World Champion Poret leads the Championship standings with a 91 to 65 points advantage over multiple Champion MacClugage in third, has three heat wins to his rivals one but they share Grand Prix honours winning one a piece, Poret climbing the top step in Qatar MacClugage in Milan.
But Sousa, the world number two and European Champion in second spot on 72 points may well hold the key, is a genuine title threat and is quick and super consistent finishing second overall in Qatar and third in Milan. And if Poret and MacClugage get caught up in their personal battle Sousa could well deliver a knockout punch and steal through to grab the advantage.
Double Grand Prix and triple heat winner Jennifer Menard is the pick of the group in Ski Ladies and heads up the points standings from Estelle Poret who grabbed her first heat win on the tour in Italy, with Marta Sorrentino in third. All three will face a strong challenge from Spain's Sandra Fernandez Rodriquez, the 2014 European Champion.
Additional Spanish interest will focus on Runabout tour regular Jordi Tomas Jimenez lying in 19th place after picking up 13 points finishing fourth in heat 1 in Italy, and debutants Roberto Alexander Al Pino, Alejandro Molina Miranda and Toni Vingut Riggal.
In Ski, and still on the comeback trail after suffering multiple back injuries following a horror crash in an invitation event in China in October last year, is 21-year-old Nacho Armillas.
The Besalu resident will be hoping to regain the form that took him to his first heat and Grand Prix win in China and the world number two spot in 2012. A frustrating 2014 saw him lose a podium finish in Qatar after being DQ'd when his Ski failed post-race scrutineering, break in heat 2 after a fifth in heat 1 in Italy. He is joined by countrymen Kevin Moreno Rojo, Fede Fuster, Carlos Vela Sanandres and Lucas Oliver Bulto.
First practice kicks off at 10.00hrs [local] on Friday, followed by pre-qualifying in Runabout at 14.00hrs with official qualifying in all categories starting at 16.15hrs. Heats I and 2 take place at 16.15hrs on Saturday and Sunday.
For further Championship information and timings visit; aquabike.net
For event information visit; ibizaworldchampionship.com