INTRODUCING THE YAMAHA 2017 WAVERUNNER LIFESTYLE!
By: Peter Ratti
Photos: Yamaha, Cathy Ratti
Yamaha WaterCraft introduced its first WaveRunner 30 years ago and the fun, excitement, and innovation has been non-stop ever since. Pro Rider Watercraft Magazine recently had the privilege of attending Yamaha's presentation of new watercraft for 2017 at beautiful Lake Oconee in Central Georgia. Several new and exciting Personal Watercraft (PWC) models were introduced to cover both ends of the price/performance spectrum for 2017.

EX Series
Yamaha has developed an all new line designated as the EX Series. The EX Series has been designed specifically for buyers seeking an affordable entry to the sport of PWC riding. The new series is shorter in length, lighter in weight and is more affordable than any three-person WaveRunner that Yamaha has offered in the past. Three models in the EX Series are the EX, EX Sport, and the EX Deluxe. All three models utilize an all new hull design manufactured from high compression molded compound. The new hull delivers excellent stability for one, two, or three-up riding and towing. All models feature a 13-gallon fuel tank that is nearly double the capacity of competitive models in the "Rec Lite" category, great for running all day without refueling.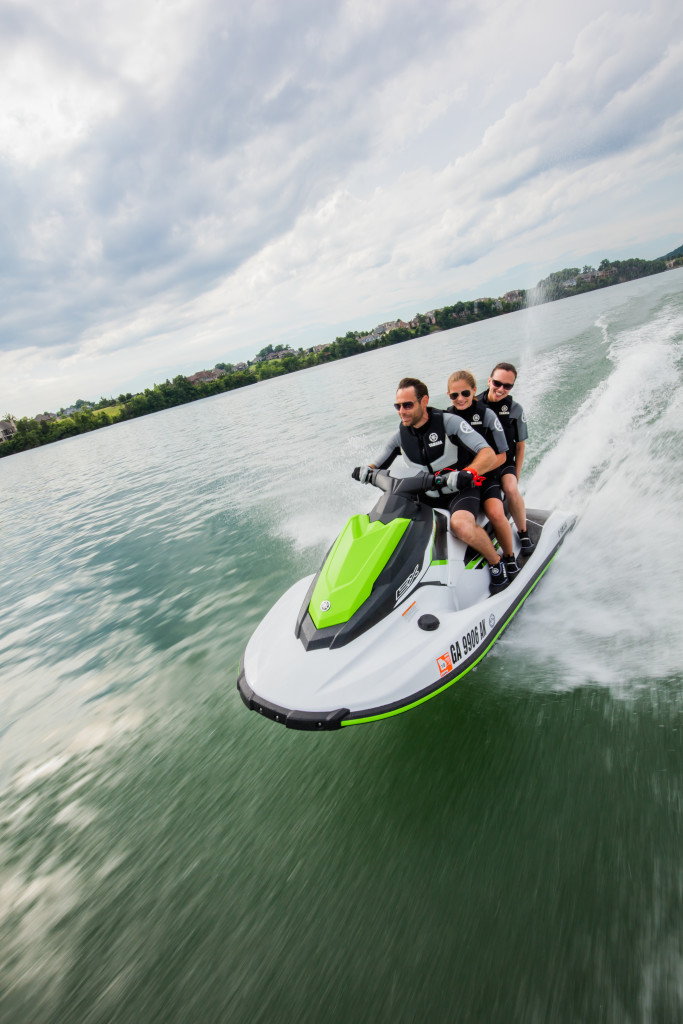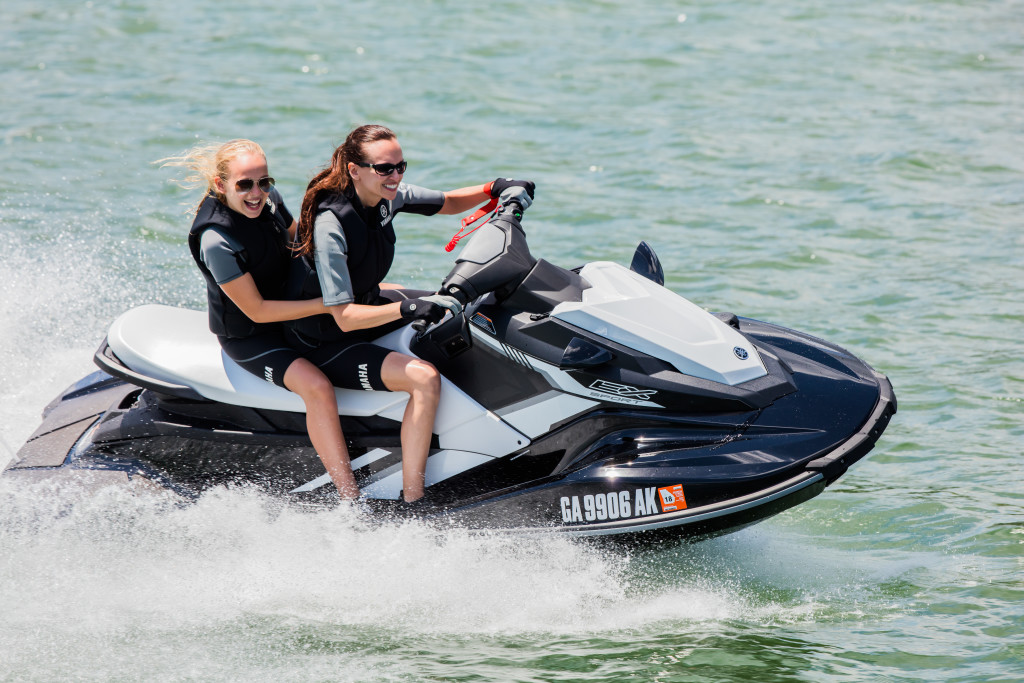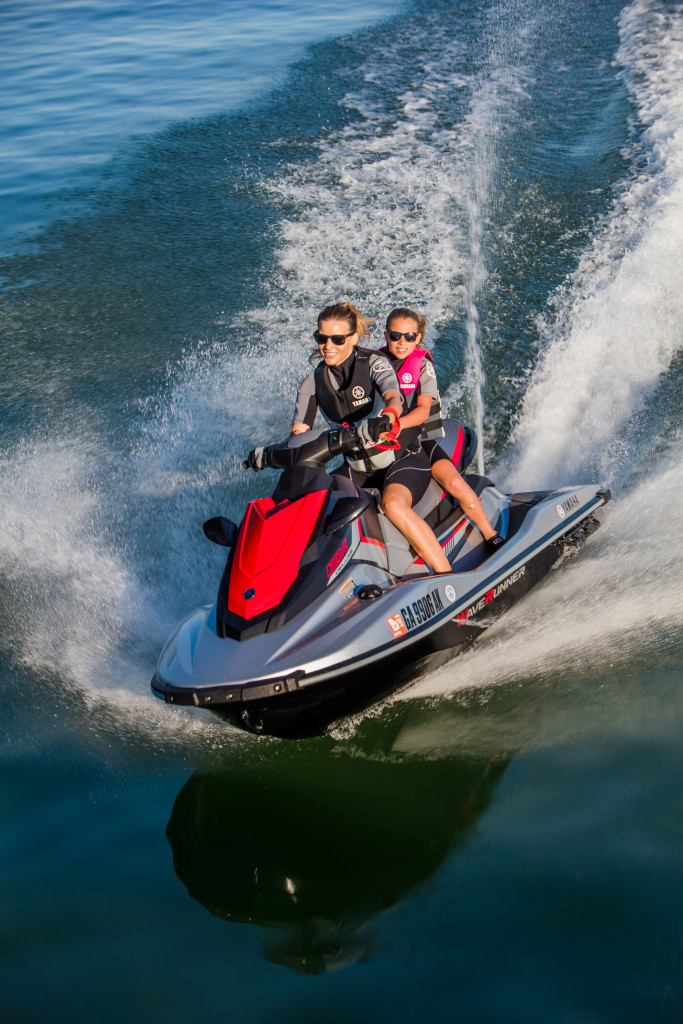 Model Features
All three models are powered by Yamaha's award-winning TR-1 Marine Engine, the 4-stroke, DOHC, fuel injected, 1.0L (1049cc) three cylinder engine. The TR-1 engine is 40% smaller in size, 20% lighter in weight, and provides better fuel economy than Yamaha's previous four-cylinder MR-1 engine.
Some of my favorite features that come standard on all EX Series PWC are the 3 blade stainless steel impeller and the removable upper deck section located below the seat. Removing a handful of well secured fasteners gives you additional access to the engine compartment in the remote event you choose to perform maintenance.
The base EX ski comes with all the previously mentioned features and is complemented by a bright green and white advanced color graphic package. The EX Sport is available in two color combination advanced graphic packages; White/Blue and Black/White. It also features a manual operated reverse system and a boarding step. The EX Deluxe is available in two color combination advanced graphic packages; Blue/White and Gray/Red/Black. It comes with a boarding step and the "RiDE®" intelligent reverse system.
Available on the EX Deluxe, the RiDE® dual handlebar throttle control system delivers the utmost control moving forward or in reverse.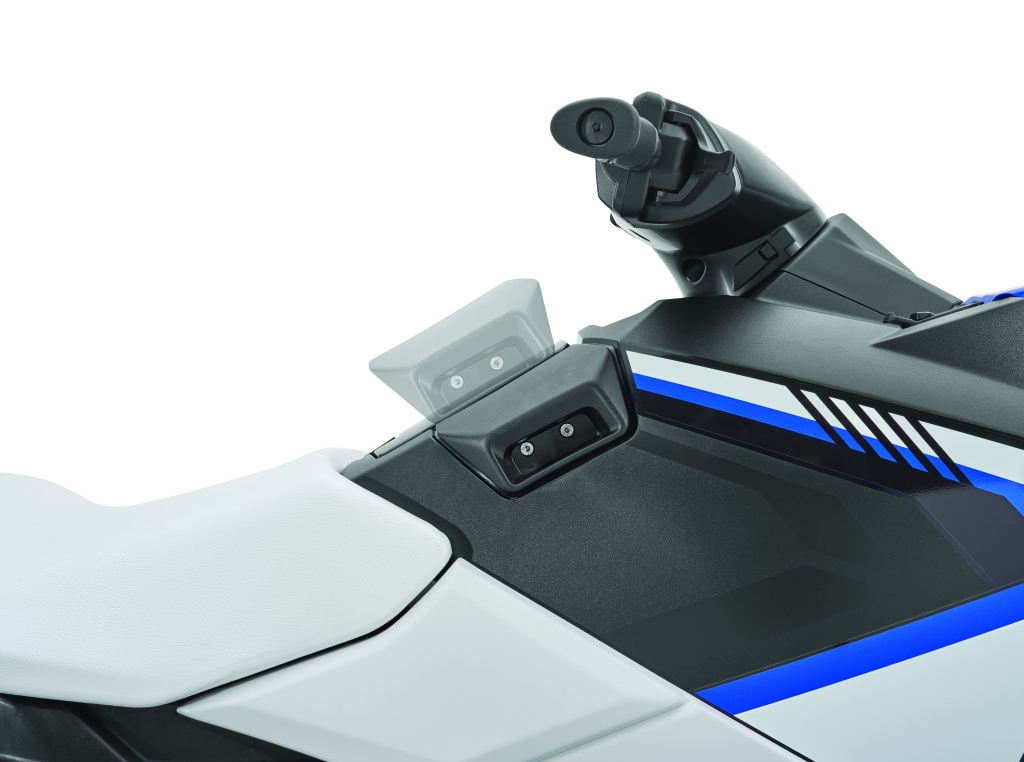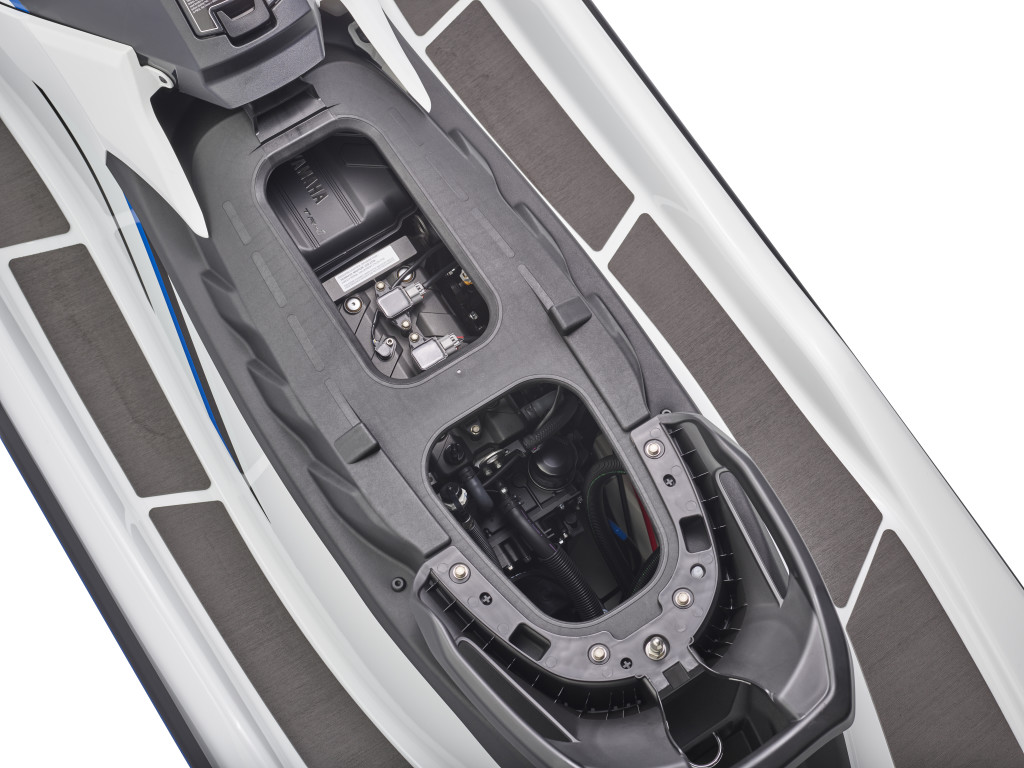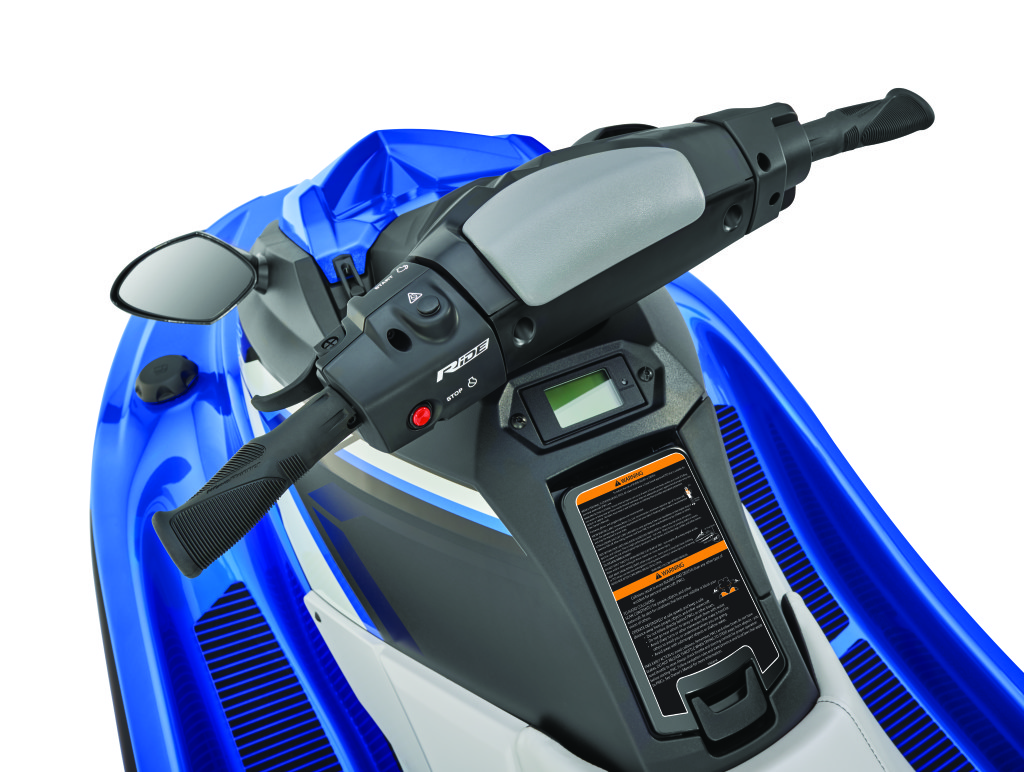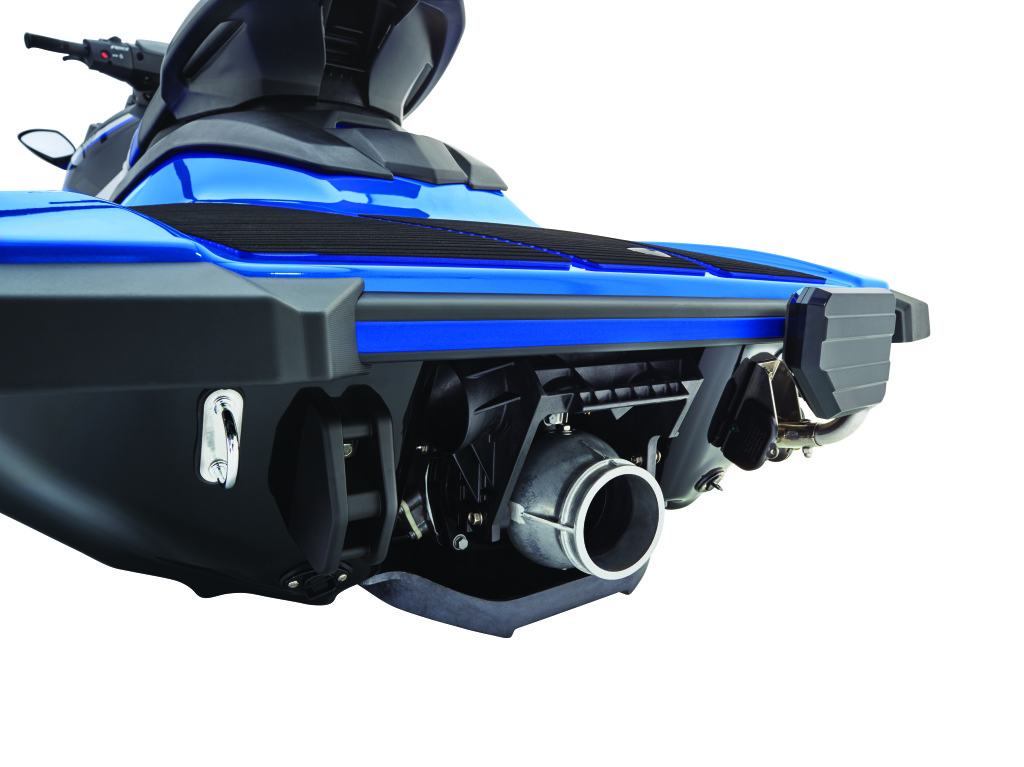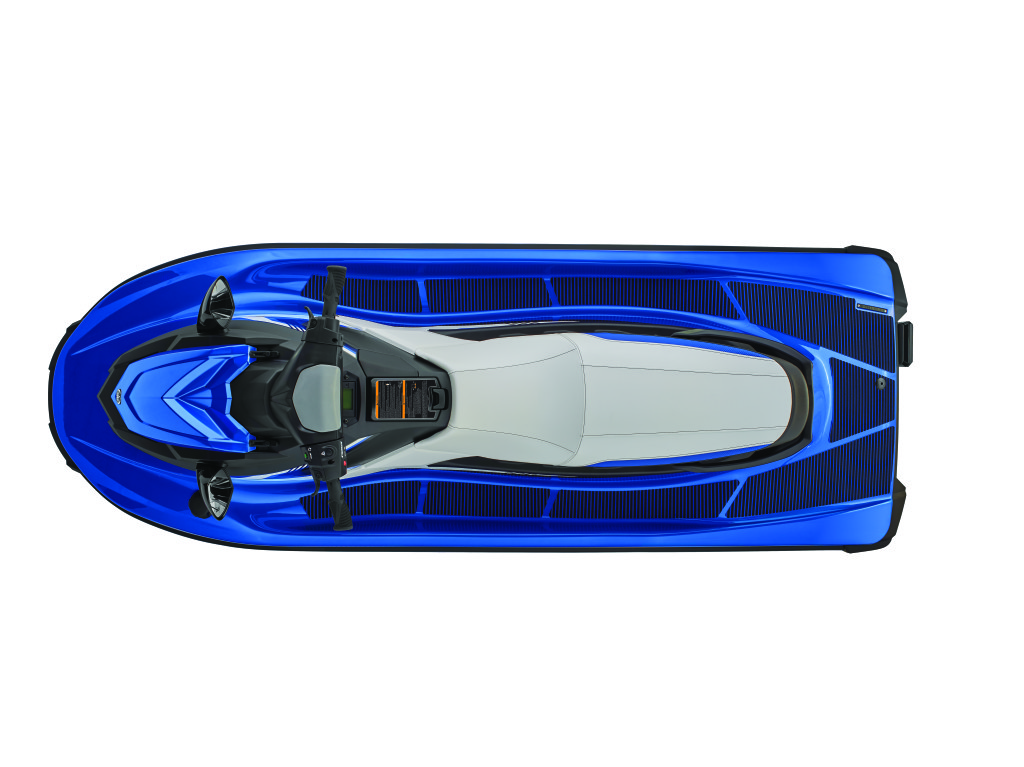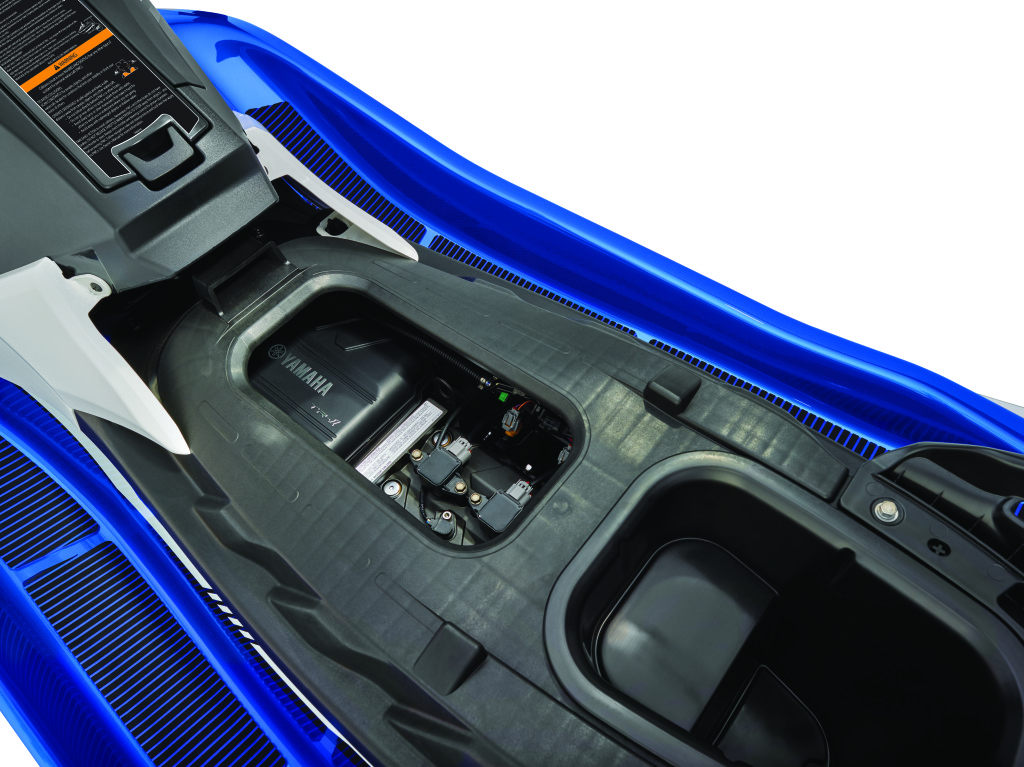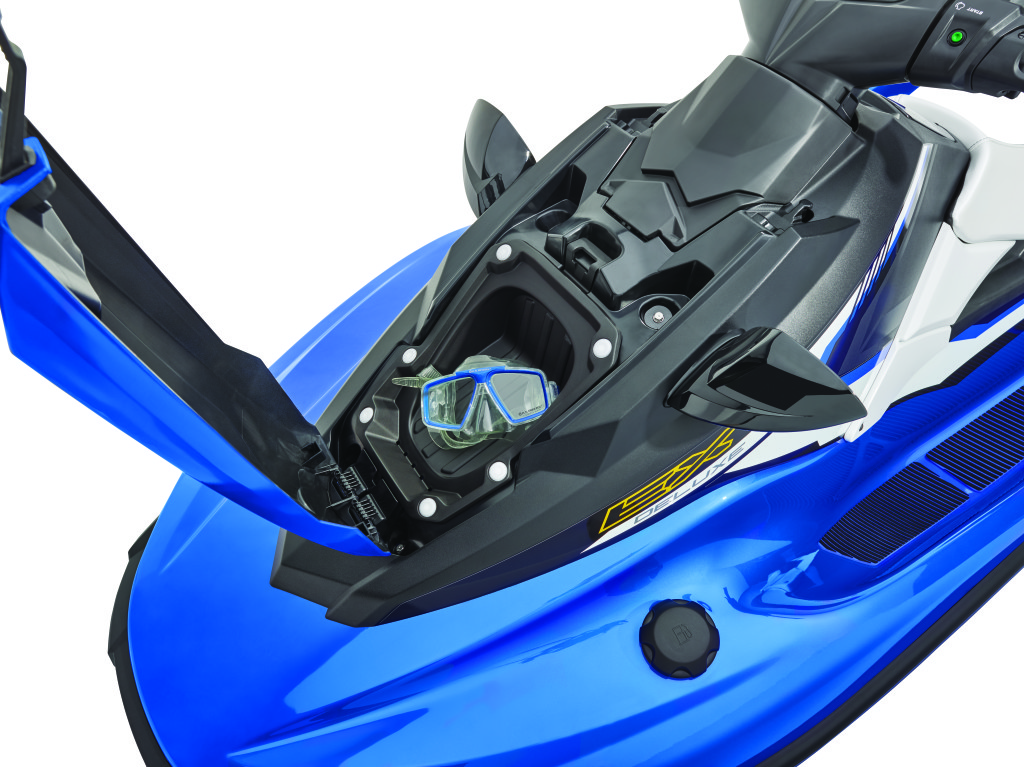 Riding Impressions
One-up and two-up riding was comfortable in smooth and rough water, provide plenty of speed for recreational use, and handle predictably. The manual reverse system featured on the EX Sport works well, but once you use the intuitive RiDE system featured on the EX Deluxe, you have to have it. Within a minute, you use the controls naturally without thought. I love the feature that defeats the throttle when the Ride control is activated to prevent unintended acceleration. All three models are substantial, solid skis that will last a long time. I would recommend any of these skis for first time buyers and as an upgrade to owners of two-stroke skis. These skis would be ideal for riders that have no mechanical skill.

GP 1800
At the top end of the PWC spectrum stands the 2017 Yamaha GP 1800. Designed for closed-course racing and experienced high-performance enthusiasts, this ski will keep you more than satisfied for years to come. Equipped the RiDE® system, this 1-3 person ski can be easily used for recreational activities.
Legendary Jet Ski Champion and Yamaha Product Manager, Scott "Hollywood" Watkins shared his impressions with Pro Rider at the reveal event. "Even though we introduced the GP hull in MY15 it had been developed for more power from the start. It reminded me of when we developed the original GP in the mid 90's. We took a World Championship hull from the 1996 World Finals, added our most powerful engine at the time (155hp) and then the GP was born. There's a lot of track time put into the new GP hull shape which, in my opinion, is its best feature. The new GP hull can really corner, I mean REALLY corner. Some of the best watercraft racers in the world have been very impressed by it's out of the box performance. Everyone that has been on this boat so far has been wowed," said Watkins.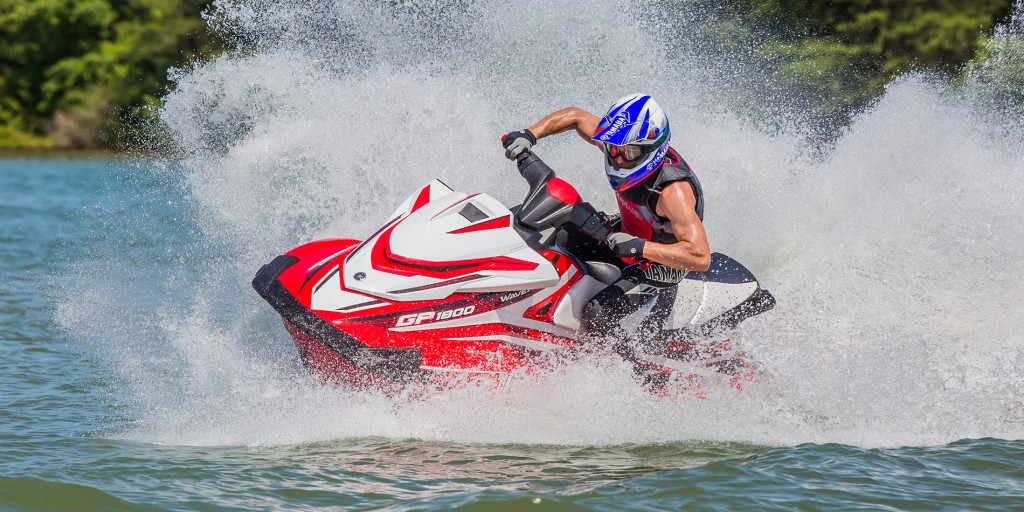 Model Features
The ski is powered by the Yamaha supercharged and intercooled, 1812cc, 4-stroke, 4 cylinder, 16 valve, Super Vortex High Output (SVHO) marine engine. Modifications were made to the previous FZR engine's supercharger intake capacity and boost, intercooler, and fuel injection system. Now the racer can be competitive right out of the box with less expense.
The super-lightweight NanoXcel 2 high-compression molded compound hull, based on the Yamaha VXR, has been engineered for light weight and strength featuring defined hull strakes, soft bow chines, and a race infused keel shape. The hull combined with 160 mm eight-vane pump, delivers the quickest, fastest, and the most precise handling ski that Yamaha has ever designed. The ski comes in two colors options, blue or red.
The intuitive RiDE® system enables the rider to slow the craft rapidly, select neutral and reverse effortlessly, and maneuver in a confined space with confidence.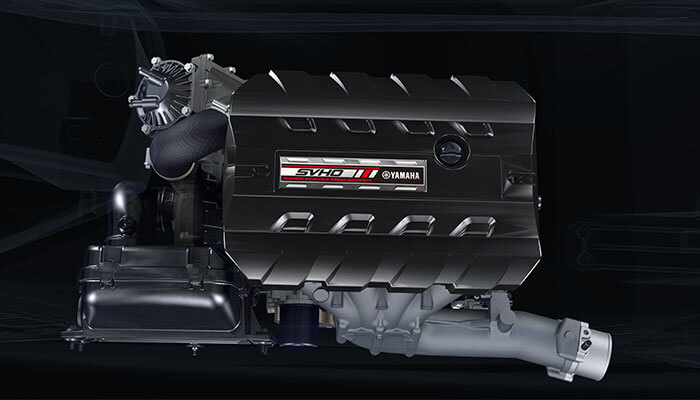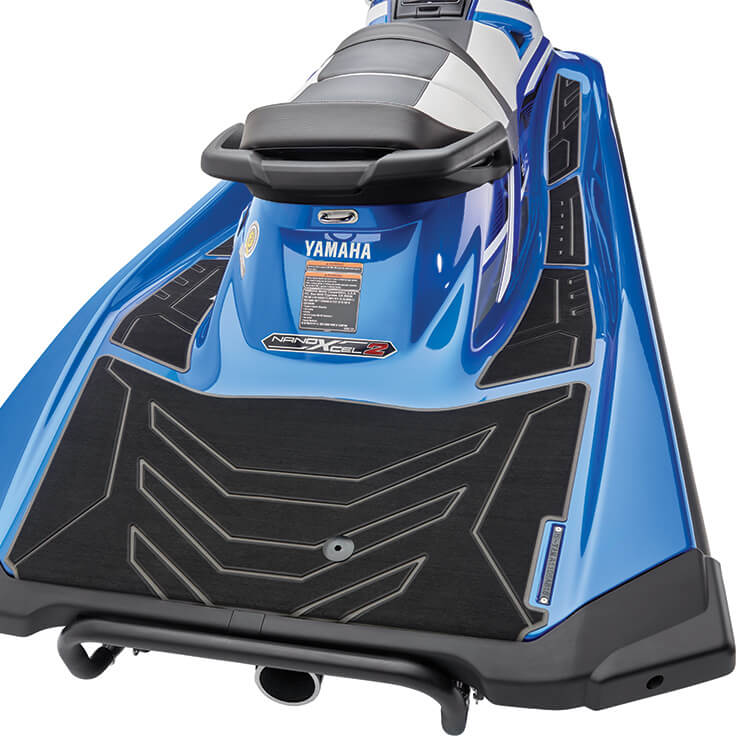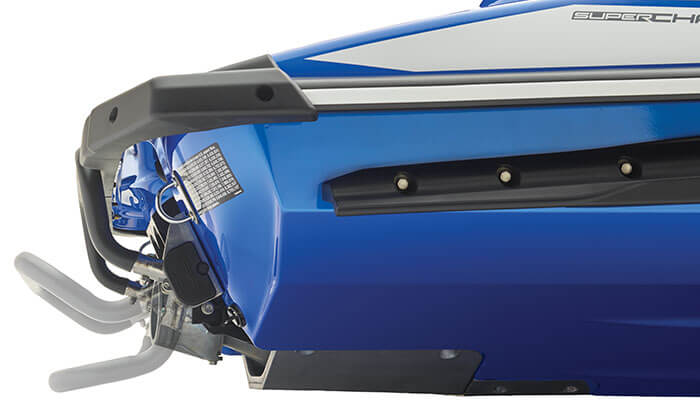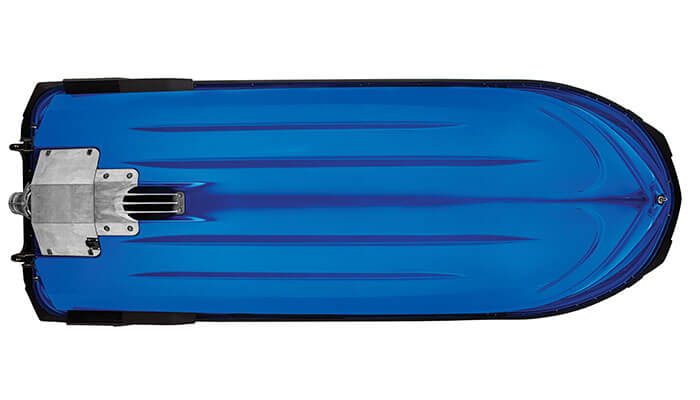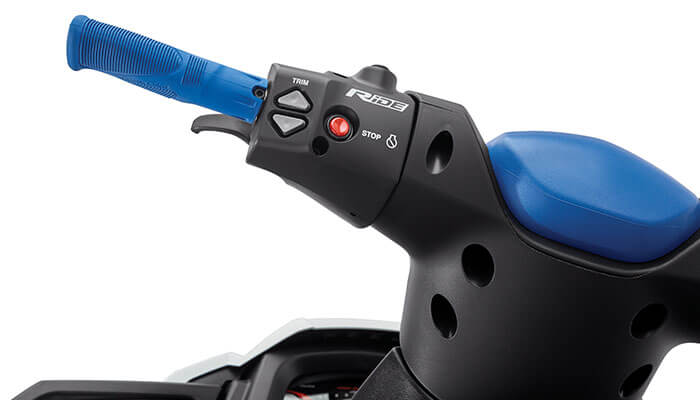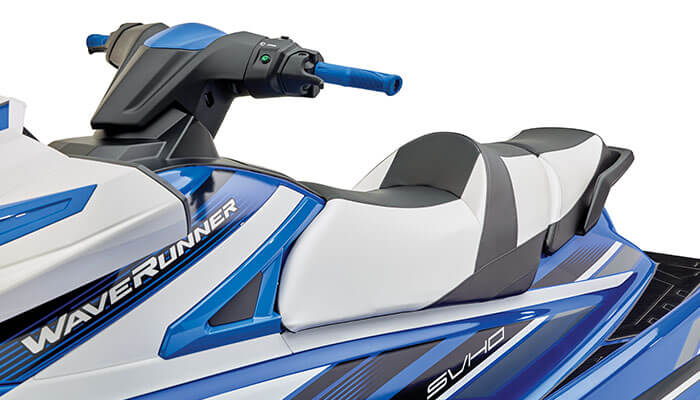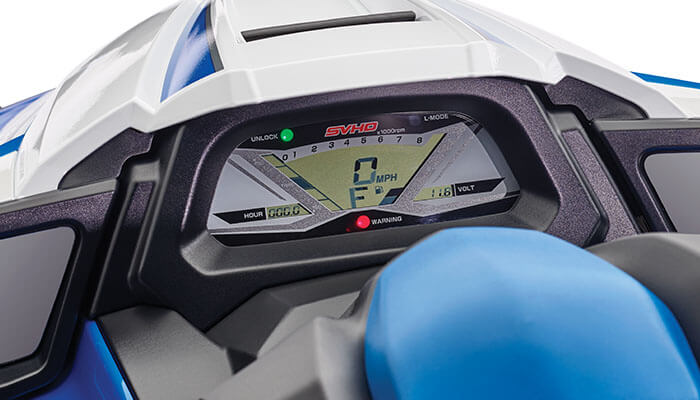 Riding Impressions
The 2017 Yamaha GP 1800 blew me away. The ski is comfortable with two riders, cuts through boat wake with ease, and is linear in power delivery. It accelerates hard like a modern super bike right up to the Coast Guard limited speed close to 70MPH. I was amazed how the ski turns flat and tracks straight with little input. The new electronic trim system operates smoothly with the touch of a finger. Anyone could safely operate this ski with a little self-control. You just have to remember not to grab a handful of throttle unless needed. If you choose to do so, you have to brace yourself and passengers in preparation. The ski comes with a key fob that controls a security system and learning mode for those that are inexperienced or overly enthusiastic. For Yamaha brand loyalists this ski without question is the best to date. It's hard not to want one. For other brand loyalists it's most definitely worth considering.
Three time World Runabout Race Champion and seven time National Champion, Brian Baldwin shared his thoughts with Pro Rider following some impressive test runs on Lake Oconee. "My initial reaction was that this ski is awesome! The new hull turns like it's on rails but is a comfortable ride. It's super-fast and the ride system is killer for getting around the dock without issues. The new hull will help the race scene because it is really good right out of the box and won't take much to get it on the podium so guys won't have to spend a ton to go racing. Both the GP and FZ are stable at high speed but the GP really shines with high speed and rough conditions. It plows through any water conditions," said Baldwin.
Pricing:
EX $6,599
EX Sport $7,599
EX Deluxe $8,599
GP1800 $13,999
For more information visit your local Yamaha WaterCraft dealer or visit www.YamahaWaveRunners.com.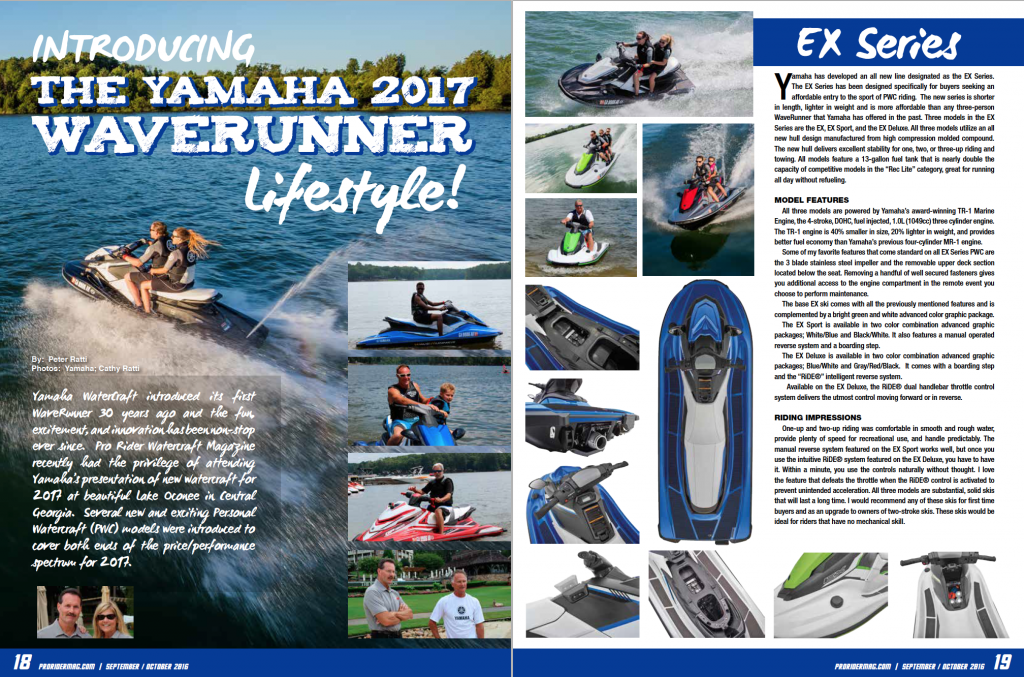 Like, Tag & Share!